Summer just wouldn't be the same without time spent at the beach. Amber Consulting guides us around the best spots along Lebanon's coastline to soak up the sun this season.

Madame Bleu
HOT 2018 OPENINGS
The hottest topic of summer 2018 revolves around the opening of Byblos' new Mykonian-style beach club, Peppersea (03 003188). This elegant beach resort will be welcoming guests to sip on refreshing handcrafted cocktails, sunbathe by the pool and on the sandy shore, swim in the crystal waters of Byblos, and enjoy the delicious delights of the on-site restaurant.

Riviera Beach Lounge
CITY LIFE DESTINATIONS
Summertime reaffirms Beirut's status as the capital that never sleeps. Ras Beirut's famous coast invites city lovers to spend their day under the golden sun and continue their evening sipping drinks on the city's most famous rooftops.
St. Georges Yacht Club & Marina (03 958379) is perfect for those seeking a few hours under the sun. The famous club boasts two pools and a view overlooking the beautiful marina.
Set in Ain el Mreisseh's La Plage complex, Madame Bleu (01 366222) is a luxurious urban swimming destination.
Accessed via a private underground tunnel in the middle of Beirut's Corniche promenade, the Riviera Beach Lounge (01 373210) offers a high-end experience with its VIP pool, plush lounge areas and a seafood restaurant, Chez Zakhia.
Sporting Club (01 742482) is one of Beirut's oldest natural rocky spots where one is certain to get a perfect tan while gazing at the Mediterranean.
Long Beach (01 742496) is another urban retreat located near Sporting Club.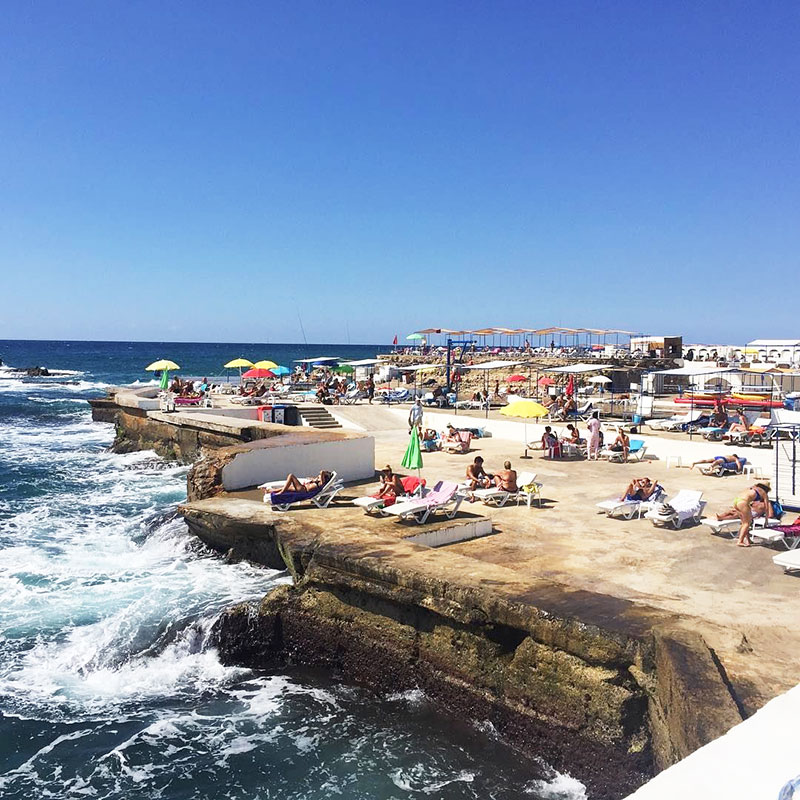 Sporting Club
UPSCALE WELLNESS
While established clubs like Laguava Resort (03 141413) in Jiyeh and Eddésands Hotel & Wellness Resort (09 546666) in Byblos have remained popular, newer resorts have popped up over recent years.
Kalani (76 504050) is a serene beach club located in Halat. Tastefully designed by award-winning architects to be the ultimate escape, Kalani features an infinity pool, a high-end restaurant and bar, and breathtaking views of the Mediterranean.
Reinventing the beach experience, Orchid Beach offers a unique getaway. With one beach resort in Jiyeh (03 040420) and a beach lounge in Batroun (71 949404), the adults-only concept aims to pamper its clientele with impeccable service and an exquisite F&B experience.
FAMILY COMFORT
Located just 10 minutes away from Beirut, La Siesta (05 815555) is a beachfront resort equipped with all necessary amenities including a sandy beach, pools, a Mediterranean restaurant, a rooftop café, chalets for rent, a kids' area and water sports.
Damour Beach Resort (76 883737) features an infinity pool, beach huts and a kids' outdoor play area next to the beach.
In Jiyeh, Lazy B (70 950010) is a relaxing beach resort perfect for families. The space is thoughtfully designed with three swimming pools, natural creeks, several restaurants and a playground for children.
Eddésands Hotel & Wellness Resort (09 546666) in Byblos is a vast beach resort offering luxurious amenities and countless beach activities for all ages including jet skiing, beach volleyball and kite surfing.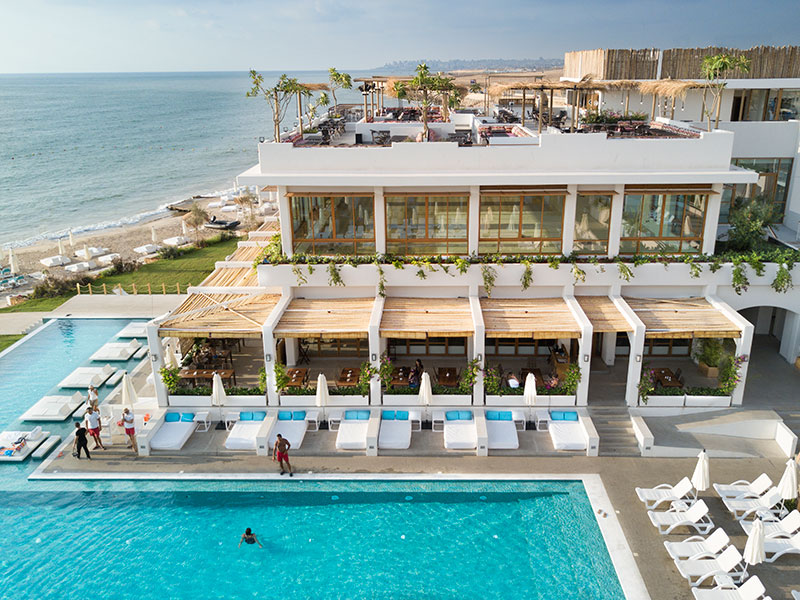 La Siesta
SECRET SPOTS
Cloud 59 (03 517996) is set on Tyre's sandy shore. The chilled-out spot is a popular destination for beach lovers, where they can enjoy tasty seafood, Lebanese mezze after surfing the shimmering waves.
Anfeh, around 70km north of Beirut, continues to be a favorite among those looking for crystal clear waters to dive into. Reminiscent of a Greek village, with its white and blue color scheme, Anfeh's Tahet el Rih gathers a collection of restaurants along its rocky shore such as Chez Fouad (70 830117), 3al Ba7er (70 554417), Salim Sur Mer (03 330472), Paralia Bar (78 955811) and Istirahet el Khal (03 306585).
Joining (03 517492), on Batroun's rocky shore, hides a simple yet delicious seafood restaurant and, most importantly, a clear blue sea.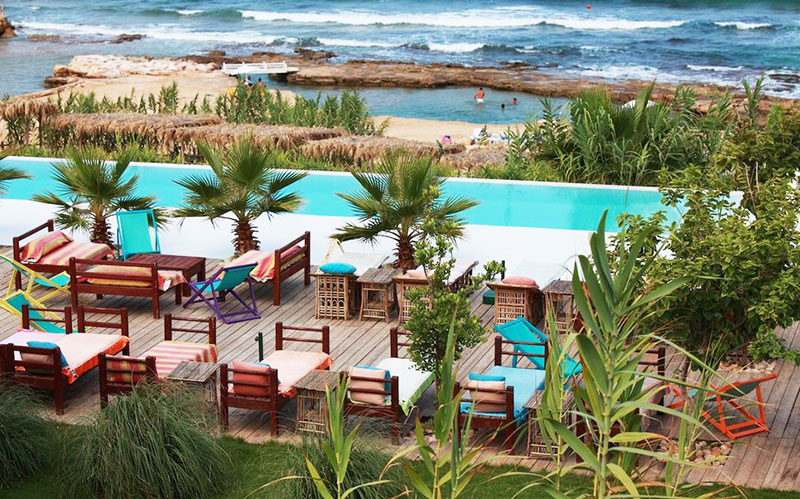 Lazy B
HIP BEACH BARS
A selection of funky beach bars can be found in Batroun and Amchit, and while everyone knows Pierre & Friends and KAPTN, there are some other options in the area.
AMCHIT
June (70 553399) is a new resort overlooking the Mediterranean Sea from the top of a hill in Amchit. The place also hosts performances by young acoustic singers and bands on cool summer evenings.
BATROUN
Tonic Beach Bar (76 585874) is a tropical bar where visitors can enjoy tiki cocktails and unwind until sunset.
With its ice-cold natural pool, Ô-Glacée (06 741841) offers guests a simple experience, with access to kayaks and windsurfs.
Isla (76 369361) is a pebble bar just next to Ô-Glacée.
Playing songs from noon till sunset, Dany's Beach Bar (70 709706) invites beachgoers to sip cocktails on the flying beds and dance until sunrise.
Colonel Beer, Batroun's beer brewery, has extended its project to reveal its latest dog-friendly summer concept: Colonel Reef (03 743543). The simple beach bar offers a selection of the brewery's locally-crafted beers and provides visitors with chill-out areas, a long bar and water sports.
20+ Fabulous Beaches and Tanning Spots
was last modified:
July 3rd, 2018
by
Loading
Published on: June 26, 2018