5
min. read
The Shouf region is one of the best preserved and historically rich areas in the country. With picturesque villages, lush mountains and the largest cedar reserve in Lebanon, it's an ideal place to spend time in nature and see Lebanon's past firsthand.
Historically, the Shouf was the seat of Lebanon's Emirs, and relics of their rule, from houses to courtyards to palaces, still dot the region. Adding to the allure are over 40 mountains villages, dispersed among the valley and mountains peaks, which are ideal for a peaceful afternoon of exploration.
GETTING THERE
Depending on which village you want to start from, the Shouf is an hour to an hour and a half from Beirut. A good start to your adventure is Deir el Qamar.
By car: Follow the southern coastal highway towards Saida. Just before Damour, take the exit into the mountains towards Beiteddine, and continue driving upwards until you reach the village's main square.
By bus: Take a van from Jisr el Cola towards the Shouf, and get out at the village of Kafr Him (you can ask the driver to let you know when you reach it). From there take a service or taxi to the main square in Deir el Qamar, but note finding taxis in the Shouf may prove difficult. The van costs 2,000 LBP and a service or taxi costs 2,000 LBP or around 10,000 LBP,respectively.
WHAT TO DO
Deir el Qamar
The village of Deir el Qamar is a true gem of the region and a UNESCO World Heritage Site. The village was the capital of Mount Lebanon from the 16th to 18th centuries and a regional stronghold for the Ottoman Emirs. With red-tiled roofs, winding streets, and stone houses, the village epitomizes idyllic mountain charm and small-town life at its finest. It also highlights the religious diversity in Lebanon, with a mosque, a church and a synagogue all taking residence in its main square.
The best way to enjoy Deir El Qamar is by meandering through its narrow streets. Start in the main square (which was used for jousting tournaments during the Crusades) and meander through the streets just off the main road.
Beiteddine Palace
Located just 20 minutes from Deir el Qamar, Beiteddine Palace is one of Lebanon's real treasures. The palace offers a stunning and refreshingly well-preserved example of 19th century rule and the extravagance that came with the Ottoman Empire.
The palace was built in 1788 by Emir Bashir to symbolize his power and glory. Walking through the palace complex, visitors will immediately notice the wealth and detail that went into its construction. Each room features mosaic stonework, cedar wood engravings and spacious areas the Emir used for political gatherings.
Opening Hours: 9 am – 5 pm. Closed on Mondays and official holidays.
Moussa Castle
Moussa Castle is indubitably one of Lebanon's most unique and eccentric sights, thanks in large part to the fascinating story of its builder. Moussa Maamari erected the Moussa Castle completely by hand in an attempt to win over his childhood sweetheart. The castle looks like something taken straight out of a children's fairy-tale, with a moat, turrets, and battlements.
Perhaps even more fascinating is the structure's interior, which holds life-like puppets depicting traditional Lebanese scenes. There are statues of bakers, families, and school children all dressed in old-fashioned garb from Moussa's childhood. Each scene offers a fascinating insight into the daily life of the Shouf Region before modernity. The tour of Moussa Castle ends with an impressive display of over 30,000 artifacts, from weapons to jewelry, that Moussa spent his life's revenue collecting.
Opening Hours: 9 am – 5 pm
Shouf Cedar Reserve
The Shouf Cedar Reserve holds over 20% of the country's Cedar trees, some of which date back 2,000 years, and covers 5% of the country's total area. A day in the Shouf would not be complete without a visit to this important Lebanese natural site. You can enjoy the reserve by foot, bike, ATV, and, in the winter months, snowshoe. To explore this ancient forest by foot, start from the Barouk entrance, where guides, trail maps, and information are available. Visitors can also rent mountain bikes from the Shouf Biosphere Reserve at the forest entrance and cycle along the trail to enjoy stunning views of the surrounding mountains.
05 502230 / 03 682472, shoufcedar.org
WHERE TO EAT
Al-Midane Restaurant
Located in a sunny courtyard facing Deir el Qamar's main square, Al-Midane specializes in Lebanese mezze and traditional grub. The restaurant is decorated in a traditional style, making for a great long lunch. Al-Midane is owned by a friendly Canadian-Lebanese who is happy to give tourists tips on sightseeing in the area.
Beit el Qamar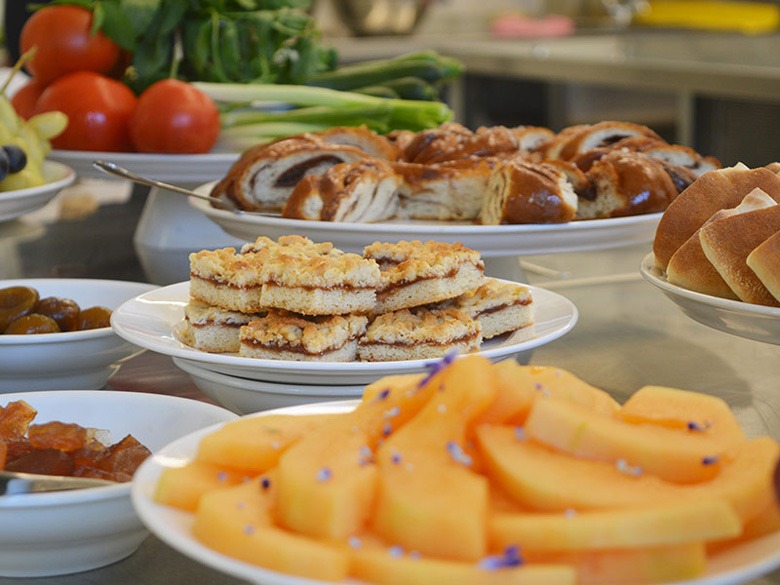 Part of the "Tawlet" family by Souk el Tayeb, Beit el Qamar offers the authentic Shouf experience when it comes to food. A full buffet of delectable regional and seasonal specialties, made by the hands of the villagers and the region's native themselves, is available for visitors to feast on everyday.
Mir Amin Palace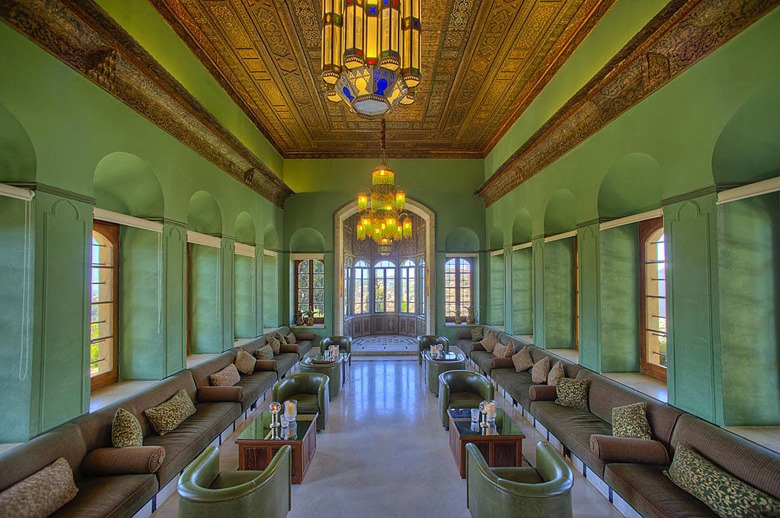 For upscale dining in a beautiful palace-turned-hotel, head to Mir Amin Palace. This complex, which looks out over the Beiteddine Palace and the surrounding mountains, was the residence of the youngest son of Emir Bashir II Chehab. Today, the palace is a hotel and restaurant that is a hotspot for tourists in the region, and even a popular wedding venue.
WHERE TO STAY
Akram Mahmoud Guesthouse
The Akram Mahmoud Guesthouse is run by Akram and his wife, who will show you how to prepare traditional dishes in their cozy guesthouse. It doesn't get more authentic than this quaint, clean, and welcoming accommodation that is conveniently located next to the Shouf Reserve and popular among hikers.
Bouyouti
Ten minutes from Deir el Qamar and five minutes from Beiteddine sits Bouyouti, an elegant and gorgeously-decorated guesthouse perfect for a luxurious overnight stay in the Shouf. This authentic bed and breakfast was once a family home until its owners opened their doors to travelers. Bouyouti is a cluster of upscale villas that boast ample space and a warm and elegant atmosphere.
Deir Al Oumara
This heritage house and hotel was built by Emir Bashir and represents another stunning example of Ottoman architecture. With a beautiful central courtyard for its restaurants, and 11 spacious rooms, Deir Al Oumara is the perfect boutique hotel for an overnight stay.
Mini Guide to Beiteddine and Deir el Qamar
was last modified:
November 30th, 2018
by
Loading
Published on: November 12, 2018