Weekends are ideal to spend quality time with your pet, especially after being locked inside an office all week. Bechara from Bright Animals tells you how.
A pet can be your best friend and a treasured companion. Having them around makes you feel happy and secure. Bright Animals offers you an outing with your pet that will allow both of you the chance to get outdoors and socialize.
On most weekends, you can head to the meeting point designated by Bright Animals for a hike with your whole family. There, you will meet similar minded people who appreciate pets and value their presence… just make sure your dog is on a leash and off you go!
Tested ahead of time, the hike is usually easy and will not be more than 3 hours. Should small children who cannot complete the entire trip accompany, a guide will escort you through a shortcut to the final destination, which is where your group will have lunch that you would have chosen ahead of time from a varied menu.
"Sometimes we get groups as big as 80 people with over 40 dogs and it is fantastic to see all of them gathered together," said Bechara Hitti, trainer of Bright Animals.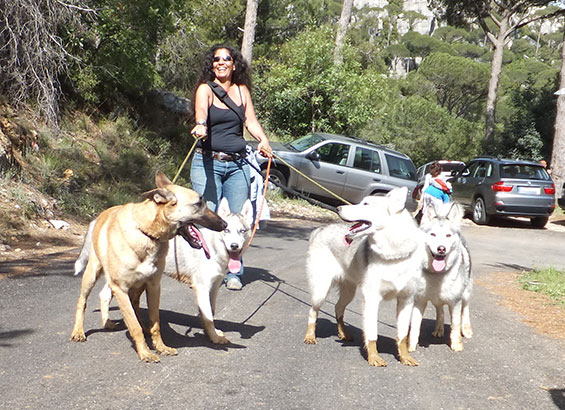 Safety is of utmost importance for the Bright Animals crew, who make sure to be with you at all times to avoid any incidents. This is also the reason for dogs to remain on leashes in order to prevent unnecessary confusion.
The walks are easy and fun, however if the team leader notices any behavior that that could be corrected, they offer tips on positive reinforcement that could be useful when training dogs.
"To insure a peaceful walk, we try to screen the participants. Aggressive dogs are not included as they might pose a threat to the other pets. Loud radios and guns are also banned. It is all about communing with nature and bonding with your pet so nothing should distract you from that," says Hitti.
The hikes usually take place in the mountainous Metn area. "Unfortunately there aren't many dog friendly places in Lebanon, so we have to be further away from civilization. The Metn is still quite green, has many interesting and easy trails and is a central location, making it close to all.
If you feel like spending some time with your beloved pet and meeting other dog lovers in your area, join the animal lovers for a one of a kind outing!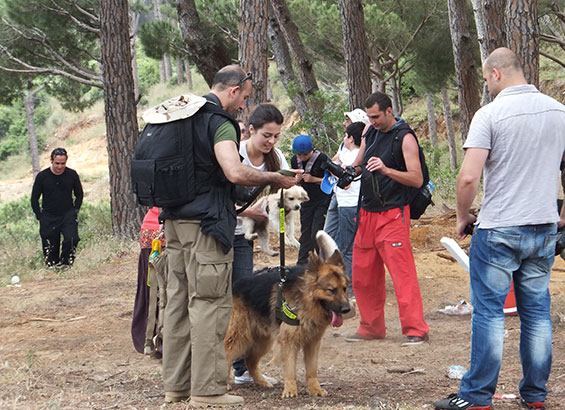 Good to know
In spring and fall when the weather is fair, Bright Animals organizes monthly hikes in various area.
Writer and editor, Derek Issacs reveals walks where dogs are more than welcome
Anyone who lives in Lebanon and owns a dog would have noticed the lack of available walking space in the city. Yet, there is no reason why your dog cannot enjoy a ramble away from the hustle and bustle of city life and have a jolly good romp in the countryside. Owning a dog in Lebanon is no easy task. Those who do will know how difficult it is to walk a dog among a society, which fundamentally is unaccustomed to reacting appropriately. After all, I should know. I own four – Austin, Foxy Lady, Lucy and Sunday.
I've lost count how many times I have bundled my furry friends into the back of my car and headed to the mountains or coast. One such trip was to the Metn area close to Hamana, famous for its abundance of cherries and miles of woodland. Upon arriving to the area, all one has to do is turn off the main road and onto the quiet back roads. I guarantee that you will soon stumble across a wooded area or open field where it is safe to unleash your dogs and go for a long walk.
One of my favorite haunts to visit with my dogs is the beach. Of course, luxury beach resorts are unlikely to allow you in with your dog, but all is not lost. Lebanon is teeming with public beaches, many of which are fairly quiet all summer long. If you don't wish to travel too far out of Beirut then Ramlet el Baida's sandy beach may suffice. Personally, I prefer to go further afield and head north to Batroun. Along the same coast where White Beach is situated are a number of public beaches. Although not sandy, the clear blue waters are simply beyond belief. There is even a public beach in Batroun town center. Memories of my dogs and I splashing in and out of the water last summer will make sure that we will return again this year.
'Oh, but I don't have a car' I hear you say. Well don't give up just because you lack your own transportation. Use the bus. Last year, after my car broke down, I rode with Austin, my eldest dog, on a bus all the way to Batroun. It is worth remembering that not all bus drivers will let you ride with your dog. But never give up. Try the next bus that comes along. The key is to smile and be friendly.
If riding a bus with your dog is not your thing, a number of hiking companies will allow your dog to accompany you on a hiking tour and at no extra cost. It doesn't hurt to call the hiking companies and ask. Of course, the dog in question will have to be on his or her best behavior and be good with people.
Derek A Issacs has lived in Lebanon for 11 years and is the Executive Editor of Adam Levant, a magazine 'For the Man of the Middle East'. He also runs a successful copy writing company called Word clinic. Wordclinic Writing Agency – Home
The lack of dog friendly places
Some irresponsible dog owners are giving dogs a bad name. They let them do their business anywhere and never pick up after them, which is why very few places allow dogs. It is very important that each pet owner applies the "they poop, you scoop" policy, which will help open doors to more dog-friendly places.
Article edited on November 2nd, 2021
Loading