Artfully fusing oriental classics with western beats, there's no mistaking the sound of Lebanese rock act Arnabeat. We caught up with band members Paul Garabed (guitarist), Hisham Hallak (Arabic lead vocalist and buzuk player), Charbel Nacouz (pianist and lead vocalist) and Eli Elijah (bassist and vocalist) to learn more about what makes them tick.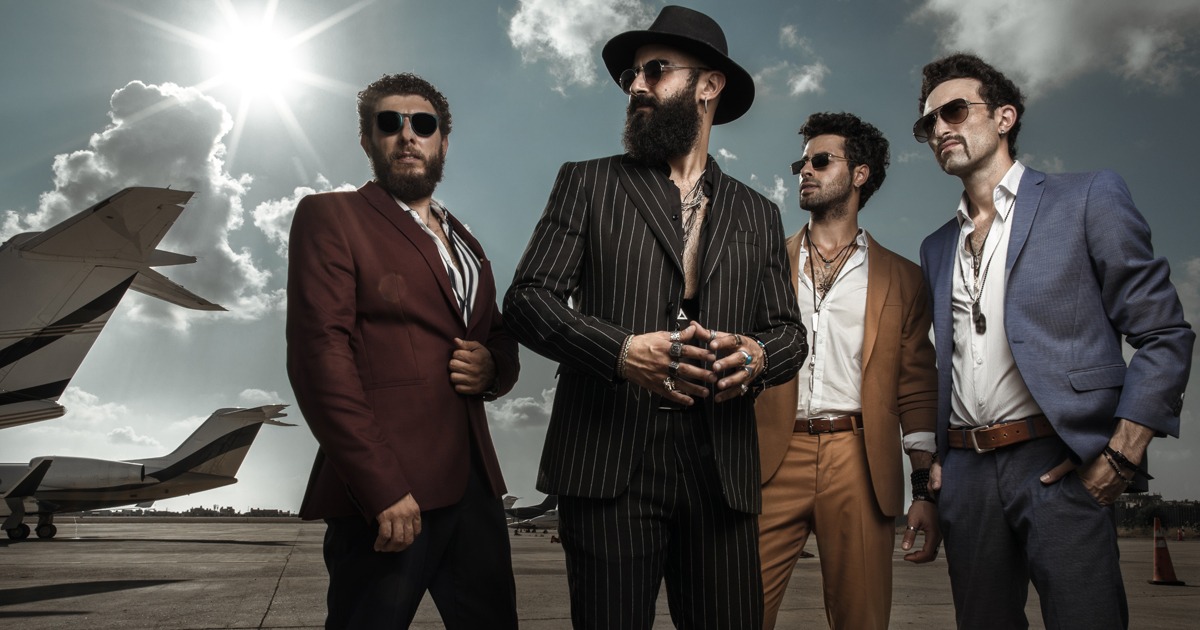 Since forming in 2016, Arnabeat has been playing to packed-out venues across the Middle East as well as Europe. The band's unique style, coupled with the exceptional talent of its four members, has earned Arnabeat a huge following, which only grew after the release of the first original single, "In My Brain."
As the band's guitarist, Paul, what is it that you enjoy most about being on stage?
Life isn't always butterflies and rainbows; each one of us searches for his/her window of escape. My escape is being on stage doing what I love with people I love and seeing the crowd enjoying it.
Apparently, you're quite the fashion enthusiast Hisham. Which Lebanese designers do you admire most and why?
I won't name a designer, but I really admire the effort made by all the Lebanese designers to put Lebanon on the global fashion map. Using the identity crisis we have in this country to create styles and designs is something I really value.
Personally, I just like to take simple clothing and fit my own style by accessorizing my jackets, pants and vests. I don't wear famous brands; I just try to collect vintage items and blend them with other clothes, and add my touch (or ruin them, I don't know!) I like it that way.
Charbel, how does Lebanon inspire you musically?
First of all being in Lebanon is in part if not the main concept behind Arnabeat. This fusion of culture, politics, religion, tastes, etc. pushes you to smoothly mix oriental and western music. In the end, Lebanon is where I grew up. No matter how far I go and how long I stay away there is always something certain, safe and somehow complete about it. And that inspires me to go beyond the limit, musically.
If you weren't in the music industry what would have been your second career choice, Eli?
Believe it or not, I've never thought about this. I do what I do because I love it, and I'm so grateful that I get to be on that stage with all the passion I have for music, where I can also entertain people and contribute to making their evenings memorable.
Thinking about it now, my second career choice would probably be a life coach. I'm into self-growth and life coaching myself and that would be the closest in terms of what makes me love my current career: doing something I love while making a positive impact.
When you're not performing, what would we find you all doing?
Paul: You'll find me at my day job in an engineering company; yes, that's what I just said, engineering! Also, I never miss out on any activity that involves friends and family. Oh, and I hit the gym every now and then.
Hisham: Well, before my injury I used to be a school teacher four days a week. I would also work out every day and play basketball from time to time. Now things are a little slower, so I spend my days writing and reading. I'm taking advantage of this period and using it to reconnect with myself.
Charbel: I spend a considerable amount of time in my room, whether rehearsing with the guys, playing and singing on my piano or composing and arranging music. I teach in a music school and try to play basketball once a week. Being out in nature also brings me peace.
Eli: Spending quality time in nature, hiking, camping, traveling and definitely working on my own projects.
Loading