Anfeh swim and hike with Golden Feet

Back to Listing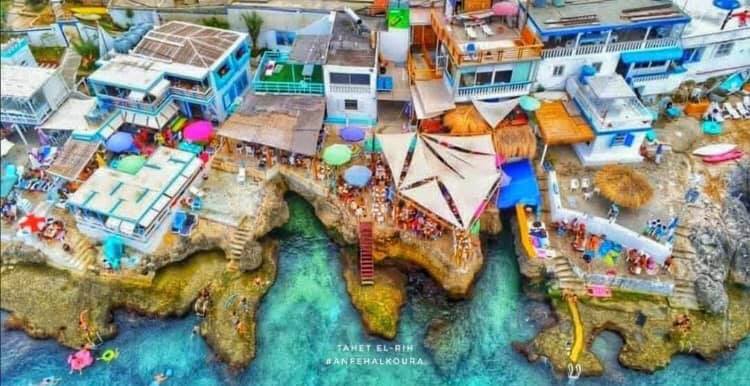 Join Golden feet to discover the hidden part of Anfeh, an old village rich in ruins and caves,walking through its historical, archeological and religious sites, admiring its picturesque creek of rocky shore shaped in a perfect semi-cercle, where small white and blue houses lay there, like the beautiful greek island Santorini.
The journey will start with a breakfast stop on our way.
*Then,we will proceed on a boat tour starting From Tripoli Bay (a breath-taking view not to be missed and Where we will see wonderful islands in the open sea.
Then we will Go to Anfeh where we will make Easy hike:We'll take an in-depth tour in the old rural streets of Anfeh near "salts region" and visit saydet al natour.
After we will going on the seaside of the village to reach the old medieval church of Saydet El Rih where archeological excavations took place, then "Tahet el Rih" fishing port, where impressive reservoirs, canalizations, stairways, urns and trenches can be seen,and visit the famous phoenicien citadel.
*Free time for people to enjoy time where we will swim in the crystal clear water of anfeh and visit the famous phoenician citadel.
*Lunch break will be in restaurants near the sea in "tahet el rih" region(formule ou la carte) or you can bring your snack with you.
Price:
*In bus:80000 LL/person(include transport& guidance,Boat trip).
*In your own cars:50,000 LL(include Guidance,boat trip)
N.B:the insurance is not included,Golden feet is not responsible for any incident that takes place during the event.
*groups with 5 persons& more will get a 5000 LL/pers.
*Plz take a social distance for your security.
Meeting points:
*7:45 from antelias near burj al hamam restaurant.
*8:00 from jounieh near cafe abi nasr behind stade fouad chehab.
N.B:We can pick up hikers who live on our way.
For reservation and for more information:Roland Kamel:03/418894
What to bring?
==========
- Comfortable hiking shoes
- Comfortable pants
- Jacket
-swimming suit
- Hat
-Mask
-stick
- Sun glasses
- Sun screen - Backpack
- ID Card or Passport
- Self Insurance Card
You might be intersted in
Chatine – The Genesis by Tourleb
Wady El-Mahabess Hike & Swim on Sun, Aug 14, 2022 with DALE CORAZON – LEBANON EXPLORERS
Spend Sunday surrounded by Greek vibes at Grecco – Byblos