Hiking Yamounneh & visit Saydet Bechwet with Golden Feet

Back to Listing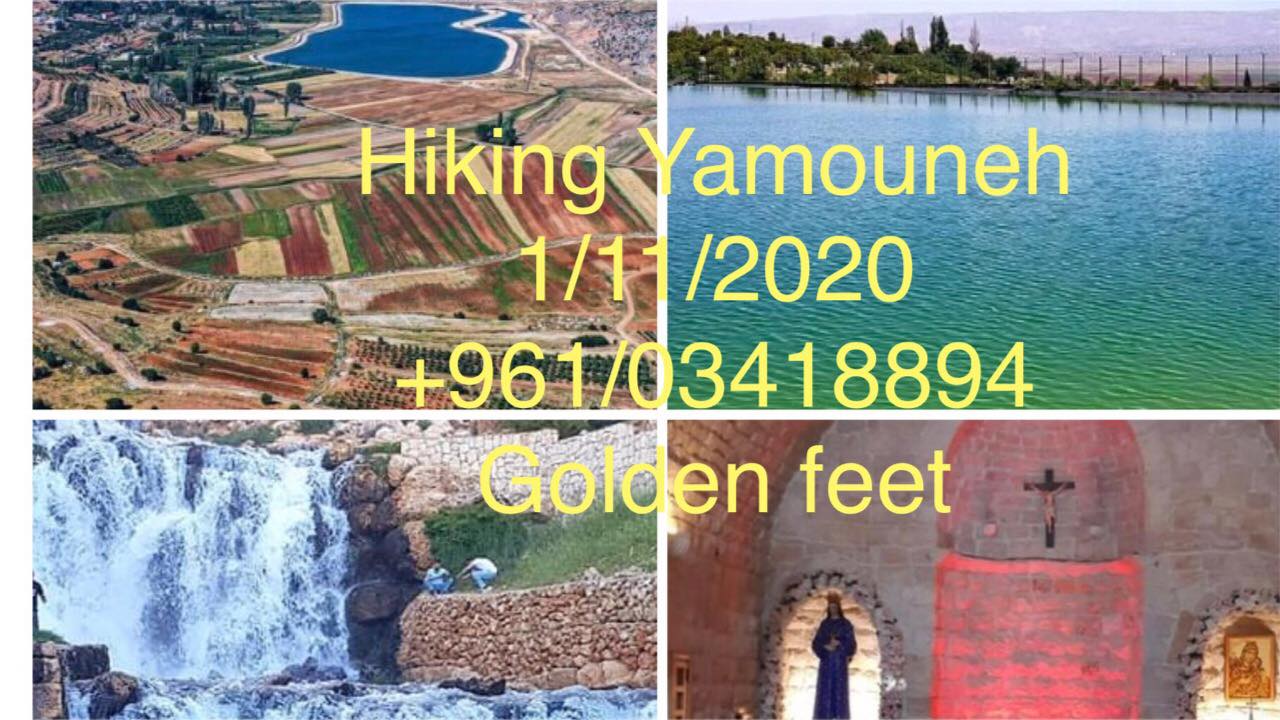 EVENT:Hiking Yammouneh Nature Reserve&visit miraculous shrine of saydet bechwet.
DATE:Sunday ,november 1,2020
Team name:Golden feet
In this time ,Join Golden feet for another Amazing Trail, to Explore the beautiful Yammouneh Nature Reserve located in Baalbeck district, admiring the beautiful landscapes of the colorful valley & surrounding mountains, enjoying the freshness of the water lakes and waterfalls at this time of year.
Yammouneh is the site of an ancient sacred lake and Roman temple located at 1500m elevation with highly specialized characteristics. The Yammouneh valley represents a geologic fracture between the two continents of Asia and Africa along the eastern Mediterranean. The fresh water at this elevation and location constitutes a special ecosystem for animals (fish, reptiles, birds), and plants (junipers, abies, cupressus and cedars).
The beautiful Nature Reserve of Yammouneh lies on the eastern slope between the two mountains of Makmel and Mounaytra. Abundant with waters, it includes 84 water springs, in addition to four permanent rivers and two seasonal streams. Many ancient traces remain there, including Phoenician, Roman and Arab monuments.
finally,we will visit by bus the miraculous shrine of saydet bechwat.
we have 1 level:
Medium:10 km
lunch break will be in an amazing place in the region(plz bring your snacks with you)
Price:40000 LL/person(include fees entrance to the reserve,transport& guide)(the insurance is not included,Golden feet is not responsibles for any incident that takes place during the event)
*If you came by your own car the price will be:25000LL
N.B:Groups with 5 persons & more will get a 5000 LL discount/pers.
-plz take care from Corona Virus.
What to bring?
==========
- Comfortable hiking shoes
- Comfortable pants
- Jacket
-Mask
- Hat
- Sun glasses
- Sun screen - Backpack
- ID Card or Passport
- Self Insurance Card
Meeting points:
7:20 AM from Downtown near al nahar.
7:30 AM near pharmacy" chris le roi" Yasouh al Malak Zouk Mosbeh.
N.B:we can pick up all hikers who live on our way.
For reservation and for more information:Roland Kamel:03/418894
You might be intersted in
Hiking Yamounneh & visit Saydet Bechwet with Golden Feet
Niha Ferzol Hike with Vamos Todos
Ghbaleh – Hakl El Rayes Hike with Vamos Todos