Jabal Al-Arbaeen Hike with Dale Corazon- Lebanon Explorers

Back to Listing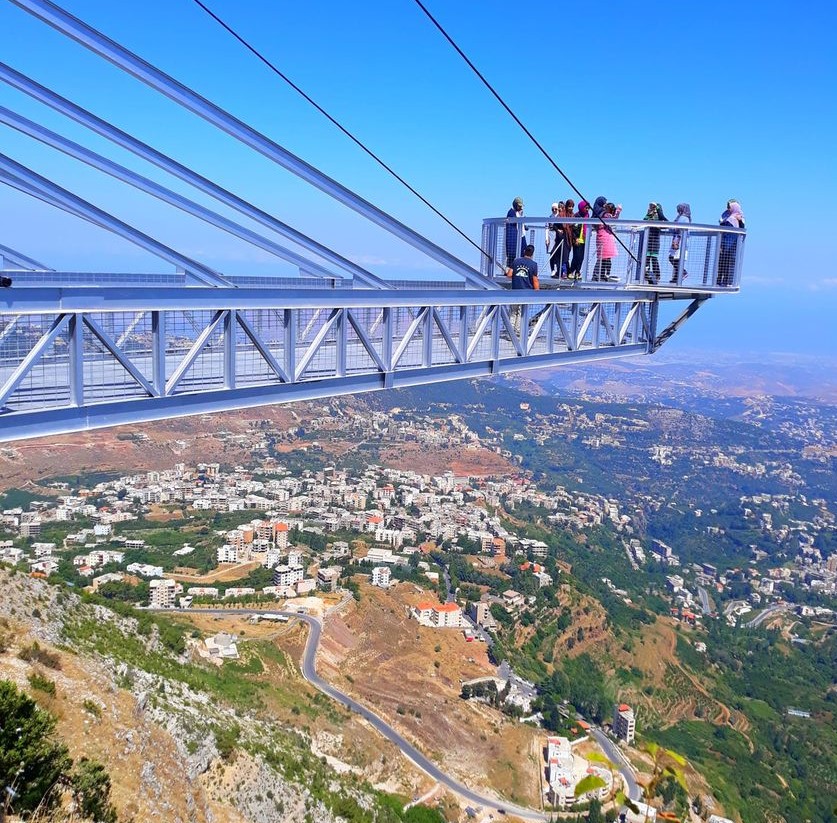 Hiking Trip to Jabal Al-Arbaeen with Dale Corazon-Lebanon Explorers

 

Hidden gems waiting to be discovered.

Jabal Al-Arbaeen hike event is unimaginable; A must-visit place! when you feel you are above the clouds.

A strange combination of panoramic spots towards Sfireeh, Qornet es-Sawda, Ehden, and Akkar. The coast is within view.

 

 

HIKE LOCATION                :  Jabal Al-Arbaeen / Syr El-Donniyeh / In the North

=============                  1550 – 1700 meters above sea level

 

WHEN                                 :  Sunday, June 20, 2021

=====

 

ENCOUNTER PLACE          :  Mar Maroun Church Parking, Dora @ 7:30 AM

===============

Driving directions to Mar Maroun      https://dalecorazon.com/contact/

 

FEES:                            

=====

60,000 LL/person including transport, professional guides, 5 minutes warming up, stretching, and pictures.

Children 18 years old and younger will have a discount of 20%. (50,000 LL per person)

Optional transportation by your own vehicles 40,000 LL/person

There is a 10.000LL Extra Entrance fee to the Swing.

 

 

 

DESCRIPTION OF THE EVENT:

=======================                                                                                     



If archeology and history are of interest to you, the Syr El-Donniyeh region offers you a little-known site of great value.
The stunning lookout spot on (جبل الأربعين) Mount Al-Arbayin. The "40 martyrs" mountain was named following a 13th century battle between the Crusaders and Salaheddin El-Ayoubi. It's one of the Al-Makmel mountain series, which rises 2000 meters above sea level.



It's one of the most beautiful hikes that will leave wonderful pictures in your memory. There the HIGHEST SWING IN THE MIDDLE EAST!



HIKING LEVEL: 1 to 3 for easy, 4 to 6 for intermediate, 7 to 9 for strenuous.

Our hike will be divided into 3 levels:



LEVEL 3 (Approx. 1hr.) It's a tour and visit to the bridge and the swing.



LEVEL 4 (Approx. 2.5 hr. around 7 Km) It's a loop trail, it will be an easy walk: the first part is uphill, the next one is at hilltop overlooking great views. The lunch will be there on the top then downhill to the bridge where you will get back to the bus. In this hike, you will have many reasons to keep our cameras handy. From the moment you start hiking until the moment youstop, there will be scenes that we want to cherish forever.



LEVEL 5 (Approx. 3.5 hr. around 12 Km) The stunning mountainous landscape, with the bridge and the swing seemingly defying gravity on extremely vertical slopes, is impressive. The path is like level 4 with an extra 1 hour ascending and descending exciting trail that requires more physical effort. The trail at about ends up 1750m. There won't be rest breaks as level 4.



This magnificent location makes that destination one of the best in Lebanon.

On your way back to Beirut, we may stop in Batroun to drink freshly squeezed Lemonade.

 

Protect yourself and others around you by knowing the facts and taking appropriate precautions:

Distancing from each other is a must.

Cover your nose and mouth with your face masks. To keep it on, while we are on the bus.  

Clean your hands often by using hand gel or other.

 

WHAT TO TAKE:

============                 

 

Healthy snacks that will boost your energy include dried fruits, lunch, water, MEDICAL FACE MASKS, HAND GEL, cap, sunglasses, and sunscreen. Wear comfortable walking shoes (A professional brand is recommended) and don't forget to get a light jacket. DC members get a 20% discount on sports equipment in Sports 4 Ever branches.

==There will be a breakfast stop along the way==
FOR RESERVATION AND INFO:
=======================
Please Call 00961-70-986118 / 00961-70-997062 and send an SMS or WhatsApp to mention your name, surname, and the event you wish to join us in.
NOTE:
=====
Thank you for not smoking during the trip and following all the ecotourism rules included safety regulations (hikers are advised to join our events to their own responsibility). And occasionally, due to reasons beyond our control, slight modifications to the event may occur.
You can join our group on
Facebook:
Dale Corazon - Lebanon Explorersيلا يا قلب
   (group) and
https://www.facebook.com/dalecorazonleb
  (Page)
Instagram: dale.corazon.leb.explorers
YouTube: Dale Corazon - Lebanon Explorers
For more information, kindly visit our website
:
http://www.dalecorazon.com/
Best Regards,
Dale Corazon - Lebanon Explorers
You might be intersted in
Chatine – The Genesis by Tourleb
Wady El-Mahabess Hike & Swim on Sun, Aug 14, 2022 with DALE CORAZON – LEBANON EXPLORERS
Spend Sunday surrounded by Greek vibes at Grecco – Byblos