Niha Bekaa Roman Temples & Rayak Trainstation with Dale Corazon Lebanon Explorers

Back to Listing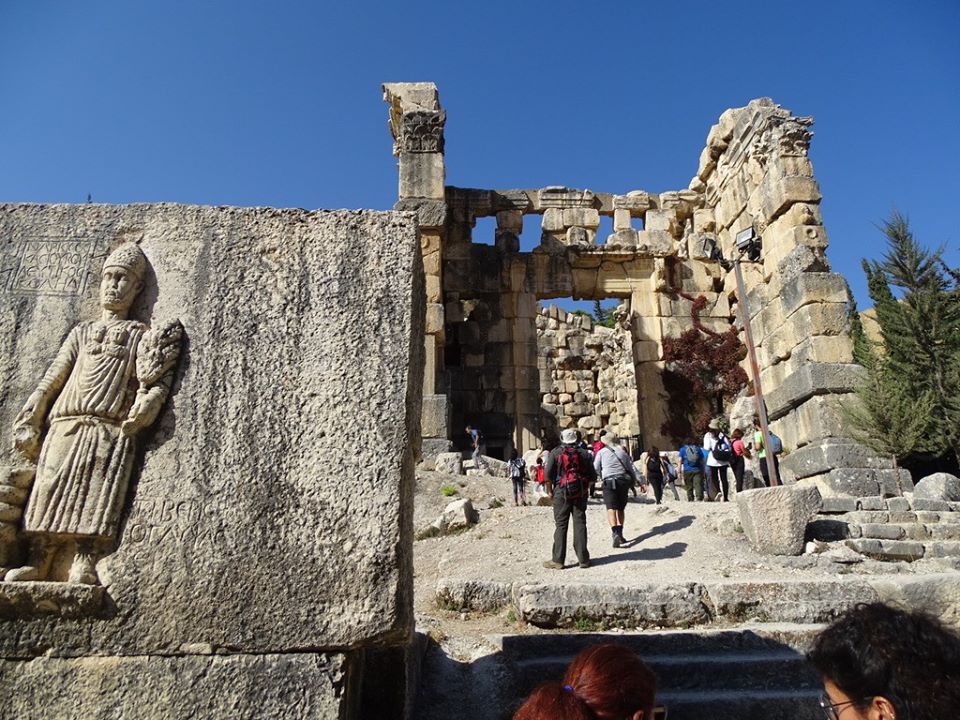 Hiking at NIHA – FERZOL, TRAIN STATION VISIT with DALE CORAZON – LEBANON EXPLORERS!
HIKE LOCATION                  :
   Niha – Ferzol.  Bekkaa region.
=============
                    1100 meters above sea level, 8 km North of Zahle.
Rayak village by bus
WHEN                                   :  
Saturday, December 26, 2020
=====
ENCOUNTER PLACE            :
  Mar Abda Church parking facing the New-bridge, Jal El
===============
                Dib
@ 7:30 AM
FEES:
=====


40,000 LL/person including transport (comfortable air-conditioned Pullman), professional guides, 5 minutes warming up, stretching and pictures.


Optional transportation by your own vehicles. (25,000 LL per person)


Children 18 years old and younger will have a discount of 12.5%. (35,000 LL per person)


There is 2.000LL Extra Entrance fees to the Temple.
DESCRIPTION OF THE EVENT:
======================        
Come and experience the adventure of
hiking
along the charming village of Niha Bekaa and Ferzol
. The word 'Niha' means a place of rest, as it was once the Roman emperor's summer place in Baalbeck. Niha is known for the
4
citadels dating back to the Roman Empire
were constructed between the 1st and 3rd century AD, with some even further back to the Byzantine and Phoenician era.
The citadels are grand, which can be compared to those at Baalbeck, albeit on a smaller scale
.
The hike will begin from Niha where we will visit the well-preserved lower temple.
After this, we will divide into two groups: easy and intermediate.
HIKING LEVEL
. 1 to 3 for easy, 4 to 6 for intermediate, 7 to 9 for strenuous/advanced
Level 4 (approx. 2:30Hr)
will continue to walk a bit uphill until they reach the upper temple
El Hosn of Niha
, which is still upright but in very good condition. Stunning panoramic views of the Bekaa valley can be enjoyed from up there. Then the trail becomes a downhill walk all the way to Ferzol.
Once in
Ferzol, we will all go to Al-Habis to see ancient ruins and caves dating from the Canaanite, Phoenician and Roman era
. The ruins are from a prehistoric empire that has been carved into the mountain as
Cappadocia in Turkey
, famous for allegedly housing all the gold treasures of that empire! On the other side, we will see the king's chair, wine presses, and many
historical remnants.
Level 3 (approx. 1:30Hr)
The same trail as level 4, the difference is; will reach the upper temple
El Hosn of Niha
by bus.
We will have time to rest and visit Rayak Train station before walking back to our bus and continuing back home.
Protect yourself and others around you by knowing the facts and taking appropriate precautions:
Distancing from each other is a must.
Cover your nose and mouth with your face masks.
To keep it on, while we are in the bus.  
Clean your hands often by using hand gel or other.
WHAT TO TAKE:
============                
Healthy snacks that will boost up your energy such as dried fruits, lunch, water,
MEDICAL FACE MASKS, HAND GEL,
cap, sunglasses and sunscreen. Wear comfortable walking shoes (Professional brand is recommended) and don't forget to get a light jacket. DC members get a 20% discount on sports equipment in Sports 4 Ever branches.
==There will be a breakfast stop along the way==
FOR RESERVATION AND INFO:
=======================
Please Call 00961-70-986118 / 00961-70-997062 and by sending SMS, or WhatsApp mention your name, surname and the event you wish to join us on.
NOTE:
=====
Thank you for not smoking during the trip and following all the ecotourism rules included safety regulations. And occasionally, due to reasons beyond our control, slight modifications to the event may occur.
You can Join our group on
Facebook:
Dale Corazon - Lebanon Explorersيلا يا قلب
   (group) and
https://www.facebook.com/dalecorazonleb
   (Page)
Instagram: dale.corazon.leb.explorers
YouTube: Dale Corazon - Lebanon Explorers
For more information, kindly visit our website
:
http://www.dalecorazon.com/
Best Regards,
Dale Corazon - Lebanon Explorers
You might be intersted in
Hike for a cause with Decouvre Lb
Batroun Festive Yoga Escape with Yogi Nomads and Niya Community
Forest Winter Camp for Kids with Decouvre Lb