Joanna Laura Constantine is a Beirut-based jewelry designer whose work has taken the fashion world by storm. Winner of the Vogue Arabia Fashion Prize, Constantine's designs are an extension of her persona, each piece reflecting her passion, resilience and eclectic style.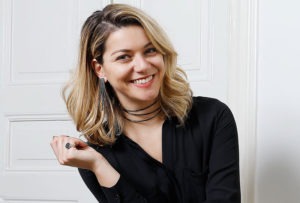 Featured in countless esteemed publications such as Elle, Vogue and W Magazine, Constantine's jewelry has been worn by fashion icons including Kim Kardashian West, Rihanna, Bella Thorne, Eva Green and Jessica Alba, to name just a few. Her designs have also appeared in advertising campaigns for L'Oreal, Air France and Campari.
With an ever-growing international audience, Constantine talks about her style, designs and the future of her brand.
HOW WOULD YOU DESCRIBE THE WOMEN THAT WEAR YOUR JEWELRY?
The women that wear my pieces tend to be modern and confident.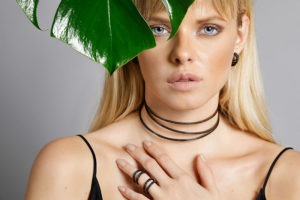 WHAT IS ONE PIECE OF JEWELRY YOU BELIEVE EVERY WOMAN SHOULD OWN?
A pair of statement earrings can help elevate any look.
YOUR WORK HAS BEEN FEATURED IN MANY INTERNATIONAL PUBLICATIONS AND HAS BEEN WORN BY SOME INCREDIBLY TALENTED WOMEN. WHAT HAS BEEN THE MOST MEMORABLE MOMENT IN YOUR CAREER THUS FAR?
Rihanna's stylist tagged me on Instagram when Rihanna wore my mini leaves and pearl choker necklace to the Grammy Awards. It was unforgettable.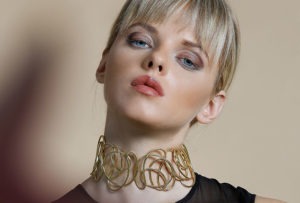 WHO WOULD YOU LOVE TO SEE WEARING ONE OF YOUR PIECES AND WHY?
I would love to see Her Royal Highness Queen Rania of Jordan wear one of my pieces as I really admire her beauty, persona and the causes she supports.
YOUR DESIGNS ARE MINIMALIST YET BOLD AND UNIQUE. WHAT HAS HELPED YOU ACHIEVE THIS STYLE?
Listening to what my clients want and need has helped me enormously. I also keep an eye on trends and integrate some of these into my designs. I like designing statement pieces that are very modern and wearable both day and night.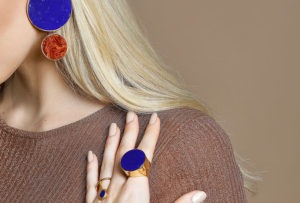 IN WHAT WAY DOES LEBANON INSPIRE YOUR COLLECTION?
Lebanon is home to me: it will always be my source of inspiration and the place where I design and produce all of my jewelry.
WHICH PIECE OF JEWELRY DO YOU ALWAYS WEAR AND WHY?
I always wear my double-faced horn pendant necklace. I feel it brings me good luck.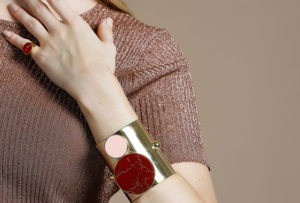 WHAT'S NEXT FOR THE JOANNA CONSTANTINE BRAND?
I'd like to continue designing and creating unique pieces and to increase the visibility and distribution of the brand worldwide. We have just launched our e-shop, which is a very exciting step for us.
Loading