It's time to discover the culinary wonders of Shouf. As USAID's Trade and Investment Facilitation (TIF) project is working to raise the profile of the district and enhance its tourism offerings, we lift the lid on where to eat in Shouf.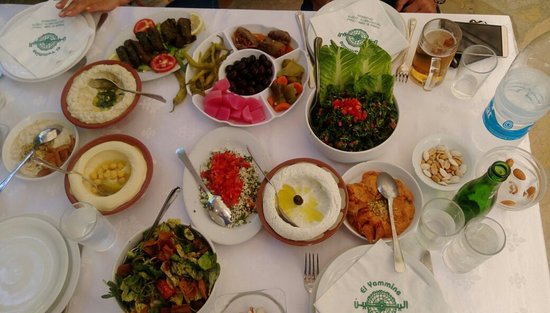 El Yammine Restaurant
Since 1914, El Yammine Restaurant has been serving the finest Lebanese cuisine in the Nabeh el Safa area of Shouf. With over a century of experience, this renowned establishment offers a delightful dining experience, showcasing the vibrant flavors and traditions of Lebanese gastronomy.
For reservations, call +961 5 230 033.
Shalalat El Barouk
Shallalat Al Barouk, one of the best restaurants in Barouk, has the added advantage of its serene location right next to the river. Guests can enjoy the soothing sound of flowing water and take in the beautiful view while indulging in delectable dishes. This picturesque setting adds an extra touch of tranquility to the lunch or dining experience.
For reservations, call +961 81 901 922.
Al Midyaf
Al Midyaf is a highly recommended spot for lunch or dinner. The restaurant offers a perfect ambience, with a lovely bright atmosphere, complemented by tall trees. As you enjoy your meal, you'll be serenaded by the soothing sound of waterfalls and the nearby river.
For reservations, call +961 70 443 318.

Coara
Coara Vegan Cuisine is a remarkable plant-based vegan restaurant that prides itself on offering high-quality dishes. Its commitment to providing food free from added chemicals ensures a pure and wholesome dining experience. Moreover, the restaurant exudes an atmosphere of warm love, making it a welcoming and inviting place for all.
For reservations, call +961 71 852 058.
Shallalat El Zarka
Shallalat El Zarka is a delightful outdoor restaurant, offering a family-friendly atmosphere. Nestled along the picturesque Baakline River in El Chouf, this restaurant is an ideal spot for lunch or dinner. With its warm ambiance and accommodating nature, it caters well to groups, parties, and families with children. Whether you book in advance or walk in, you'll be treated to a delectable menu featuring Lebanese, Mediterranean, Barbecue and Middle Eastern dishes.
For reservations, call +961 70 175 171.
Paradise Baakline
Located amid the serene beauty of nature, Paradise Restaurant offers a truly astonishing experience with its breathtaking waterfalls. Take this opportunity to escape the hustle and bustle of the city and embrace precious moments in the lap of nature.
For reservations, call +961 71 673 821.

Al Mamlaka
This family-friendly gem is the perfect destination to delight in great food and quality time with loved ones. With a spacious terrace overlooking the tranquil river, it offers a picturesque setting. The menu boasts a wide array of rich and delectable options. Coupled with excellent service.
For reservations, call +961 3 865 143.

Tourist Restaurant
Nestled in the scenic Barouk mountains, Tourist Hotel and Restaurant offers a captivating experience surrounded by the enchanting Lebanese cedars' reserve. Boasting a breathtaking view and a delightful atmosphere, it is the perfect destination for nature lovers seeking tranquility.
For reservations, call +961 3 630 056.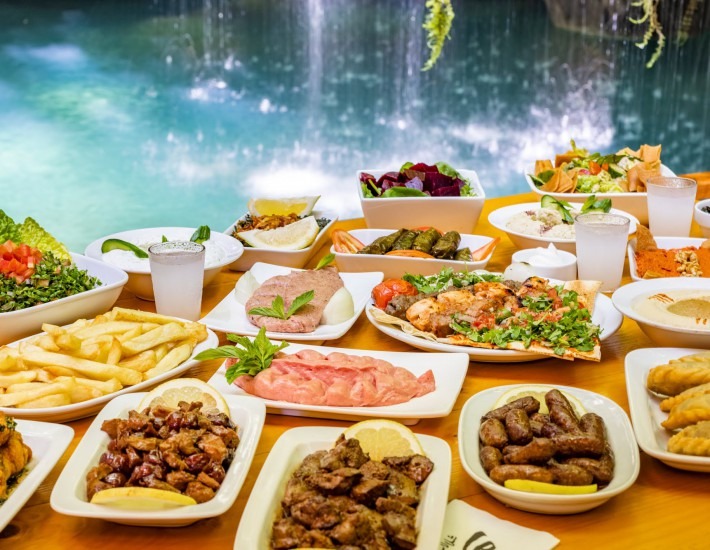 Shallalat Nabeh Mershed
Nabeh Mershed, presents a delightful dining experience amidst picturesque waterfalls. There's nothing quite like relishing an authentic Lebanese feast while immersed in such a scenic setting. This restaurant treats its patrons not only to the finest Lebanese Mezze and Cuisine but also to a magnificent vista of the Nabeh Mershed Cascades.
For reservations, call +961-25-310220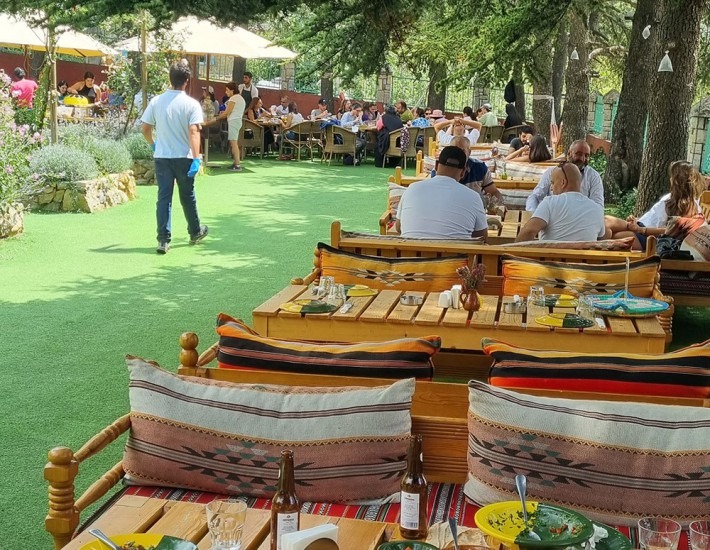 Al Fundok
Nestled at the entrance of the Shouf Cedar Reserve, this former 1950s school in Maaser El Chouf has been beautifully restored by architect Yola Noujaim. The eco-friendly hotel offers a serene and spacious atmosphere in a lush garden setting. With tastefully designed suites, a welcoming lobby, and a variety of Lebanese dishes made from fresh ingredients, it's a perfect mountain hideaway. The establishment features seventeen well-appointed bedrooms, combining rustic charm with modern comfort.
For reservations, call +961 81 300 931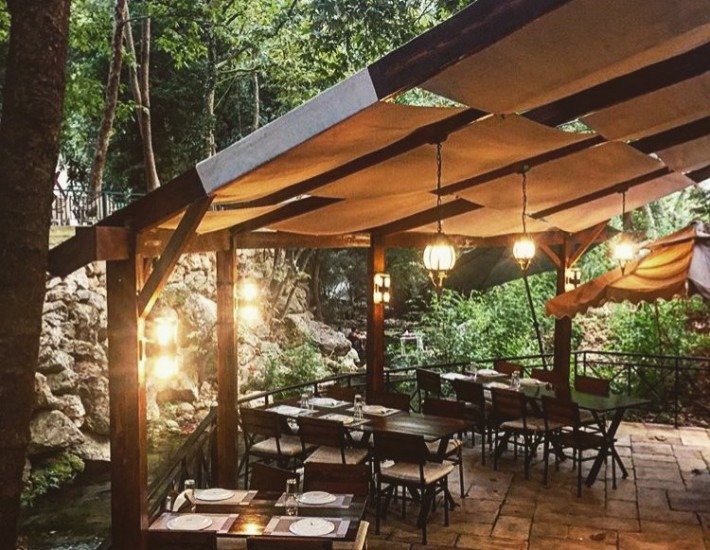 Al Tahouneh Restaurant
Tahooni is a Lebanese restaurant in Baakline that offers a serene riverside setting, distinct from other crowded places in the area. Named after an ancient mill on the premises, the restaurant has been operating since 1998. It serves a wide range of Lebanese and Middle Eastern dishes, including kebabs, shawarma, falafel, and various sweets. The beautiful view of waterfalls and surrounding trees adds to the dining experience.
For reservations, call +961 76 885 802.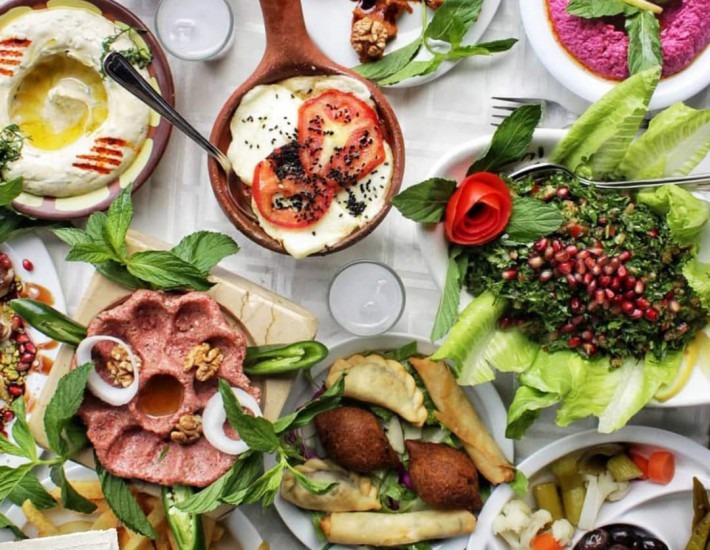 Baytna Restaurant
The location is a historic Lebanese residence that has stood for over two centuries, providing a remarkable and inviting ambiance for an exceptional dining encounter. Baytna presents a menu that encompasses Lebanese, global, and customary dishes. Whether by the fireplace during winter or on the open-air terraces during summer, you can relish the breathtaking vistas of Barouk Cedars forest and the river while you dine.
For reservations, call +961 3 841 456.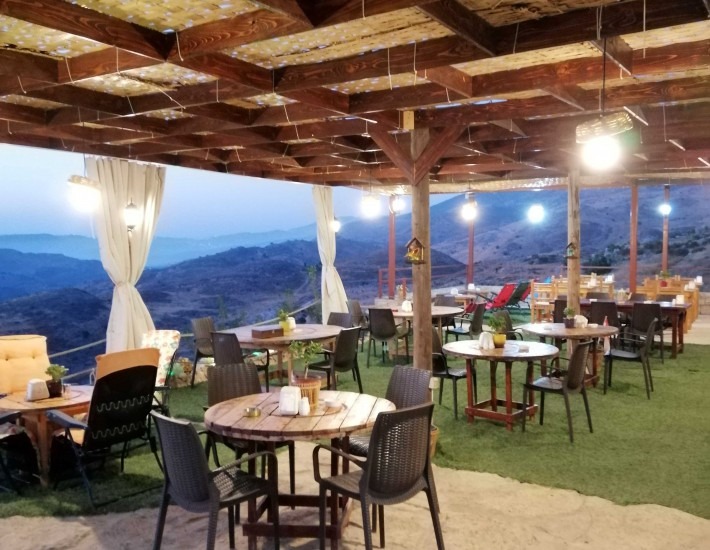 Cedar House Barouk
This distinct cafe and chalet are positioned at the entrance of the Barouk Shouf Reserve, offering a picturesque setting close to the Cedar House cafe. Notably, the interior boasts a remarkable wooden design, featuring a lounge area with sofas and a sleeping section furnished with a double bed, accompanied by a bathroom. The scenic view adds to its allure.
for reservations, call +961 3 447 962.
Classio
Experience the epitome of gastronomic delight at Classio. The menu is designed to cater to a diverse array of palates and desires, offering everything from delectable seasoned grilled chicken to exquisite pasta adorned with velvety white sauce and melted mozzarella cheese! Fulfill all your appetites in a single, heavenly destination!
For reservations, +961 3 007 580.
This article is part of a joint project to promote tourism destinations across Lebanon, launched by the Trade and Investment Facilitation (TIF) activity, funded by the United States Agency for International Development (USAID), and Hospitality Services. The content of this article is the sole responsibility of Hospitality Services, and does not necessarily reflect the views of USAID or the United States Government.
Loading