Bkassine (Beit Kassin) is an Aramaic-Syriac word meaning village of the disappeared. Located 70km from Beirut in the Jezzine District, it is surrounded by splendid views of endless pine forests. We discover more with travel blogger Nadine Chemali.
RECONNECT WITH NATURE
Bkassine is a charming village which has preserved its natural environment with amazing traditional houses surrounded by the largest pine forest in the Middle East. The forest, which extends over two-and-a-half square kilometers, was classified as a protected area in 1996. It is home to around 168 species of which 65 are medicinal plants. To encourage reforestation in the area, Bkassine Municipality built a nursery in 2011 where 20,000 seedlings are produced every year.
ENJOY A MAGNIFICENT HIKE
The Bkassine Side Trail takes hikers on a unique journey. Departing from Niha Fort, the trail is divided into two parts, each bearing a different level of difficulty. The first stretch, which ends in Bkassine Square, is around eight kilometers long and offers hikers breathtaking views of Wadi Jezzine and the Bisri Valley.
The trail takes them along two majestic cliffs, then goes across an Ottoman bridge and around an old water mill. It continues through the old village of Kfartaala, which was destroyed by an earthquake in 1956. Taking around four hours to complete, this part of the trail is classified as very difficult and is not to be missed by experienced hikers.
The second part departs from Bkassine square, passing through the pine forest southwards to Ain el Toghra then heading back north towards Hima Jezzine. This trail is especially enchanting as it offers hikers panoramic views of Saida and the Mediterranean from Ain El Zaarour and El Roummani. The trail ends by joining section 22 of the Lebanon Mountain Trail. It is about 14km long, and is classified as challenging, with 433m of ascent and 615m of descent. It requires around four and a half hours to complete.
For more information about hiking, contact the municipality (07 800580/07 800046) or Joe Harfouch (03 353293).
EXPLORE THE CENTRAL SQUARE AND THE SURROUNDING AREA
The village is characterized by the charm of its central square where you can find Saint Takla, one of the most beautiful churches in Lebanon, the small souk and red-tiled houses. You can also visit the nearby church of Our Lady of Salvation, built in 1855, and Saint Joseph Monastery. Every September Bkassine celebrates the Saint Takla Festival, which is one of the most popular events in the South. During the festival, the ladies of Bkassine prepare organic homemade moouneh and the municipality organizes a number of exciting events.
VISIT THE NEARBY SITES
Take advantage of being in the Jezzine District by visiting some of the region's top sites such as Serhal Palace. Built by Farid Serhal in 1964, the palace fuses elements from around the world to capture various parts of history: Roman, Byzantine, Arab, French, Spanish and Italian Renaissance. Serhal demolished his house in the '60s to create the magnificent art space, and although he passed away before the project was completed, his impressive dedication to the region and extensive collection of antiques lives on.
Prior appointments must be made with Joe Harfouche (03 353293) to visit the palace. The waterfalls of Jezzine are another famous landmark. At 74m high, they are among the highest in Lebanon, earning Jezzine the title of City of Falls. Winter and spring are the best seasons to witness this natural phenomenon so take the road next to the statue of the Virgin Mary, known as Saydet el Maabour, and walk to the base of the falls.
TASTE THE LOCAL DELICACIES
Unsurprisingly, Bkassine is a well-known producer of pine nuts thanks to its huge pine forest. It is also recognized for its olives and olive oil traditions, with olive presses still operating today. You can discover some of the finest products, including pine nuts, extra virgin olive oil, pure forest honey, goat labneh and the traditional kishek of Jezzine, at j.Grove (07 800766). Wine enthusiasts will enjoy a trip to Karam Winery (01 370519), which tells the story of two brothers who brought back to life their ancestral vineyards with a unique line of wines. Take a tour with Habib Karam who will welcome you and encourage you to sample a selection of the winery's best
WHERE TO SLEEP
Maison de la Forêt (07 800222/78 828252) offers 25 bungalows and an additional five rooms of various sizes named after trees, fruits and different elements of nature. Alternatively, experience Bkassine like a local by staying at a guesthouse such as Hello Thea (07 800402/71 397068), Pine Land (07 800146 03 512099) or Maroun & Linda B&B (70 108327). For big groups contact Saint-Joseph Convent (07 800014/03 859734).
WHERE TO EAT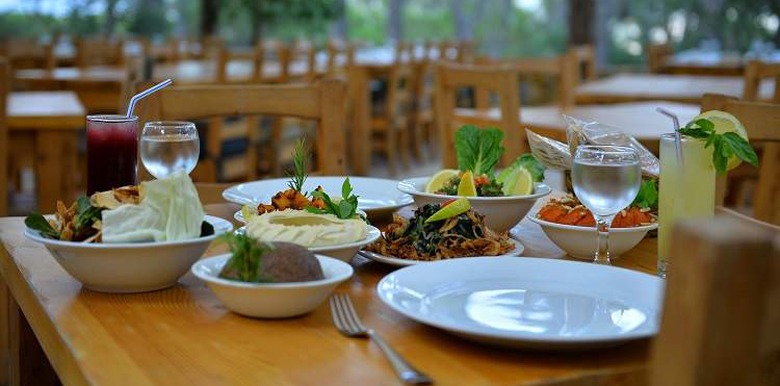 If you're after a Lebanese meal, Beit El Ghabeh (07 800222/78 828252) uses local products to support the region's producers. If it's on the menu, taste Layali Bkassine, a superb dessert item.
Loading