Located just an hour's drive away from Beirut, Byblos is a popular touristic destination among those looking to escape the chaos of Beirut.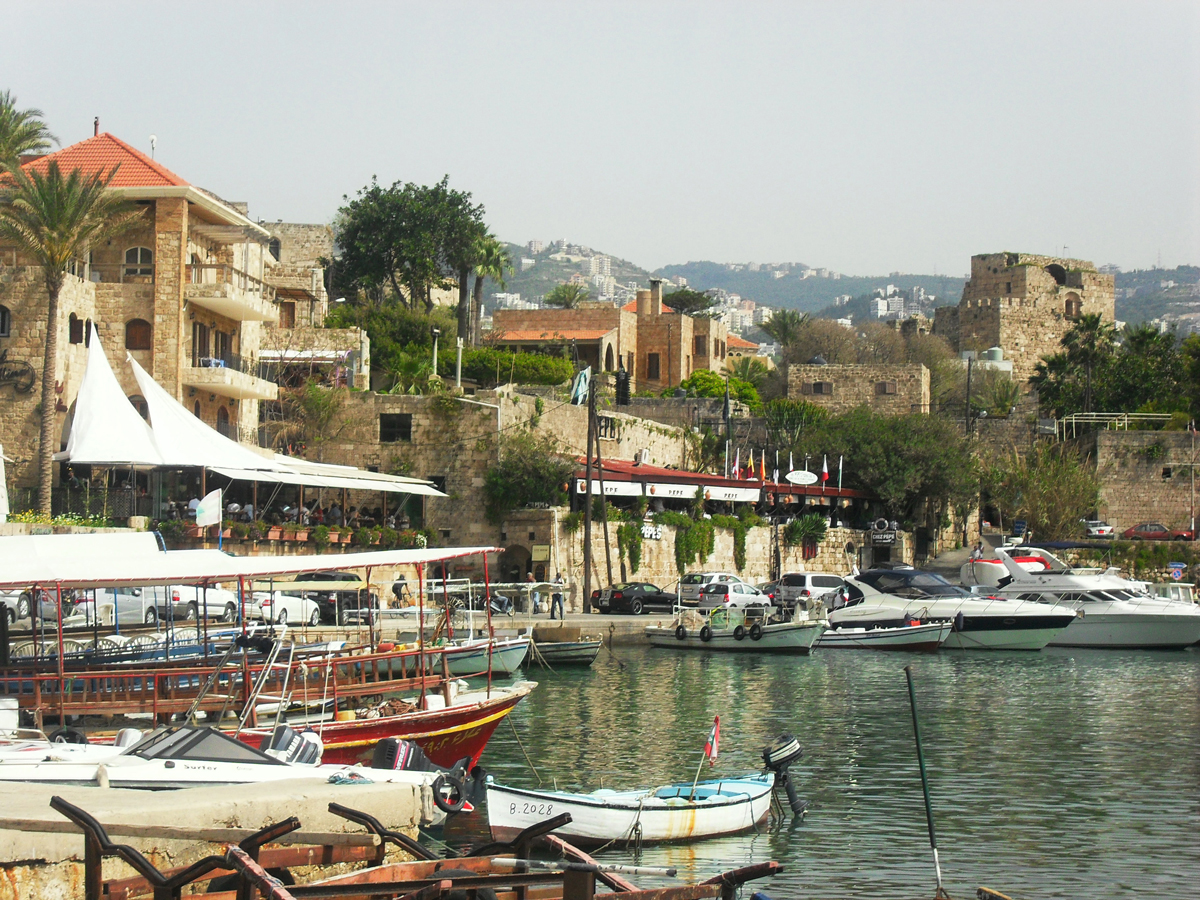 Getting There
---
Take the northbound highway out of Beirut past Jounieh and follow the signs to Byblos, "Jbeil" in Arabic.
What to Do
---
Bittersweet History
Like many of Lebanon's coastal destinations, Byblos has witnessed the onslaught of Lebanon's conquering armies, from the Phoenicians to the Greeks to the Crusaders. Luckily, these great civilizations left relics of their conquest behind, and ruins from ancient times abound in Byblos.
Byblos is believed to be one of the oldest continually inhabited cities in the world, and some scholars even say that writing was invented in ancient Byblos. Layers of civilization are literally piled on top of one another in this expansive archaeological site. There is a Persian fortress from the 5th century BC, a Crusader castle, medieval city walls, and an Obelisk temple that dates back to the times of the ancient Egyptians.
 Byblos Port
The port of Byblos is a collage of pastels and deep blues. Fishing boats speckle the harbor and the deep blue of the sea mirrors the bright sky above. You can enjoy a simple walk along the port, or stop by one of the many cafés and restaurants lining the seafront for a coffee while you admire the incredible view.
Old Souk
A wander around the old souk is essential, particularly if you're looking for local handicrafts. Take a few moments to explore Gibran's Lebanon (+961 9 542226), where you can pick up literature from or about Lebanon. The shop also sells crafts made by local designers. A visit to Memory of Time (+961 9 540444) is also worthwhile, where you can discover the only fish fossils to emerge from the Middle East.
Beaches and Beach Bars
There are a number of fantastic beach clubs along the coast where you can tan and enjoy the fabulous views of the Mediterranean. Eddésands Hotel & Wellness Resort (+961 9 546666) has been a longtime favorite among couples, groups and families. The vast resort boasts countless pools and plenty of beach activities. Nomad (+961 71 000677) is unquestionably one of the hippest beach bars in Lebanon, and the party-loving crowd will definitely feel at home at Ayla (+961 81 808079).
Where to Eat
---
Overlooking the Byblos waterfront and a few partially-submerged ruins, Pepe's Byblos Fishing Club (+961 9 540213, pepeabed.com) has been a popular restaurant for fresh seafood since 1962. The restaurant itself has both indoor and outdoor seating, but come summertime, the views don't get better than Pepe's terrace. The walls are lined with pictures of Hollywood celebrities who once made up Pepe's clientele. On the menu is fresh seafood and consistently taste Lebanese mezze.
Serving fusion-style cuisine and specializing in redesigning famous traditional Lebanese and international dishes, Locanda a la Granda (+961 9 946333, locandaalagranda.com) occupies a prime spot in Byblos's old souk. Enjoy the view from the terrace while you sample the delicious food and the restaurant's special Locanda beer.
Where to Sleep
---
The cozy, family-run L'Hôtel de Mon Père (+961 9 795996 / +961 70 225987, lhoteldemonpere.com) offers boutique-style accommodation. The hotel has 17 rooms and is a short drive from the historic sites of Byblos.
Perfectly situated within walking distance from the Byblos ruins, Byblos Sur Mer (+961 9 548000, byblossurmer.com) is a hotel that breathes romance and tranquility, with artisanal touches like plush oriental carpets, locally embroidered wall hangings and cabinet handles crafted from seashells.
From é l'Hôtel (+961 9 545888, eddesands.com) you can stroll in the historical old souk of Byblos, walk along the shores of the Mediterranean Sea, or enjoy the beautiful Edde Sands resort, where you'll find a fabulous spa.
Loading