Celebrating the ancient Japanese art form, the Phoenicia Hotel Beirut is hosting an exhibition of origami in partnership with the Japanese Embassy and Ms. Matahiro Yamaguchi, the wife of the Japanese ambassador. We sat down with Ms. Yamaguchi to learn more about Japanese culture, her experiences in Lebanon and the exhibition.
What were your first impressions of Lebanon?
When we first arrived in Lebanon about two years ago, I was truly thrilled. Lebanon was an entirely new experience for me, and very different from other Arab countries where my husband previously served. I remember I was very eager to discover the different facets of Lebanese culture and history.
Do you find there are any cultural similarities between Lebanon and Japan? If so, what are they?
Despite the long distance between the two countries, I noticed during my stay here that Lebanon and Japan do share indeed certain cultural similarities and that both cultures are very rich and diverse. For example, both Lebanon and Japan are very well known for their generosity and hospitality, especially when welcoming guests.
The two cultures are also similar when it comes to family bonds and values. Japanese and Lebanese people tend to be very attached to their families, and in both societies family is considered a vital pillar; it is almost sacred.
Why are you passionate about origami?
The fact that it can be made from just paper and can be created into various forms; this inspired me to learn origami. In addition, it is a form of art and a way to enhance mindfulness for all ages, thus I keep creating origami.
Japanese origami began sometime after Buddhist monks carried paper to Japan during the sixth century. The first Japanese origami dates from that period and was used for religious ceremonial purposes only due to the high price of paper.
Modern origami has attracted a worldwide following, with ever more intricate designs and new techniques. Variations such as modular origami, also known as unit origami, is a process where many origami units are assembled to form an often decorative whole.
With popularity, a new generation of origami creators have experimented with crinkling techniques and smooth-flowing designs used in creating realistic masks, animals, and other traditional artistic themes.
Origami is still incorporated within everyday life in Japan. In many preschools and primary schools in Japan it is taught to students as origami is an important aspect of our culture. For example, we use origami crafts for children's seasonal events.
In addition, it is used as a way for children to interact with their elders and the locals.
How did the collaboration with Phoenicia Hotel Beirut come about?
The idea came to my mind when I invited Mr. Najib Salha to our residence and he commented on the beauty of the origami that was displayed. He hoped to display some origami in the hotel; so, we decided to create the exhibition.
Tell us more about the exhibition.
We prepared in total around 2,000 shapes of origami and we exhibited them in 40 showcases. It took the Japanese ladies and myself two months to finalize the origami figures.
One of the most famous origami designs is the Japanese crane. Legend says that anyone who folds one thousand paper cranes will have their heart's desire come true. The origami crane (orizuru) has become a symbol of peace because of this belief and because of a young Japanese girl named Sadako Sasaki.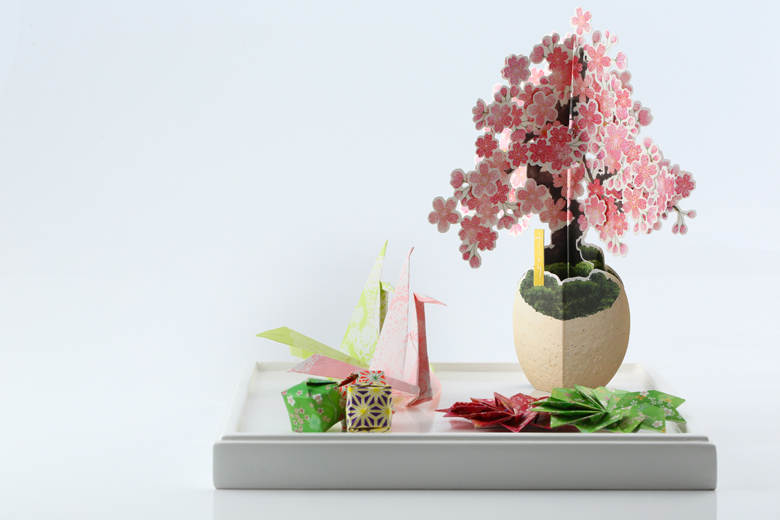 Sadako was exposed to the radiation of the atomic bombing of Hiroshima as an infant. By the time she was twelve in 1955 she was dying of leukemia. Her classmate told her about the legend, so she decided to fold one thousand origami cranes so that she could live.
Sadako folded 644 cranes before she died; her classmates then continued folding cranes in honor of their friend. She was buried with 1,000 cranes to honor her dream. While her effort could not extend her life, her friends made a granite statue of Sadako in the Hiroshima Peace Park: a girl standing with her hands outstretched, a paper crane flying from her fingertips. Every year the statue is adorned with thousands of wreaths of a thousand origami cranes. A group of one thousand paper cranes is called Senbazuru in Japanese.
The Origami exhibition will be running until the end of April.
Loading