TV personality, branding consultant and girl-next-door Bruna Tohme Zein talks about her career on the small screen and her relationship to Lebanon.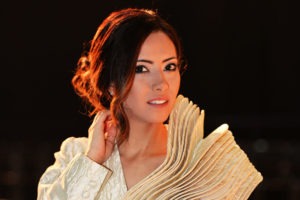 YOU GREW UP IN SAUDI ARABIA BUT YOU'RE ORIGINALLY FROM MARJAYOUN IN SOUTH LEBANON. WHAT MADE YOU RETURN TO LEBANON?
I returned to Beirut with my family at the age of 10 to attend school. I remember it being a bit of a culture shock at first but I quickly adapted.
YOU HAVE HOSTED SHOWS ON LBCI AND MBC AS WELL AS OTHER STATIONS. HOW DID IT ALL START?
I was at NDU studying graphic design when LBC approached me for a casting. Things happened very quickly after that and I found myself hosting a number of entertainment shows such as a music show on MBC4 called "CokeStudio." From there I went on to do numerous other things including the daily lottery on LBCI.
WHAT DO YOU ENJOY DOING IN YOUR SPARE TIME?
When I'm not working as a branding consultant for my agency Bird Media Design or as a TV host, I'm with my little boy Jude and my family. Whenever I get some time to myself, I like to read, watch a movie or see friends. I also volunteer at CHANCE Association, which supports children with cancer.
WHAT HIDDEN GEM IN LEBANON WOULD YOU RECOMMEND TO TOURISTS?
I would say gems! The beaches in Tyre are wonderful and Chouwen is an incredible destination for hiking. Anfeh is also beautiful, although it has become more developed.
WHERE DO YOU GO TO GET AWAY FROM IT ALL?
As a child I spent most of my summers in the Metn area. Its green mountains and beautiful houses left a lasting impression on me. For the past few years I've been going to Aley and Bhamdoun. I'm mesmerized by the old houses and traditional architecture.
PICK THREE WORDS THAT BEST DESCRIBE LEBANON.
Unique, entertaining and wonderful.
TIPS ON MARJAYOUN FROM BRUNA TOHME
1. Wander around the olive groves.
2. Enjoy a bite at Layali Al Moulouk. The neighborhood cafes and restaurants are fun and unpretentious.
3. Escape the crowd by the Litani River. My father spent much of his youth there enjoying picnics with his friends.
4. Don't miss seeing Beaufort Castle, the Church of St. George, built in the early 1900s, and the Monastery of St. Hanneh.
5. Buy the best virgin olive oil and the tastiest olives as well as all your mouneh items.
6. Don't leave without taking pictures of Marjayoun's green landscapes and stunning mountains.
Loading