City Sightseeing Beirut's bright red buses have officially starting touring the capital.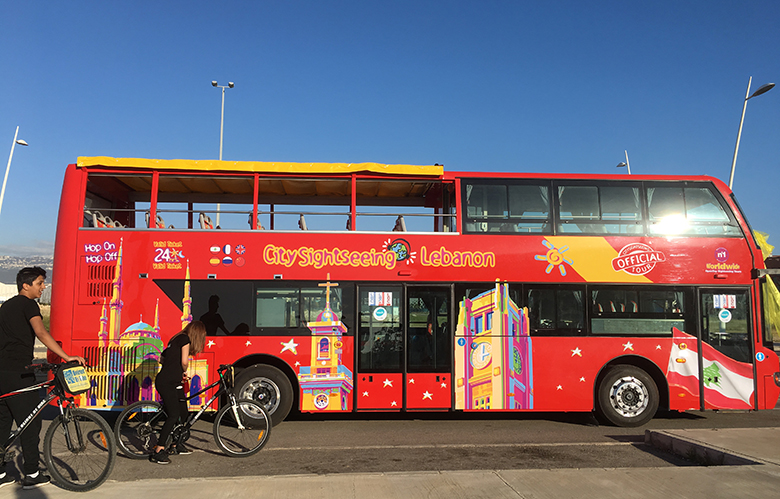 Beirut joined 100 cities in 30 countries, including places like New York, Dubai, Barcelona and Berlin, all offering a fun and convenient way to explore a city's top attractions, heritage sites and hidden gems.
"It's an honor to be the pioneer of using this hop-on hop-off concept in Lebanon," founder and CEO of City Sightseeing Lebanon Viviane Nasr said at the launch. "I'm really thankful to City Sightseeing for supporting me and I'm sure it will be a great success in the city and an amazing way to showcase the country.
The open-top double-decker buses will pass by 15 stops, such as Raouche Rock, the Roman Baths, St. Elias Cathedral and the St. Nicholas Steps. Passengers can choose to hop-on or off at any stop during the day, with buses taking the 90-minute tour route every half hour. For those wanting to stay onboard, the buses are equipped with pre-recorded commentary in six languages.
"Everyone who has visited Beirut has fallen in love with this beautiful city, with the diversity of its culture, the richness of its history and the welcoming, fun-loving people," Nasr added. "City Sightseeing is giving…a beautiful and unique touristic concept that didn't exist in Lebanon before."
Plans to run the service throughout the country and expand to Byblos, Jeita and the Harissa cable car are already in the pipeline.
Those interested in getting on board may purchase either a 33 USD ticket for 24 hours or a 48-hour ticket for 53 USD. Tickets include a guided walking tour of Downtown on Saturdays and free admission to the National Museum.
Text and photos: Maghie Ghali
Loading