17th International Film Festival-Beirut Shorts 2024 at NDU Louaize

Back to Listing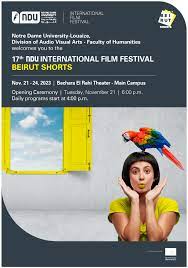 Notre Dame University-Louaize (NDU), within the Division of Audio Visual Arts at the Faculty of Humanities, is thrilled to extend a warm invitation to you for the 17th International Film Festival - Beirut Shorts. This event will take place from November 21 to November 24, 2023, at NDU's Bechara El Rahi Theater.

We are excited to kick off the festival with the grand opening ceremony on Tuesday, November 21, at 6:00 p.m. Throughout the festival, our daily programs will commence at 4:00 p.m., offering a diverse selection of outstanding films and a platform for engaging discussions and interactions.

We look forward to your presence and participation in this celebration of cinematic excellence.
You might be intersted in
Hike for a cause with Decouvre Lb
Batroun Festive Yoga Escape with Yogi Nomads and Niya Community
Forest Winter Camp for Kids with Decouvre Lb