Chatine's Apple Love with Snounou!

Back to Listing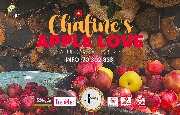 The Apple Season is here, and it's magnificent in our Lebanese mountains!
So spend a memorable day with SNOUNOU discovering one of Lebanon's most exquisite hidden gems: the village of Chatine, Batroun district, in a special outing themed around fall.
Start with a lovely easy hike on the Balaa hills that will lead us to Syed's Orchard. Then, an apple picking activity will follow, learning more about the forbidden fruit with Sayed. You can buy directly from him as well!
Then we'll go have drinks and a mouthwatering lunch table prepared by local in Al Basha Residence premises, with a striking view!
In the afternoon, we will have a lovely stroll in the village, hearing its stories and anecdotes.
Later on we will meet Manuella and Joseph, the creators of NATURAMIS who will give us a workshop around bees and honey making with tasting!
It will all punctuate your day, a lavishing day not to miss!
Date: Saturday October 7
Departure from Beirut : 09.00
Return to Beirut: 18.30 approximately
Price per person: 45$
Including:
- Transportation by bus from and to Beirut
- Terroir lunch table
- Hike the hills of Balaa
- Apple picking with Sayed
- A promenade through the village of CHATINE with storytelling.
- Bees and honey Making workshop with NATURAMIS
- Open Arak
- Open rosé and Obeidy wine
- Juices
- Desserts
- Coffee and snacks
- Apple and vegetables picking
- Guiding and stoytelling
Kids under 12 y.o. = 20$
Kids under 5 y.o. = free
Hurry and call 70 302 833 for info and reservations, PLACES ARE VERY LIMITED, as the policy is to have small groups per event to maintain a unique personalized experience and social agreeable ambiance!
OUR POLICY: Please note that cancellations 24 hours before the event will be charged 50% of the participation fees per person.
Cancellations made on the day of the event: the full amount of participation will be charged.
The events aim to encourage local rural tourism and small producers of various horizons and thus contribute into helping people stay in their lands.
This event is completely eco-friendly.
You might be intersted in
Hike for a cause with Decouvre Lb
Batroun Festive Yoga Escape with Yogi Nomads and Niya Community
Forest Winter Camp for Kids with Decouvre Lb