Darb el Mseilha at Nahr el Jawz with Dale Corazon Lebanon Explorers

Back to Listing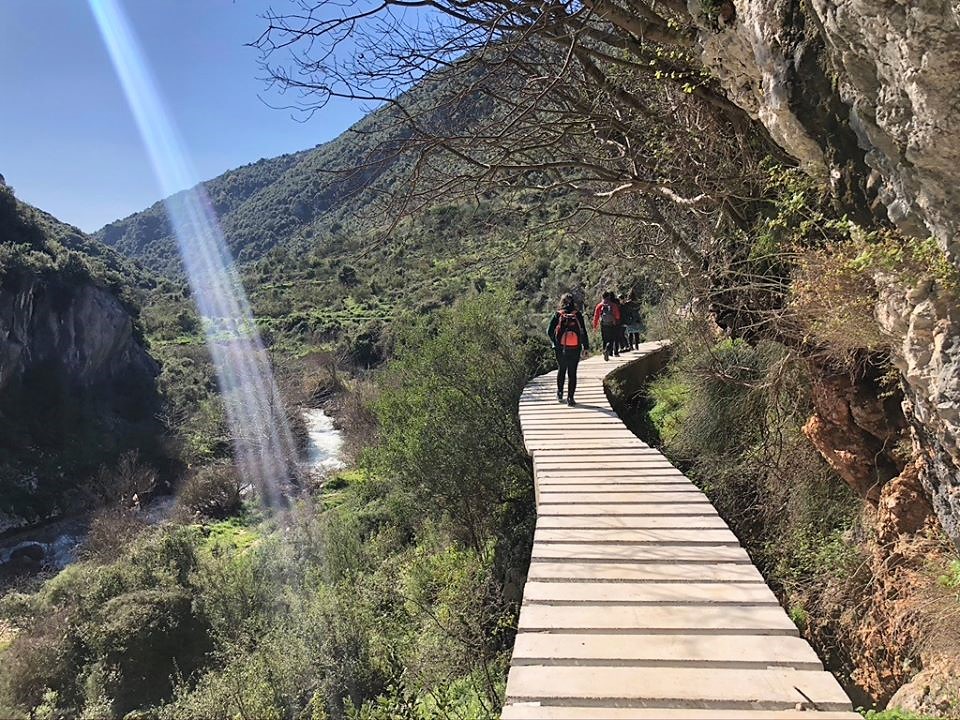 The river was listed as a National and Historic Heritage Site on February 24th, 1998 by the Minister of Environment.





HIKE LOCATION                       :  Mseilha - Rashkida - Kfarhay/ Batroun Districts/North

=============                    

200 meters above sea level, 2 km from Batroun.

WHEN                                        :  Saturday, January 30, 2021

=====

 

ENCOUNTER PLACE                 :  Mar Abda Church parking facing the New bridge, Jal El

===============                    Dib, @ 7:30 AM.

 

FEES:                            

====

40,000 LL/person including transport (comfortable air-conditioned Pullman), professional guides, 5 minutes warming up, stretching and pictures.

Optional transportation by your own vehicles. (25,000 LL per person).

Children 18 years old and younger will have a discount of 25%. (35,000 LL per person)

 

 

DESCRIPTION OF THE EVENT:

====================== 

 

Nahr El Jawz, located in North of Lebanon is one of the most beautiful Lebanese trails.                                                                                 

The river serves the water mills, irrigated fields, power generators, cafés and restaurants. A part of the water is pumped for domestic use in Batroun and the region. But you will be charmed above all, by the various types of trees along the river banks, especially the walnut trees that grow in preference close to water and which have given the river its name. There, we will have our lunch.

Historically, Nahr El Jawz valley was the only possible way through which armies could reach Batroun and for that reason fortress of Msaylha was built by Emir Fakhredine II in the 17th century to protect Batroun from enemy attacks.

The valley offers a varied landscape and it's considered one of the most enchanting for hiking in Batroun Caza.



HIKING LEVEL. 1 to 3 for easy, 4 to 6 for intermediate, 7 to 9 for strenuous.



Due to the topography of the ground and walking beside the river, you are bound to descend and ascendant minor slopes, so the hike will be a Level 4 (9.5 Km), it will be easy.

The trail offers many scenic spots and adventure. You will start walking from Mseilha Fortress and head towards the river bank on a water channel with amazing scenery of the Fall magical touch on the trees in the valley until you reach the bridge of Boxmaya village. The bus will then take you to Kfarhay to visit St. Maroun Monastery at Kfarhay village.



Mar Youhanna Maroun (St. John Maron) was the first Maronite Patriarch (702-710). During his mandate, Maronites moved from Syria to Lebanon and made Kfarhay the Patriarchal Seat until 938 when it moved to Yanouh. The skull of Mar Maroun is safeguarded there, you will see it, and visit the precious museum of old books dated back to the 15th century.



In our return to Beirut, our stop can be in Batroun to drink fresh Lemonade.

It will be a nice experience!



 

Protect yourself and others around you by knowing the facts and taking appropriate precautions:

Distancing from each other is a must.

Cover your nose and mouth with your face masks. To keep it on, while we are in the bus. 

Clean your hands often by using hand gel or other.



On our way back to Beirut, we may stop in Batroun to drink fresh Lemonade.

 

WHAT TO TAKE:

============                

 

Healthy snacks that will boost up your energy such as dried fruits, lunch, water, MEDICAL FACE MASKS, HAND GEL, cap, sunglasses and sunscreen. Wear comfortable walking shoes (Professional brand is recommended) and don't forget to get a light jacket. DC members get a 20% discount on sports equipment in Sports 4 Ever branches.

==There will be a breakfast stop along the way==
FOR RESERVATION AND INFO:
=======================
Please Call 00961-70-986118 / 00961-70-997062 and by sending SMS, or WhatsApp mention your name, surname and the event you wish to join us on.
NOTE:
=====
Thank you for not smoking during the trip and following all the ecotourism rules       included safety regulations. And occasionally, due to reasons beyond our control, slight modifications to the event may occur.
You can Join our group on
Facebook:
Dale Corazon - Lebanon Explorers  يلا يا قلب
(group) and
https://www.facebook.com/dalecorazonleb
   (Page)
Instagram: dale.corazon.leb.explorers
YouTube: Dale Corazon - Lebanon Explorers
For more information, kindly visit our website
:
http://www.dalecorazon.com/
Best Regards,
Dale Corazon - Lebanon Explorers
You might be intersted in
Bchaaleh-Douma Hike with Dale Corazon – Lebanon Explorers
There Are Birds Here Again – Solo Exhibition by Mojé Assefjah at Galerie Tanit, hors-les-murs
Kfarhelda,Beit Chelala,Tannourine Hike with Golden feet