Ernesto Aurignac & Moisés p. Sánchez Duo at Baabdath, The New Church

Back to Listing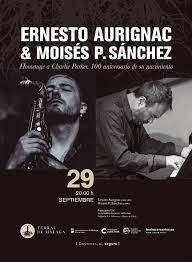 Ernesto Aurignac (alto sax) and Moises P. Sánchez (piano) are two of the most important figures in the jazz scene of Spain. They unite their passion for jazz music, composition, avant-garde arrangements and improvisation, in an intimate yet uncontrollable encounter a duo. A face to face of purity, sonority and suggestiveness in which the
unique styles and personalities of both dialogue and enhance each other.
They pay homage to the classics and, from them, launch their proposals into the future: their own themes, arrangements of jazz classics, spontaneous improvisations… Pure jazz power on stage.
You might be intersted in
Anfeh Hike with Vamos Todos
Dhour Choueir Hike with Vamos Todos
30 Years Of Colors Collective Exhibition at Janine Rubeiz Gallery