Sarkis Sislian: Transmutations

Back to Listing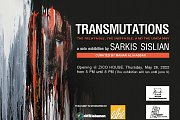 Arneli Art Gallery and Zico House proudly invite you to the opening of Sarkis Sislian's solo exhibition, "TRANSMUTATIONS".
"Analysing hope, self-improvement, self-destruction, and questioning the soundness of existence, Sarkis depicts the distorted sanity which links the rebellious inside to the nasty and the dishonorable outside.
Like Emil Cioran and Francis Bacon, our artist is communicating the beauty, the immortality, and the integrity of a better-elevated world, by showing us the hideousness, the decay, and the vulnerability of the world we live in.
Sislian's faces often gaze directly into the souls of the beholders, impersonating them. He never misses a chance to speak with passersby, and to communicate through the virtue of art, that which is non-communicable in any other way.
Showcasing various changes and transformations of form, color, composition, and texture, Sarkis Sislian creates bold and distinctive transmutations." - Ziad Dib Jreige
Sarkis Sislian is a multidisciplinary artist oscillating between two extremes of an arbitrary spectrum of expression. With an MA in Visual Arts from ALBA university, he has created a very subjective and unique approach to portraiture. His work goes back and forth between geometric, structural drawings, and almost abstract expressionist forms of introspection through portrait paintings.
Exhibition Period: May 26 – June 9, 2022
OPENING Reception: May 26, 2022, 5 PM - 8 PM, Zico House – Sanayeh, Beirut.
Zico House
Sanayeh
Beirut, Lebanon
You might be intersted in
Pottery Workshop by Lebanon Stories احكيلي عن بلدي
Dhour Shweir Beer Festival 2022
Festival des Pêches – Bikfaya 2022