The Big Band Festival – Byblos

Back to Listing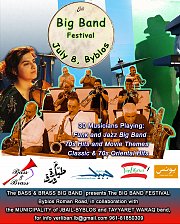 The Big Band Festival - Byblos

The one of a kind big band orchestra with strings, featuring 30 musicians playing jazz big band, movie themes, and 70s funk - disco orchestra and swing drums battle!

Tickets starting at 10$ or LBP equivalent. Flexible discounts for musicians.

A Bass & Brass production in collaboration with the Municipality of Jbail-Byblos and Tayyaret Waraq Band

For info 961 81 850309
verliban.lb@gmail.com

Trumpets: Rabah Mneimneh, Isaac Belot (Bandleader), Woody Woody and Joe Abdel Sater- Trombones: Joe Nassar, George bou Haidar, Jad Zaher - Saxophones: Krikor Arnelian, Pierre Zgheib, Iskandar Abdel Sater, Tatiana Zgheib - Violins: Robert Farah, Tony Rizk, Jana Farah, Aghappi el Arif - Piano & Synth: Nader Kaddoura, Makram Othman, Ghadi Khalil - Drums: Mohamed Younes, MGO Zeghchanian, Philippe Nassar -Guitar: Saad Sinno - Bass: Mounir Hakim, Julie Zgheib - Oud: Rami Saleh- Bouzouk: Jad Baayoun- Accordion: Chadi Daou- Nay: Azzam Chaarani- Percussion: Anas Kaddoura, Omar Othman- Vocals: Tania Cousteau, Fady Hayek, Madonna Hayek, Azzam Chaarani

All revenues are distributed to musicians.


You might be intersted in
Hike for a cause with Decouvre Lb
Batroun Festive Yoga Escape with Yogi Nomads and Niya Community
Forest Winter Camp for Kids with Decouvre Lb