Located in the El Mellaha district of Chabtine, just an hour's drive from Beirut, Dar Nour is a charming, traditional guesthouse that is surrounded by centuries-old oak and olive trees.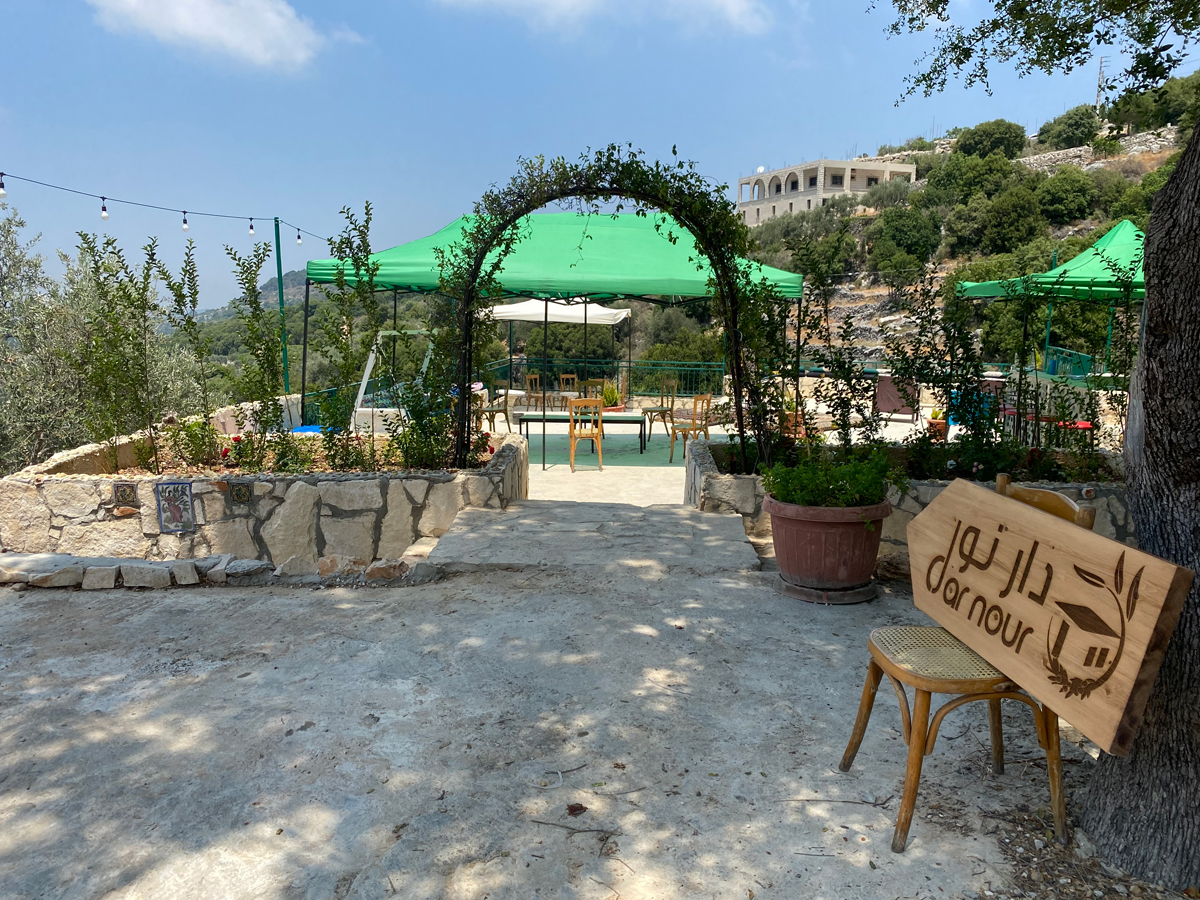 The story
Nour Farra-Haddad, a religious anthropologist, tourism consultant and nature enthusiast, always dreamed of a traditional Lebanese house in the mountains. In 2017, she visited what is now Dar Nour. Back then, the house was enveloped by vines and contained a beautiful cellar, but it was in need of work as it was almost in ruins. However, Nour saw great potential in the stone property and acquired it in 2019. She was involved in every step of the renovation, fulfilling her lifelong dream of creating a countryside home.
The guesthouse
Dar Nour overlooks the hills of Batroun, where gray stone walls are typical of the local architecture. The guesthouse has been furnished with souvenirs from the owner, Nour Farra-Haddad's, travels around the world. Among the unique items are Japanese wooden dolls, a Balouch Iranian wall carpet and a Peruvian embroidery depicting  Lake Titicaca.
The house features four double rooms and one suite but can host up to 15 persons for an overnight stay, with the multipurpose Dar and Abou reception halls serving as additional rooms. In addition, the rooftop can accommodate private events for up to 80 people. The large terrace overlooks rural Batroun, with vineyards, agricultural fields and valleys commanding the view.
Dar Nour is faithful to Lebanese traditions and supports local communities, advocating sustainable development. The guesthouse recalls simpler times: a celebration of an authentic rural lifestyle that marries a passion for nature with a commitment to heritage and cultural diversity.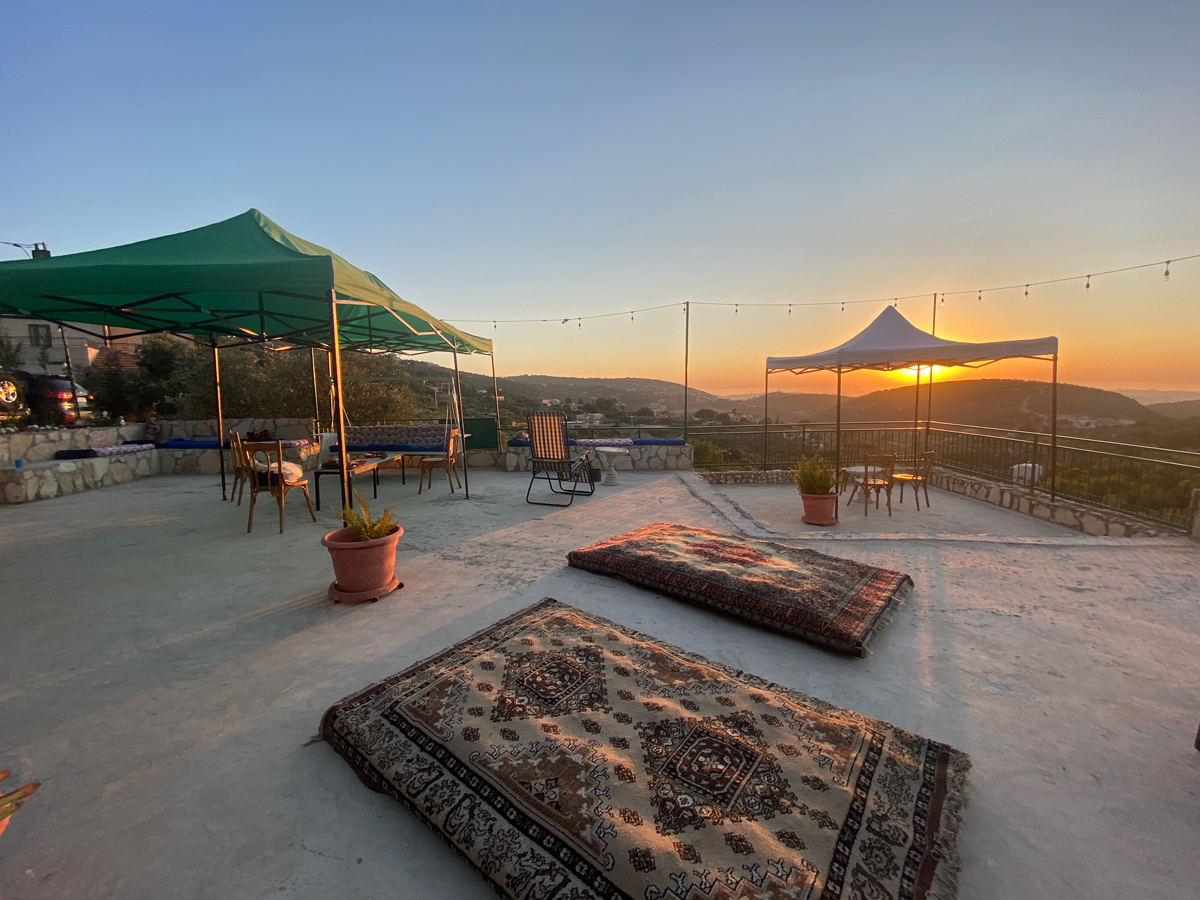 Offering an ideal environment to relax, Dar Nour boasts pretty terraces, an outdoor Jacuzzi and a wonderful rooftop to enjoy memorable sunsets. It provides a perfect escape for those seeking a romantic stay, a break from daily routine and a chance to reconnect with nature. Guests can read, chat, play chess, board games, cards and are also welcome to do some gardening.
Seminars, workshops and seasonal activities, such as cooking workshops, yoga sessions and art classes, can be organized. Guests can also explore rural Byblos and Batroun, abundant in authentic villages steeped in history, culture and architectural heritage. Plenty of hiking trails and several wineries can also be found in the area.
Things to see and do nearby
At an altitude of 500 meters above sea level, Chabtine is located 15 kilometers from Batroun. It can be reached from Batroun through Smar Jbeil, Edde, Jran, Deria, or through Ijdabra, Bejdarfel, Kfifane and Deria.
Visitors to the area can discover the Batroun wine routes and wineries, including Atibaia, Clos du Phoenix, Les Coteaux de Botrys, IXIR, Domaine Najm and Sept as well as the saints' routes, with the monasteries of St. Cyprian and Justine in Kfifane (sanctuary of St. Hardini and the Beatified Estephan Nehme) and St. Joseph Monastery (Sanctuary of St. Rafqa). Indeed, this same route continues to the famous Mar Maroun Monastery in Annaya, where the sanctuary of St. Charbel can be found.
The St. Taracus parish church (Mar Edna) of Chabtine dates back to 1930 and was recently restored. Chabtine has also an old church dedicated to the Virgin Mary, which is built on the rubble of a demolished pagan temple. Next to it is the newly built Lady's Church (As Saydet). Besides these churches, there is the Byzantine Church of St. Sergius and St. Bacchus (Mar Sarkis wa Bakhos) restored around 1872, which is flanked by big sarcophagi.
Chabtine is today recognized for its winery, Domaine S. Najm, its oil presses, Lebanese restaurants (Qamar Chabtine, Kasr Abou Anis, Diwan El Hassoun and Tallet El Sindiyana, to name a few) and its traditional bakeries, such as Chez Dalal.
To book at Dar Nour, call +961 3 733818.
Loading