Every city has its hidden culinary secrets and Beirut is no different. Taste and Flavors, crisscrossed the city in search of renowned eateries that have been around forever and are often taken for granted by the locals, yet remain a regular address for a quick, reasonable and authentic Lebanese meal.

Spinach Fatayer from Faysal
Originally a restaurant, which has transitioned into a snack bar, Faysal has been on Bliss Street for an age and is one of the most visited addresses in the area. Although it is known for many things, one of the best items on the menu is the Spinach Fatayer.  A pastry filled with the perfect mix of spinach, onions, seasoning, lemon juice and olive oil. The fatayer come in two sizes, small and large.
+961 1 367281 or +961 1 367830
Opening hours 24/7

Manousheh at Furn Abed Al Aziz
Perhaps one of the most consumed street foods in Lebanon, the manousheh is one treat that Lebanese miss most when abroad. Resembling a pizza, it is spread with a thyme and olive oil mix and cooked in the oven. At Furn Abed Al Aziz, located in the midst of Hamra's busiest crossroad,  they use Accaoui cheese as an alternative. For those who wish to sample both types, there are two options: either get the mini version or a manousheh cocktail that is half cheese, half thyme.
Open daily from 5 am to 10 pm
Need a boost of energy after walking the streets of Beirut? Try the Cocktail Pieces from Bliss House. In a cup, your server will mix juice with fresh pineapple, kiwi, banana, strawberry and other available fruit pieces and top it with cream (achta). For that extra energy drizzle it with honey and sprinkle with pistachio nuts.  Around since 1978, Bliss House has been serving this cocktail to generations of AUB (American University of Beirut students)!
+961 1 366290 and +961 1 366292 ,   blisshouse.com.lb
Open 24/7
Established in the 60's, Antabli was known for its fountain in the Beirut Souks and was the number one address for Lebanese sweets. The Civil War ravaged its previous location and Antabli moved and opened several branches, one of which is in Hamra. This is where you go to satisfy your sweet tooth. All kinds of desserts are available from meghleh (a cinnamon ground rice dish) and mouhalabiyeh (almost like a blancmange) to simple custard and jelly. Try the riz bi halib (rice pudding), a traditional and very simple dessert made from ground rice, sugar, milk and a touch of orange blossom water.
Open daily from 9:30 am to 1 am
Originally a butcher, Barbar has grown to be one of the most popular snack chains in Lebanon. It also extended it branches to Dubai!  Tasty and affordable, people rush there to satisfy their hunger. From pizzas to Lebanese specialties and all kinds of sandwiches, Barbar has it all. We suggest you try the kafta sandwich. Ground meat, mixed with parsley and onions that is grilled and served in a sandwich with humus and a unique mix made especially for it. You can always accompany it with some fries but the sandwich stands well on its own. Open 24/7, Barbar is busy all day and all night.
+961 1 379778 and +961 1 379779
Open 24/7
Established in 1946 and better known as Furn Al Arman (The Armenian Bakery), Ichakhanian offers a very unique variation of a very popular Lebanese dish. Lahem bajeen consists of finely minced meat mixed with onions, garlic, tomatoes and spices spread on a very thin pizza like dough and baked in an open oven. But, Mrs. Ichkhanian, who runs the bakery, has her own personal recipe and cooks it the Armenian way with special spices, or the Halabi way, with pomegranate syrup and pine seeds. A sprinkle of salt and squeeze of lemon juice won't go amiss. Enjoy it hot, straight from the oven. If you are craving both, you can always take a mini size of each. A mushroom version is available for vegetarians.
+ 961 1 375178 and +961 3 216012
Open Monday to Saturday from 9 am to 4 pm
Le Professeur specializes in foul and balila, which can be consumed for breakfast, lunch and dinner. Foul is a mixture of boiled beans and chickpeas mashed together, then seasoned with a lemon, olive oil and garlic dressing. Balila is boiled chickpeas with a similar dressing but lots of cumin. Served hot with a side of fresh radish, mint, olives, green onions and even a hot pepper sauce, they are a very traditional breakfast beloved by many Lebanese. Every foul maker has his secret ingredient that sets his dishes apart from the rest.
Open daily from 10 am to 4 am
Freiha, a long standing feature in Achrafiyeh, is known for making delicious falafel sandwiches. Watching the sandwich being prepared is perhaps what makes your mouth water the most. After taking out the hot balls from the boiling oil, the chef squashes them on the bread, then adds tomatoes, chopped parsley, pickled turnip and covers them with tarator sauce (tahina, lemon and garlic). He then rolls the sandwich tightly and voila – a scrumptious and substantial vegetarian treat.
Open daily from 10 am to 10 pm
A household name, Boubouffe has also been around for quite some time. The menu lists a variety of sandwiches but Boubouffe's best is the shawarma because it is a charcoal grilled. Whether chicken or beef, Boubouffe's shawarma is a delicious mix of meat and spices cooked to perfection, wrapped in Lebanese pita. While the beef is seasoned with humus and vegetables, the chicken shawarma is enhanced with a mild garlic sauce and fries, making it all the more flavorsome. Boubouffe is a bit more expensive but here the saying 'you do get what you pay for' rings true, so indulge yourself!
+961 1 200408 and +961 3 334040
Open Tuesday to Sunday from 12 pm – 11 pm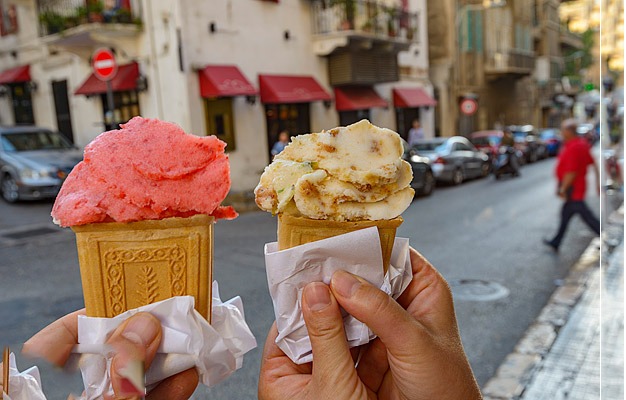 One of the last places that still makes Arabic ice cream the old fashioned way. Hand made daily with natural products and fresh fruits. Hanna Mitri and his wife are the sole keepers of the secret recipe and offer their customers unique flavors such as rose water, apricot, blackberries, melon and many more. The lemon sorbet is deliciously mixed with lemon zest, the apricot contains pine nuts and the almonds in the almond flavored ice cream are mixed with caramel.
Open Monday to Saturday from 8 am to 7 pm.
In an event that was launched in London, hosted by FoodieHub as the best food awards in the world, Lebanon's shawarma, represented by Abou Joseph, was nominated and won first place as the number one tastiest sandwich around the world, competing against cities like Edinburgh, Caracas and New York City. The specialties and famous sandwiches at Abou Joseph are the chicken and meat shawarma, falafel burgers, chicken submarine and all kinds of grill.
Open daily from 12:30 pm – 11:30 pm.
Loading