Snowshoeing offers the freedom to explore secluded landscapes, snow covered trees, animal tracks…and incredible views from high vantage points discovers Sabina Llewellyn-Davies. 
Just imagine it…the solitude of a white winter landscape, the only background sounds are icicles falling from trees and birds chirping. Lebanon is an ideal destination for snowshoe enthusiasts in search of backcountry escapades, boasting expansive hillsides and snow-covered peaks in the winter months.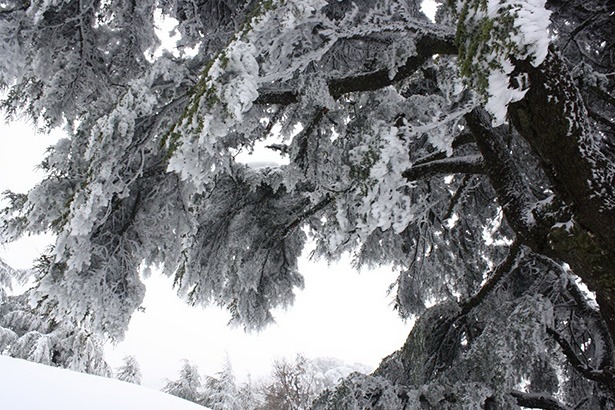 Today, snowshoeing is the fastest-growing snow activity. But, it has been around for thousands of years. Primarily used by hunters to traverse snow-covered landscapes in search of food the first snowshoes were primitive, made from wood and animal skins. The saying goes, "if you can walk, you can snowshoe" and this really is true. There are a few techniques, which you need to master, such as going up and down hills, traversing, plus the correct pole usage. But, if you are physically fit, you can become a snowshoeing expert in no time.
Snowshoeing can basically be done anywhere there is snow and no marked trails are needed. Just as with hiking, it's best not to go out into the snow alone to ensure safety, so always go with a friend, or a local guide to direct you to the best viewpoints. Or join one of Lebanon's hiking groups, which organize snowshoe outings most winter weekends.
Snowshoeing has become the winter sport of choice for many nature enthusiasts seeking solitude, put off by the mayhem of crowded roads leading to the ski resorts. And, snowshoeing is unlikely to break your bones or your budget. It is not a risky activity and there is no need to pay for lift tickets. Required gear includes the snowshoes themselves, which you can always rent, plus appropriate footwear and clothing.
At the end of a snowshoeing day, the best reward is to watch the sunset views over the snowcapped mountains while enjoying a mug of hot herbal tea laced with local honey, poured from a friend's thermos flask. Just be sure not to stay out on a freezing mountain after dark, unless you are in the company of a fully trained local mountain guide.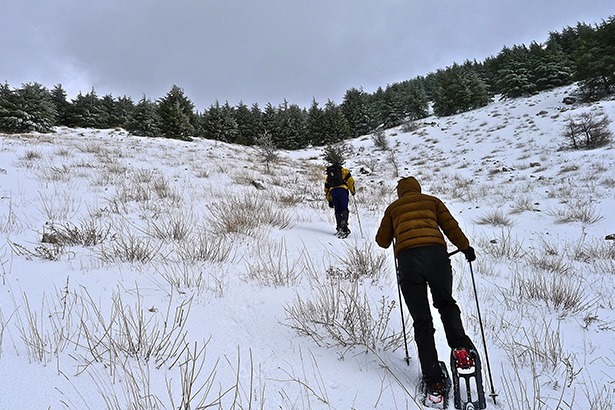 What you need to get started
Snowshoes and poles can be rented from all major sport shops for around USD10. Winter lodgings (see below) can also arrange for hire.
Insulated waterproof boots or leather waterproof hiking boots.
Microlight thermal underwear and polyester fleece insulating mid-layers.
A waterproof, breathable shell jacket and pants to keep you dry. Keep your head and hands covered to prevent loss of body heat and to protect from sunburn.
Wool or synthetic socks.
Knee-high gaiters from waterproof fabric to keep snow out of your boots.
Cap or woolen hat and sunglasses.
Sunscreen is a must as burning UV rays are especially intense when reflected off snow.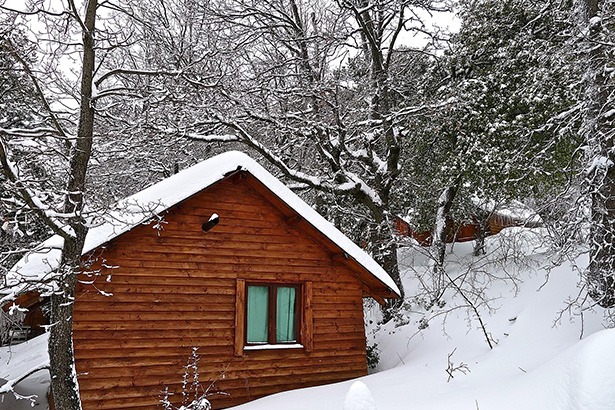 Where to Go and Stay
Try to avoid the busy ski resorts and seek the solitude of the Lebanon's backcountry and nature reserves. Horsh Ehden, Tannourine and Barouk are perfect destinations due to news of high towering snow covered trees. An overnight stay in the region, with a warm home cooked supper to welcome you after a day in the snow, will just add to the Lebanese winter wonderland experience.
The Tannourine Reserve, one of the largest and densest cedar forests in Lebanon, boasts around 6,000 trees and is so rich in biodiversity. Forest ranger George Sarkis operates a guesthouse close to the reserve and he can organize guided snowshoe trips.
Guesthouse George Sarkis: +961 6 500 007
The Kfardibane region offers expansive trails for snowshoeing, all the way up to the Roman temple of Faqra and onto the wondrous Jisr Faqra et-Tabiyi, a natural bridge. Stay at the Auberge Beity in Kfardibane, a hostel run by the charismatic Josephine who offers generous hospitality and a hearty breakfast.
Auberge Beity: +961 9 214 871
The Barouk Forest in the Chouf region is renowned for it's incredible biodiversity and you are sure to spot the tracks of wild animals on snow blanketed trails. Discover the trails with a forest ranger, whose services can be booked for the day at the main entrance. Stay at the Myrna Boustani guesthouse in the village of Barouk, which offers cozy and comfortable rooms in a lovely traditional house.
Myrna Boustani guesthouse +961 3 633 862
The Cedar Forest of Bcharre features the oldest trees in Lebanon and is a must visit for anyone visiting the country. The area is not vast but a snowshoe hike here is perfect for those looking for a more leisurely outing plus incredible carvings in the Cedar trees. The La Cabane wooden lodge is located right on the slopes and offers cozy accommodation and snowshoe hire upon request.
La Cabane +961 6 678 067
The Horsh Ehden Nature Reserve is on the northwestern slopes of Mount Lebanon and features magnificent cedars, junipers, fir, and wild apple trees. Overnight at charming wooden lodges located right at the entrance of the reserve and operated by Remonda Sayde Yammine who can arrange for snowshoe hire. Don't leave without tasting her delicious harisse, a spicy wheat and chicken stew and the regional meat specialty of ras kibbe.
La Reserve Horsh Ehden +961 3 751 292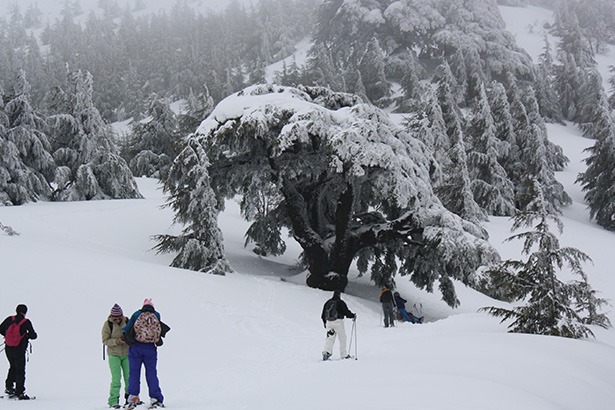 Where to Ski
The Cedars 
Lebanon's oldest ski resort, The Cedars opened its first ski lift in 1953. With chalets, clubs and restaurants, this popular ski resort is the perfect winter getaway. The stunning scenery and the quality of the snow make it an exceptional skiing venue.
Directions: 130 km and two hours away from Beirut by car. To get there, keep going north on the coastal main road, until you get to Chekka, one city before Tripoli. In Tripoli, take a right upwards through Amioun and keep going past places like Kousba, Turza, Hadet, Hasrun, Bazaoun, and finally Bcharreh a few minutes away from your destination.
Amioun + 961 70 103 222
Faqra Club
Opened in 1974, the Faqra ski resort is located in the village of Kfardebian and filled with charming chalets and ski slopes of varying difficulty. It's smaller than some of Lebanon's other resorts with only four slopes, but they are high quality, and combined with Faqra's picturesque location and diverse facilities, it's well worth the trip.
Directions: 45 km away from Beirut. Take the coastal highway to the north, then turn right after the Dog River tunnel and keep going straight up the mountains on the main road past Jeita, Ballouneh, Faytroun, Faraya, and then finally Faqra Club.
Kfardebian Village +961 9 300 601
Laklouk
With its retro '60s vibe and wondrous natural setting amidst jagged mountain ridges and tree laden terraces the Laqlouq resort is a joy to visit. At an altitude that ranges between 1,750 and 2,000 meters it offers excellent alpine and cross–country skiing terrains. The first ski lifts were installed in 1958. Now it has eight runs to choose from.
Directions: Laklouk's resort can be easily reached by taking the main coastal highway north to the city of Jbeil, after which you take your right up towards Annaya Mar Charbel's monastery. On your way up, take your right before the checkpoint to Ihmij Village to reach Laklouk resort, which is 62 km from the capital. It takes an hour and fifteen minutes to get there.
Laklouk +961 3 441 112
Mzaar Kfardebian Lebanon
Mzaar boasts 80 km of ski tracks, spread out over 42 different trails. This is an easy getaway for weekend skiers, snowboarders, and snowmobile fanatics (it's an hours drive from Beirut). The highest point (2,465 meters) offers a spectacular view over the Bekaa Valley, Laqlouq, the Cedars and the coast. Challenges can be found off-piste or at the peaks of Mzaar, Jabal Dib and Warde.
Directions: From Beirut your destination can be reached within an hour and a couple of minutes. 46 km away from the capital, you go north down the coastal highway until you reach the Dog River (Nahr El Kalb), after which you take a road up right to Zouk Mosbeh. You keep travelling upwards reaching towns like Jeita, Ballouneh, Faytroun, and then Faraya village, which is 6 km under Mzaar Kfardebian's slopes.
Kfardebian +961 70 103 222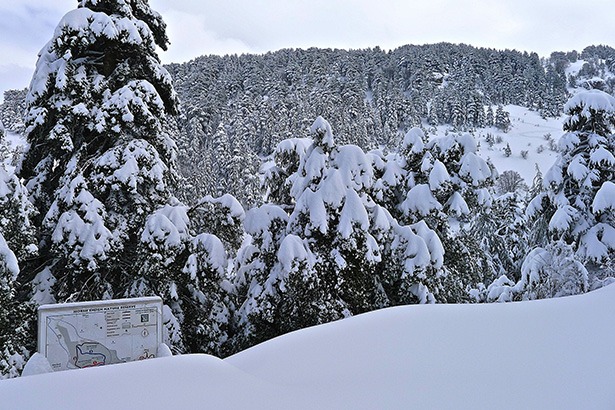 The Following Two Resorts are Currently Not open For Skiing But Are Great Places For Fun in the Snow.
Qanat Bakish
Located 1,900 meters above sea level with five ski slopes, Qanat Bakish opened as a ski resort in 1967. Less crowded than most of Lebanon's other ski resorts, it is perfect for a quiet and peaceful snow-filled escape. There's also a road that now connects the Faqra resort to Qanat Bakish so you can easily combine two ski resorts in one trip.
Directions: Qanat Bakish is 47 km away from Beirut, and takes an hour and a half to get there. The best route is to take the road to Faqra and keep going upwards.
Kfardebian +961 3 340 300
Zaarour
The closest ski resort to Beirut the capital, Zaarour ski resort and country club is one of the smallest in Lebanon, yet it offers many outdoor winter activities in addition to skiing. Zaarour's ski slopes are North-facing offering and excellent quality of snow with a panoramic view spanning the famous Valley of the Skulls. Since it has been rebuilt as a private club, meticulous attention has been given to the slopes clearing them of boulders to create a fun and safe skiing experience. For the cross-country skier Zaarour offers a four kilometer track on the Sannine mountain with beautiful views and fresh clean mountain air.
Directions: Zaarour's resort is 54 km away from Beirut, which should take you about an hour and a half. One option is taking the road from Beirut's Sin El Fil and going up past Mansourieh, Beit Mery, Broumana, Baabda, Bikfaya, Dhour Choueir and Mrouj. Another option would be heading north on the coastal main road, and then turning right in Antelias going straight up on the Bikfaya road, followed by all the villages mentioned above.
Zaarour +961 9 231 611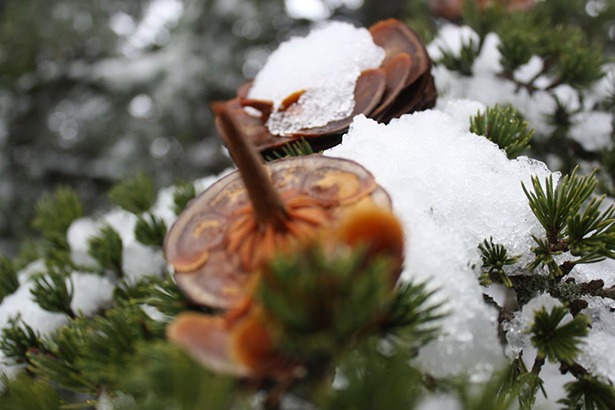 Article edited on November 15, 2021
Loading