"Forests tell us the story of human history. They hold the imprints of past and present civilizations and their connection to nature," says Elsa J. Sattout, the biodiversity conservationist behind the new book "Native Trees of Lebanon & Neighboring Countries".
My four-season journey started in Horsh Ehden nature reserve a year ago while chasing native trees for photo shoots for the production of my book. The journey started in coastal forests, before crossing over the highest peaks of the Mount Lebanon mountain range to reach the inland forests of the Anti-Lebanon mountains.
In Ehden, trails forged long ago by farmers, foresters, villagers and nature lovers, lead to wonders in a small forest, located on the foothills of Mount Makmel, Northern Lebanon. Taking the road to Jouit, from the main entrance of the forest, a green island appears amidst the high mountain peaks, longing for winter, spring, summer, and autumnal visitors.
In this forest the diversity of tree communities is enchanting. They represent most Lebanese forest types, forming a mosaic of island forests, spread across nine sub-regions.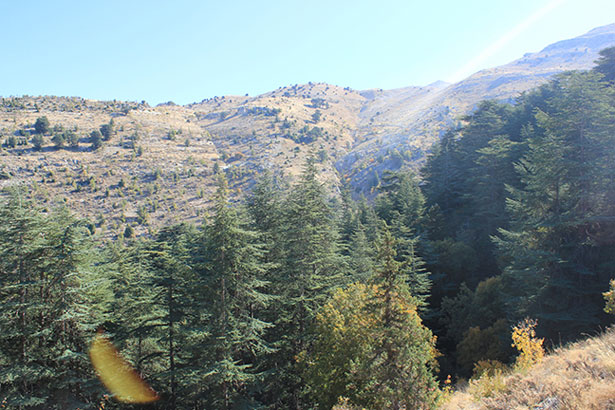 Explore the forest throughout the four seasons to witness the seasonal transformation of the trees. Looking over the mosaic patches of vegetation, from the highest peaks of Arid El Moghr or Jouar El Jafie, gives an eternal connection to the beauty and stillness of nature.
Over these highest peaks, Bonelli eagles can be seen flying during spring. Jouar El Jafie is covered with an evergreen cedar and juniper tapestry where whitish primroses, orchids, and the endemic reddish-purple cyclamen can be seen after the snow melts.
On Arid El Moghr discover Cedar oak, maple and other deciduous trees with colors that take your breath away during fall.
The Wadiane El Gamiqua (Deep Valley), with western-south exposure, is home to a mix of hop hornbeam, wild service trees, flowering ash, Calabrian pine, Lebanese cedar, and wild plum.
Taking the trail from Jouit, leading to a spot called Ain El Naassa, you can sit in the shade of an ancient oriental plane tree.
Shift your path to traverse Dahr Tnoub El Ali (Tnoub meaning cedar or fir in Arabic) where old cedar trees grow and dominate the patches of Turkey oak (Maqlab El Ezr).
If you decide to explore the foothills of the reserve, you can start with Qornet El Snaoubar from where you can access Qornet El Assi, Wadi El Baq and Wadi El Qiame. The Qornet El Snaoubar (Pine corner) sub-region is home to many orchids during spring and a large population of squirrels, often seen on the dirt road leading to Wadi El Baq (Bugs Valley) or Wadi Jhanam (Valley of Hell).
Qornet El Assi is occupied by kermes oak, dogwood tree and buckthorn; you have to be persistent to cross this dense area, which lives up to its name and means 'disobedience' and 'stubbornness' in Arabic.
The Wadi El Qiame (Resurrection Valley), of east-northern exposure, is covered most of the year by mist, especially in the afternoons. Cedar trees enjoy a dry summertime in this humid  valley, which features terraces recalling past farming systems and agricultural practices.
Looping the nine sub-regions of Horsh Ehden in a day, while trekking off-trail on short laps, is an enriching adventure; an unforgettable four-season journey in one of the most charming, colorful forests in the country.
The forest holds deep contrasts, like Lebanon itself, reflecting the beautiful contradictions found in nature.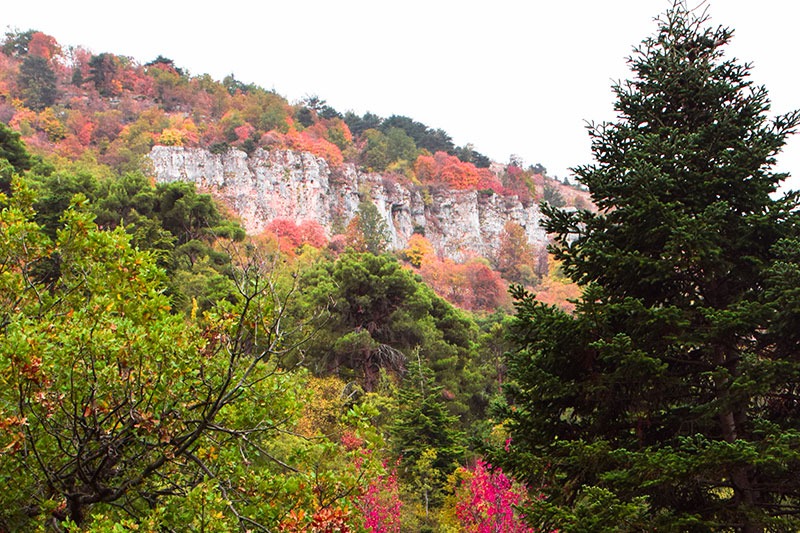 WHERE TO EAT
For more information check : LA RESERVE HORSH EHDEN
Facebook: LaReserveHorshEhden
Pinch, Zgharta in winter, Ehden : Jul – Sep
Phone: +961 6 982 698
Facebook:  PINCH | Facebook
WHERE TO SLEEP
Phone: +961 6 561 560
For more information check : kroumehden.com
Phone: +961 6 560 651
For more information check : ehdencountryclubhotel.com
La Reserve (as above)
Master's Hotel
Phone: +961 6 561 052 / 3 / 4
For more information check : mastershotel-ehden.com
Phone: +961 6 560 108
GO WITH A GUIDE
Tel: +961 76 556 887
Facebook page : EhdenAdventures 
Ehden Mountain Activities
Activities there include hiking, rapelle, caving, rock climbing, camping area and more.
Tel: +961 3 754 928 
Facebook page : EhdenMountainActivities 
HOW TO GET THERE
A 160km drive from Beirut, take the northern highway from Beirut to Chekka.
From there take the road leading to Koura, Kosba, Torza, Arbet Qoshaya, Ejbe'e, and Ehden.
The main entrance of the reserve is in Jouit.
Article published on March 12, 2021.
Article edited on October 6, 2021.
Loading