Travel Lebanon is back for its fifth edition at Beirut Hippodrome until 2 June 2018. Inviting visitors of all ages to discover new destinations and celebrate the nation's rich heritage, we take a look at over 50 exhibitors you can meet there.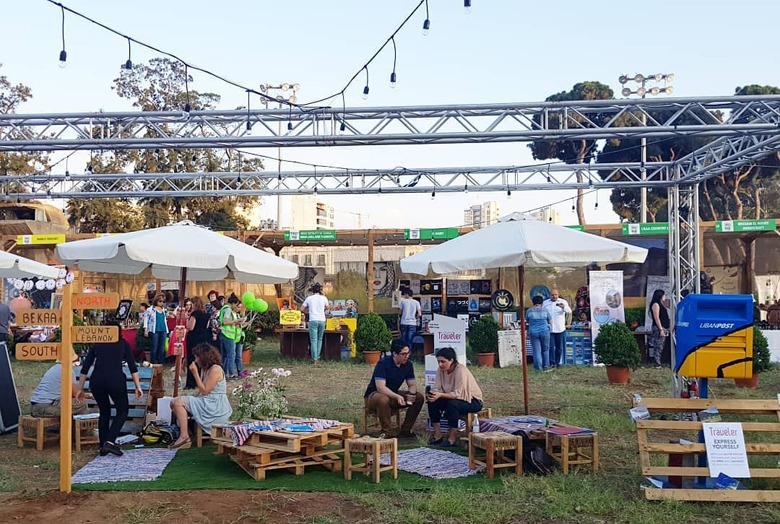 ARAK RACHID TANIOS TOUMA & FRERE
Since 1888, Touma Arak has been serving customers its iconic drink. Sit back and enjoy Lebanon in a glass as the sun goes down.
ARCENCIEL
Employing sustainable development to alleviate the poverty burden across Lebanese society, pass by the arcenciel stand to learn more about their initiatives.
ASSIA POTTERY – FAKHARIYAT JABBOUR
Come and sample the many delights of Assia Pottery, a local and time-honored practice at the very heart of Lebanese craft traditions.
ASSOCIATION FOR THE PROTECTION OF JABAL MOUSSA (APJM)
APJM seeks to protect the rich biodiversity of Jabal Moussa. This naturally breathtaking landscape must be enjoyed naturally and for many generations to come so be sure to plan a visit this summer.
AUBERGE BEITY
Auberge Beity is a hostel located in the stunning mountainous Mzaar region. The hostel provides visitors with a host of activities including hikes.
BE SMART BY KHM
Be sure to benefit from a range of outstanding discounts offered by Smart by KHM coupon box, such as special offers at many restaurants and spas.
BECHAALE ASSOCIATIONS FOR DEVELOPMENT
This NGO works on rural development with emphasis on community partnerships and other significant social associations. Learn more by visiting their stand.
BENT EL DAY3A
Discover the sumptuous delights of this lively dining outlet. Bent El Day3a Café – Resto is a must for food lovers.
BENTAEL NATURE RESERVE
Do not miss out on this opportunity to meet people from the Bentael Nature Reserve, a special eco-tourism destination near Byblos.
CHAHTOUL CAMPING
Recharge your batteries with Chahtoul Camping, an organization that offers camps cantering for the entire family.
DALE CORAZON – LEBANON EXPLORERS
Have an adventure with Dale Corazon – Lebanon Explorers and take part in one of their exciting hiking activities.
DEVELOPMENT ALTERNATIVE INC – DAI
It would be amiss not to visit DAI, an organization that seeks to establish impactful solutions to help alleviate the many problems facing diverse populations.
EHMEJ DEVELOPMENT ASSOCIATION ECOTOURISM
Visitors will not find a more enticing Lebanese locale to visit. Ehmej Ecotourism is the premiere place for all nature lovers who seek a sustainable, eco-tourist experience.
FATME TARTOUSI HANDICRAFT
Born into the trade of metalworkers, Fatme is now recognized as an artistic master in her field. Discover her beautiful handicrafts at Travel Lebanon.
FOOTPRINTS NATURE CLUB
There is nothing more invigorating to body and soul than an excursion with Footprints Nature Club. With over 19 years of experience, they are experts in hiking.
HADATH EL JEBBEH MUNICIPALITY
Enjoy the marvels of Qannoubine Valley in all of its natural glory. Explore exceptional trekking paths from El Jebbeh Village with guides who have in-depth knowledge of this region's historical terrain.
H-SHIRT
H-Shirt is a Lebanese start up that invites you to embrace their distinct fashion tastes. With Arab youth as the main point of focus, be sure to buy one of their funky tops to wear this summer.
IMAM SADR FOUNDATION PAPYRUS
Papyrus is all about paper and Imam Sadr Foundation aims, with your support, to raise environmental awareness by converting waste paper into gifts and other recycled objects of desire.
L'KAA COUNTRY LODGE
A visit to L'Kaa Country Lodge is a great idea this summer. This stunning, mountainous lodge is a wonderful retreat and offers families the many benefits of outdoor excursions.
LEBANON FAMILY PLANNING ASSOCIATION FOR DEVELOPMENT (LFPADE)
Talk to the people at LFPADE at Travel Lebanon to hear about their work relating to female empowerment and wider population issues.
LEBANON MOUNTAIN TRAIL ASSOCIATION
This renowned association seeks to protect Lebanon's beautiful hiking trails and promote responsible tourism. Get chatting to them to discover more about the LMT and where to go to escape from it all.
LEBANON TRAVELER
Taking center stage at the event, pass by the Lebanon Traveler stand to pick up a complimentary copy of the latest issue of the magazine. You can even send a limited edition postcard to your friends and family for free with Libanpost.
LITTLE REED
Travelers are encouraged to visit Little Reed inn, a tranquil Lebanese village locale with breathtaking vistas of mountains and rolling valleys.
LIVE LOVE BEIRUT
Live Love Beirut is an NGO that aims to positively impact Lebanon and preserve its outstanding natural settings. Purchase one of their bracelets and support their cause.
MAHA'S ART CENTER DOUMA
Art enthusiasts are invited to visit the creative Maha's Art Center. Based in Douma, the center caters for all artistic tendencies, regardless of age or ability.
MAMLAKET EL LEZZEB
Mamlaket is a spectacular natural reserve and a must for visitors. Stay in a guest house and enjoy the compelling beauty of surrounding nature.
MINISTRY OF TOURISM
Pick up some leaflets from the Lebanese Ministry of Tourism to discover gems around the country. You're bound to be inspired.
MOONET EL JABAL
This delectable kitchen is open to all who wish to savor the taste and elegance of highly reputed organic produce.
MOUNTAIN SERVICES AND TRANSPORT
Mountain Services and Transport is recognized as one of the leading tourism providers in Lebanon, specializing in the Mount Lebanon area.
NANCY CROCHET
Nancy encourages customers to invent their very own crocheted items. Passionate about her art, pick up one of Nancy's pretty items to add a touch of color to your summer.
OLIVE TREE TRAIL – HOUSE OF ZEJD
Immerse your taste buds by sampling the distinct flavor of extra virgin olive oil at the House of Zejd stand and discover their other delicious olive derivative products. You can also visit their olive orchards in Baino, Akkar.
PARAGLIDING CLUB THERMIQUE
Be prepared to fly with the birds! Paragliding Club Thermique gently glides across Harissa, one of the most scenic and beautiful vistas in Lebanon.
PIERRE NAJM HANDICRAFT
With so many exquisite items to sample, Pierre Najm Handicrafts are created with so much care that they are like true works of art.
SEROUJ HANDMADE
Serouj Handmade is an online venture that caters to a wide variety of jewelry aficionados. Ensure you check out their exquisite handmade pieces.
SHAREWOOD CAMP
Share the joys of nature while wandering across ancient trails that Mother Nature herself created. Sharewood Camp is a family entertainment center that provides vacationers with unforgettable rustic experiences.
SHOUF BIOSPHERE RESERVE
A must with hikers and outdoor adventure seekers, this massive reserve is home to old oak trees and cedar forests.
TALAL FAKHOURY HANDICRAFT
Skilled at the potter's wheel by the age of 11, Talal's glazed ceramic creations are unique.
TANNOURINE CEDAR FOREST NATURE RESERVE
This outstanding and protected cedar forest reserve is one of the most extensive of its kind. With a stunning mountainous landscape, Tannourine Nature Reserve is certainly well worth a visit.
THE JEZZINE REGION
Visitors will discover that the Jezzine region is not only a place of stunning natural beauty, it is also home to significant religious sites and remarkable ancient ruins.
TOURLEB
Visit Tourleb to discover all-inclusive packages that celebrate authentic Lebanese culture.
USAID
In its capacity as a major regional donor, USAID continues to assist Lebanon in all of its revival efforts. The organization seeks to positively transform Lebanon's social, cultural and environmental programs.
VAMOS TODOS
Vamos Todos provides vacationers with reliable services specializing in ecotourism. Much planning is undertaken to ensure all activities are enjoyed to the very limit so have an adventure with them this summer.
WADA – WOMEN ASSOCIATION DEIR EL AHMAR
Supporting rural development projects, WADA is an NGO allowing women to be more financially independent. Stay in one of the WADA guesthouses this season for a truly memorable experience.
WISSAM EL HOURY HANDICRAFT
Wissam El Houry Handicrafts welcomes visitors to sample beautifully ornate pieces of remarkable elegance.
Visit the Travel Lebanon Facebook event page for more details.
Loading