With so many staycation options in Lebanon, it can be hard to find the right place, especially when you're on a budget. But help is at hand with our practical list of guesthouses we love, where you'll be pampered with authentic experiences and great hospitality for under 100 USD.  
1- Beit Jedde – Mtein
Beit Jedde (+961 4 296 603) is more than just a guesthouse. This stunning 200-year-old home has been thoughtfully restored to welcome visitors from near and far. A number of activities, including art and crafts workshops, dabke classes, yoga sessions, as well as cultural events, like film screenings and talks, are hosted regularly at the property.
Besides Beit Jedde's pretty gardens, guests can look forward to relaxing on the terraces, reading a book in the indoor lounge area or browsing the shelves of the on-site boutique, which sells crafts and mouneh made by local women and artisans.
Price: During the low season, rooms start at 70 USD a night, going up to 100 USD during high season (including breakfast).
2- Beit Mirna – Ehden 
Beit Mirna (+961 81 336 116) is a home away from home. This lovely property features laid-back indoor and outdoor spaces, a quiet ambience and first-class hospitality. 
Ascend the staircase and you'll be greeted by a sumptuous lounge area that blends modern and antique furniture. The guest rooms are also beautifully decorated, with organic fabrics and pale colors that provide a sense of calm and serenity from every angle. Some of the bedrooms even have their own private balcony overlooking Beit Mirna's lovely garden and vegetable patch. What's also great is that the guesthouse is located close to Ehden's many highlights, including the Horsh Ehden Nature Reserve, Saydet el Hosn and the Midane, so visitors can easily explore the area. 
Price: Starting from 80 USD per night (including breakfast).
3- SaQi guesthouse – Saqi Rechmaya 
SaQi guesthouse (+961 3 279 849), a three-bedroom guesthouse, has a very unusual story to tell. It went from being a monastery to a seminary before it was lovingly restored by its owner.
What's beautiful is that the entire concept of Saqi is based around nature, as the owner, Giselle, is a gardening enthusiast and an environmentalist who is deeply passionate about eco-friendly practices. Guests will love the peace and quiet of this unique home, not to mention the homecooked breakfast.
Price: Rooms start at just 48 USD per night (including breakfast).
4- Mount Jackal – Qnat
Mount Jackal (+961 3 440 422) is a lovely family-run guesthouse. It features six rooms that combine modern and traditional elements, a shared kitchen and shared living space. In addition to its chilled-out terraces, guests can enjoy hikes in the nearby forests of Hadath el Jebbeh and Tannourine Nature Reserve.
So whether you are looking for a romantic escape or a quality family break, you can rest assured that Mount Jackal won't disappoint you.
Price: Rooms start at 75 USD per night (including breakfast).
5- Colonel Bed and Brew – Batroun
Colonel Bed and Brew provides fresh and cool accommodation at Batroun's legendary Colonel Beer (+961 3 743 543). Indulge in a delicious complimentary breakfast by the sea, followed a free paddle board session at Colonel Reef and an afternoon bike ride (also rent free). You can also have a tour of the brewery and distillery before tasting the sensational brews. 
There are three studios, a one-bedroom apartment and a two-bedroom apartment, all with kitchenettes and private terraces. All in all, this place is fantastic value for money and a great base to explore this hot coastal city.
Price: Studios start at 80 USD per night (including breakfast).
6- Beyt el Jabal – Deir el Qamar
Located in the foothills of the picturesque village of Deir el Qamar, Beyt el Jabal (+961 71 160 767) comprising traditional mountain units overlooking the valleys of the Chouf mountains. Connected by stone pathways, the rooms are nestled in stone houses that have been sensitively restored. Expect all the modern comforts you need.
It is a true mountain escape, where guests can admire outstanding views and enjoy pleasant walks and even hikes.
Price: Rooms start at 80 USD per night (including breakfast).
7- Dar Nour – Chabtine
Around 60 kilometers from Beirut, near the wineries of Batroun, you will find Dar Nour (+961 3 733 818). The property is located in a small valley abundant in oak and olive trees that are over a hundred years old. Furnished with items the owner has picked up on her travels around the world, Dar Nour features three double rooms and one suite and can host up to 15 people. There is also a rooftop space, overlooking vineyards, that can accommodate up to 80 people for private small events and gatherings, .
Furthermore, this charming guesthouse is passionate about sustainability and supports local communities.
Price: Rooms start at 85 USD per night (including breakfast).
8- Beit El Nessim – Tripoli
Beit El Nessim (+961 6 200 983 / +961 3 308 156) in Al Mina, Tripoli, features unique architectural details that you'll simply fall in love with. The space has been designed in harmony with the surroundings, and the owners focus a great deal on providing guests with an unforgettable experience, which is why yoga and meditations classes can be found on the menu.
With five rooms, all inspired by Indian culture, Beit El Nessim is the perfect choice for those wishing to immerse themselves in Tripolitan life.
Price: Rooms start at 65 USD per night (including breakfast).
9- Dar Qadisha – Qadisha Valley
Surrounded by mountainous peaks, monasteries carved out of the rocky cliffs and heavenly views, Dar Qadisha offers two identical rooms with a twin bed each and a private bathroom. The host grows her own vegetables and cultivates fruits in the surrounding gardens, using them to make her own homemade jam, which you can try.
Price: Rooms start at 60 USD per night (including breakfast).
10- House of Lilies – Tyre
The House of Lilies (+961 3 268 339) is a traditional family farm that promotes non-intrusive, seasonal and natural farming. Its cozy and comfortable bedrooms are located in a charming country house surrounded by orchards and banana, avocado and mango plantations. Guests will love the water garden, where lilies of numerous colors can be found.
This property is ideally situated within a short drive from the bustling coastal city of Tyre.
Price: Rooms starts at 75 USD per night (including breakfast).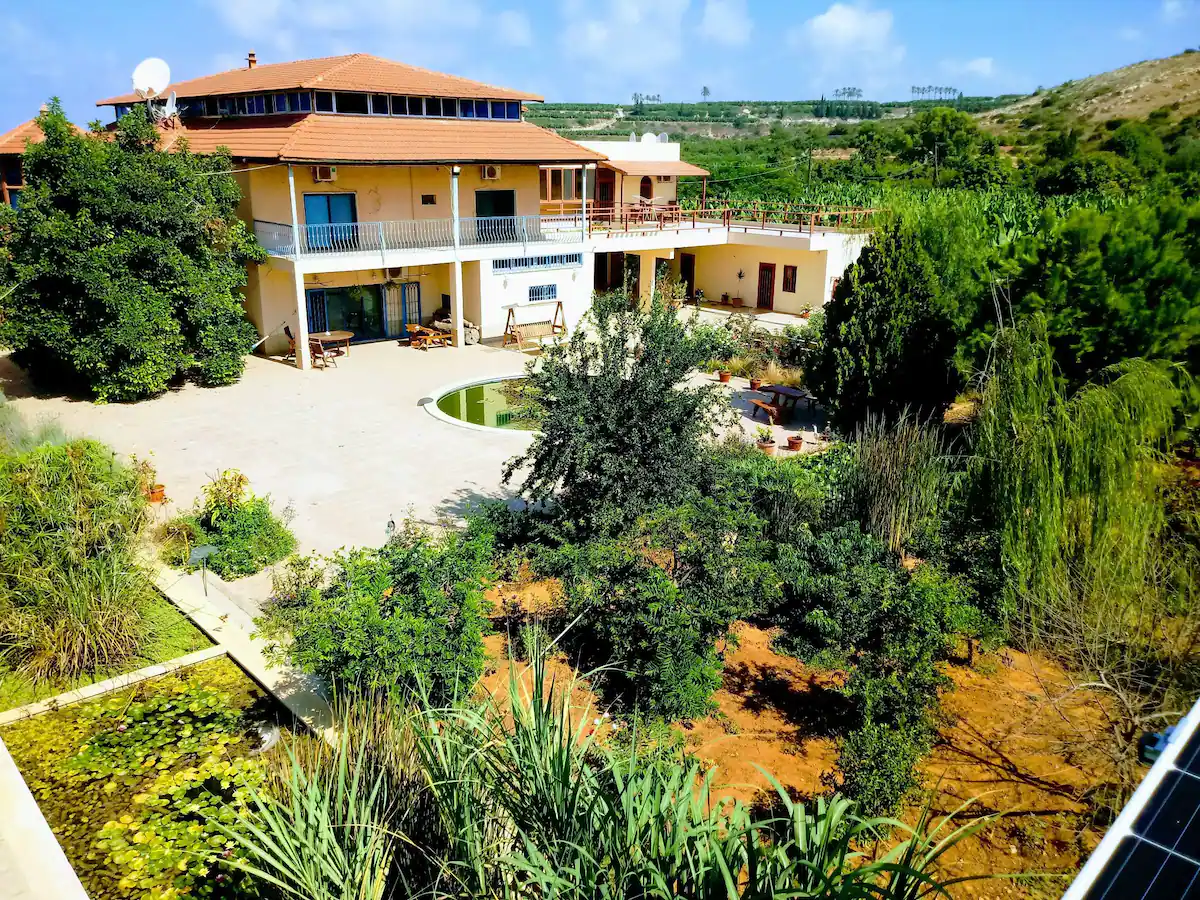 Loading