We cannot deny our love for the city, but every once in a while, a little disconnection isn't a bad thing. Scroll through our list of 10 mountain destinations for a perfect break and a natural high. 
1- Ain Dara
The village of Ain Dara, in the Aley district, is close enough to Beirut for those looking for a quick escape. Head there to experience the cooler side of summer, with plenty of springs to keep you feeling fresh.
Besides hiking and natural sites, Ain Dara caters to those who are hungry for history. Visit El Okeilli Square and follow its underground tunnel; you will reach what remains of an ancient temple: pillars, Aramaic rock inscriptions and much more!
Since we're sure one day of Ain Dara won't be enough to satisfy your thirst, why not book a night at the Vibes Guest House (+961 3237391)?
2- Al Kobayat
Head to the far north of Lebanon and admire the majestic landscapes of Al Kobayat in the Akkar Governorate. It is a top ski spot in winter and a get-away-from-it-all summer destination.  Offering a plethora of leisure activities, such as mountain biking, camping and hiking, it's hard not to love. There's even a Animal, Birds and Butterflies Museum (+961 6 350 004, kobayat.org) that's bound to excite the science nerd in you!
If you decide to stay the night, book a room at Graneroverde guesthouse (+961 70 473 347). It offers chalets and duplex units surrounded by untouched nature and breathtaking mountain views. 
3- Bcharre
Red-roofed houses, panoramic views and cedar trees characterize Bcharre. Listed among UNESCO's top World Heritage Sites, it's a must for every adventure seeker. Beyond its natural beauty, Bcharre is known the Khalil Gebran Museum, a museum dedicated to the famous poet who was from the region. 
Extend your visit by staying at La Maison des Cèdres (+961 71 888 414). The property offers suites as well as chalets in a charming building that dates back to the 1970s! 
4-Douma
Douma is a northern village that's revered for its valleys and mountains. It boasts a temperate climate and an abundance of vineyards, olive and apple groves. In the town square you can find a sarcophagus bearing Greek inscriptions. Most of Douma was built between 1881 and 1913.
If you're looking to make a weekend of it My Stone Cellar (+961 71 283 485) is the place to be.  Housed in the lower section of a 1903 heritage house, the guesthouse offers guests comfortable lodgings and complimentary regional treats.
5- Ehden 
Ehden has always been a popular spot for travelers. Whether you head there to try the traditional kebbe nayyeh or kebbe mechwiye, visit the Al Midan or Les Caves d'Ehden winery, there is always something exciting happening.
Spend the night at Beit Mirna (+961 81 336 116), a beautiful guesthouse with a pretty garden. Run by the lovely Stephanie and her husband, Mohsen, Beit Mirna is a cozy proposition for solo travelers, friends and families.
This town in South Lebanon is famous for its handmade traditional cutlery and daggers, artisanal wine and the shrine of Our Lady of the Waterfalls. Yearly festivals include the Assumption of Virgin Mary and the Jezzine Summer Festival. Spend an unforgettable night at La Maison de la Forêt (@lamaisondelaforet, +961 7 800 222), an eco-touristic site located within the Bkassine pine forest. The project boasts 25 fully furnished bungalows, each named after a tree.
7- Kfardebian
Although it is often associated with skiing and other winter sports, Kfardebian also has its fair share of summertime action. Among its gems are the Faqra ruins, an archeological site full of vestiges dating back to the Roman and Byzantine period. Although some sections were partially rebuilt during the 19th century, the rest is still standing strong. If extreme sports are more you thing, try rappel climbing in the mountainous regions.
For those wanting to spend the night, Odom Retreat (+961 76 992 092) promises an experience like no other. The dome-shaped tents are fabulous, so you can stargaze to your heart's content! 
8- Mazraat el Teffah
Mazraaet el Teffah is a village located in the Zgharta district. At 900 meters above sea level and 95 km from Beirut, it's a hiker's dream come true, with trails abundant in pine trees, oak trees and springs. UŽÍT cabin (+961 81 214 564), two cabins located in the woods, is our accommodation pick, so book early to guarantee availability. 
9- Mtein
Mtein, one of Lebanon's oldest villages, has so much to offer that you can do as much, or as little, as you choose. Head to the main square and enjoy the Arabic and Baroque architectural styles. You can also check out the Museum of Arts, which was an initiative to restore Mtein's old spaces and celebrate the town's rich heritage (prior appointment required).
With hiking opportunities galore, Mtein's natural beauty will also captivate you. Enjoy a wine tour and winetasting at Chateau Oumsiyat (+961 3 101 411 / +961 3 866 277)  or Ardoum Winery (+961 70 441 646).
Spending the night in Mtein has been made easy thanks to Beit Jeddé (+961 4 296 603) guesthouse. This delightful multipurpose space is ideal for those who wish to engage in cultural activities or rest in the gardens. The guesthouse offers two thoughtfully decorated rooms, a double and a twin.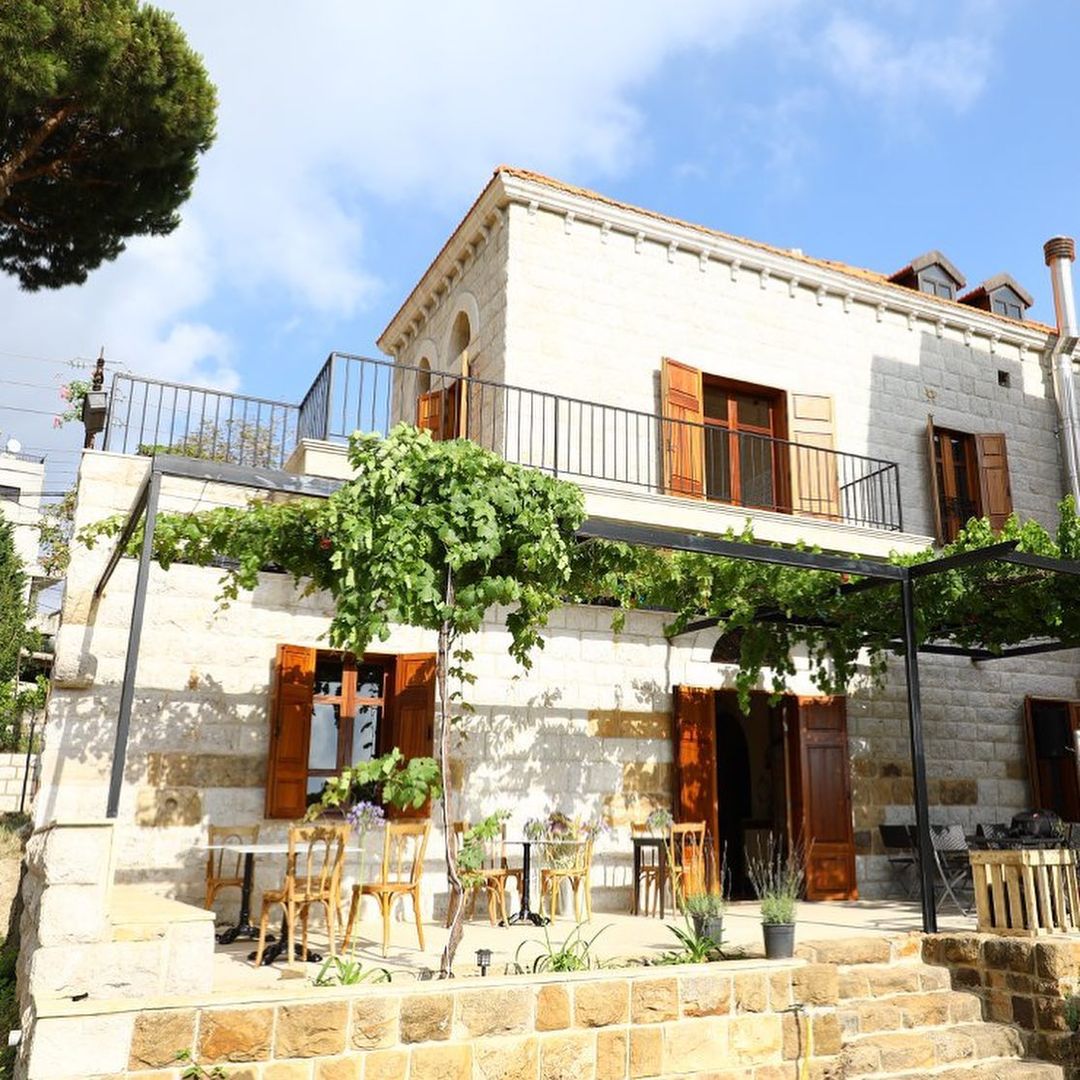 10- Maasser el Chouf

Experience the beauty of Maasser el Chouf, located high in the Chouf Mountain, where you can catch a view of the Mediterranean Sea and gorgeous red tiled houses. You'll be welcomed by a natural reserve with vast nature. You will be mesmerized by the astounding view of the Beqaa Valley, Qaroun lake, and the fragrance of the Cedars Forest. In a quiet spot, you will find Alfundok (+961 81 300931), which boasts a cozy and colorful ambience, not to mention pretty outdoor spaces. 
Loading