In recent years, Beirut's bustling streets have provided an appealing canvas for local and international artists. We spoke we Imane Assaf, co-founder of Art of Change, to learn more about her work and hear why she believes in the power of public art. 
How was Art of Change born?
Art of Change was born after years of working with artists. The objective was to promote street and urban art. Both my partner, Jason Camp, and I started Art of Change in May 2019. I had taken five Lebanese artists with me to the RISE festival in Croydon, UK, to paint murals and represent Lebanon. I met Jason there, and we started discussing a collaboration; that's how Art of Change came to be. Our first unveiling was a mural by Zed40, Eli Zaarour and Karim Tamerji.
What inspired you to start this journey?
It amazed me how engaged the community was every time we brought a mural to life: the support from people, and the platform it gave artists to express themselves. It was really what both Jason and I believed in. Our goal was to turn the streets of Beirut into a public gallery.
What have been the major milestones in the Art of Change story?
The revolution in Lebanon started the same year we initiated Art of Change. It was a challenging time for the country, and a great deal needed to be said. We chose to join the revolution through art and use it to express the demands of the people and show the pain of a nation on what later became the revolution walls. So many artists were inspired and volunteered to share their talents, and it was our way of being one with the people. Many of the images went viral.
The Memorial Wall for the victims of the Beirut Port explosion, "They Matter" by artist Brady Black, was also one of the most emotional experiences that we are proud to have been part of.
Another milestone was being invited by the British Council in August 2022 to represent Lebanon at the Edinburgh festival. That was a proud moment and a great recognition of our work.
How important do you consider public art in Lebanon?
Public art is an important movement in Lebanon. It has a positive impact culturally and allows artists to leave a larger imprint on a wider community. Street art, in my opinion, brings beauty and color to concrete walls.
Which Lebanese artists have you worked with?
We are honored to have worked with many Lebanese artists. Prior to Art of Change, I collaborated with Yazan Halawani as Ahla Fawda — my NGO — on the "Sabah" mural in Hamra in 2015. In 2016, we worked with Jad El Khoury, known as Potato Nose, on another mural on Hamra street.
In 2017, we participated in the Aley Festival, where we collaborated with over 10 Lebanese artists and an equal number of international ones.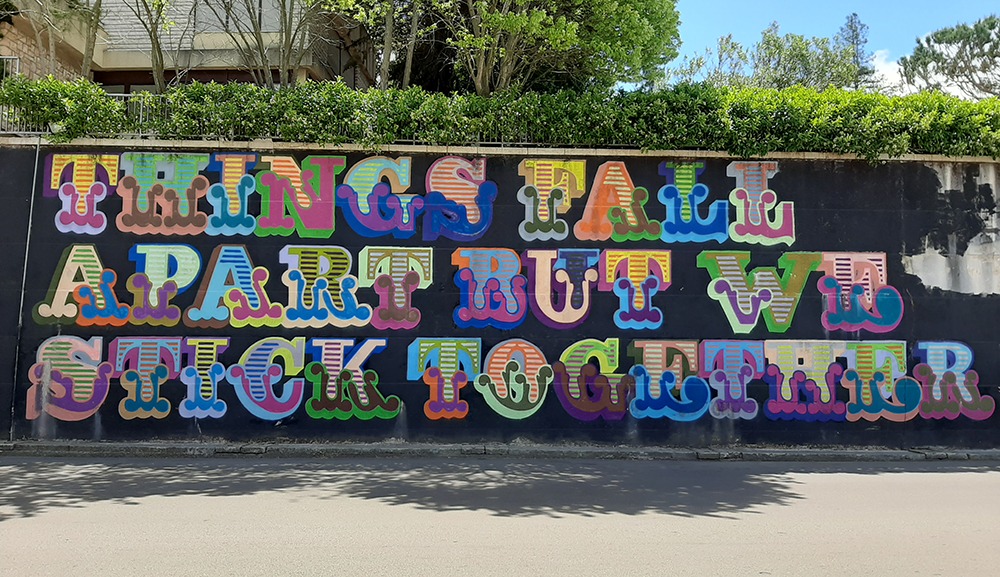 In 2018, we attended the Rise Festival in Croydon UK with Eli Zaarour (Zed40), Jad El Khoury (Potato Nose), Romy Mattar (Timmy), Ghaleb Hawila and Ilat Knaizeh.
In 2019, at the start of Art of change, we continued our partnership with the aforementioned artists, adding Ahmad Ghaddar (Renoz), Ali Kadado (Dew), Roula Abdo, Ihab Ahmad, Samer Bou Saleh, Moester, Marie Alice and many others to the list.
What challenges are you facing these days?
The country's political instability and the fact that a many artists are leaving the country are major challenges. Funding is always an issue, especially given Lebanon's economic crisis.
What can you tell us about your recent endeavors and your ambitions for 2023?
We were honored to have been invited by the British Council in Lebanon and Beirut Digital District (BDD) to do a mural in one of the BDD's courtyards. We partnered Lauren Morley, an artist from Scotland, with Lebanese artist Samer Bou Saleh. The result was a wonderful piece of work called "Fields of Power," depicting women empowerment and the environment. We recently completed another large mural in Choueifat, sponsored by Global Affairs Canada in partnership with The Global Network of Women Peace Builders and Permanent Peace Movement, with the artist Marie Joe Ayoub.
If someone wants to learn more about Art of Change, the artists and artworks, how can they?
We are on Instagram and Facebook. Our studio is located on Hamra Street, Yousef Assaf Building 180, Third Floor, where we hold scheduled exhibitions.
Art of Change murals can be seen all over Beirut; our social media platforms will guide you to them.
Loading