In the Chouf Mountains, 1,220 meters above sea level, lays the quaint village of Ain Zhalta, where a rare gem for art lovers in particular and beauty lovers in general is hidden. Residence Alia is a "maison d'artiste" where painters from all over the world are invited to find inspiration, express their feelings and create, create, create! Fadi Mogabgab, founder and owner of this project, takes us on a private tour of this one-of-a-kind residence in Lebanon.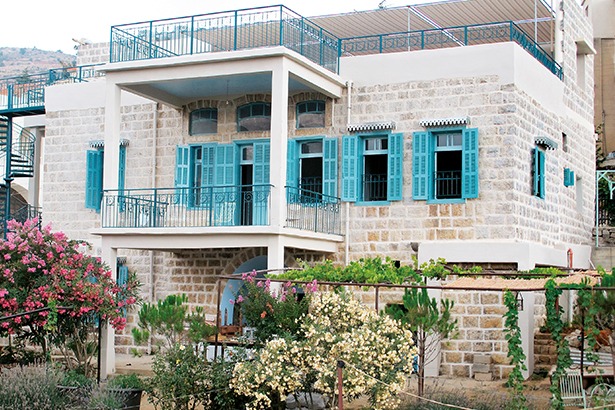 Originally from Ain Zhalta, Mogabgab is a gallery owner and "merchant of paintings" as he likes to call himself. Looking for new escapes, he went back to his village, which was deserted during the Lebanese civil war, and found an old house that he renovated and inhabited with his family in the summer time. He then began to invite artists from all over the world to Ain Zhalta to find inspiration. However, having guests in your own home proved to be very impractical, which prompted him to buy the house next door in order to continue his mission.
"Residence Alia and my house are separated by the village stairs. It is named after my wife. Originally, it was an old house that needed a lot of work, but my wife and I were up to the challenge," explains Mogabgab. The house was built about 150 years ago in the old tradition of stones and arches. In the 30's, a story was added with the art deco touches of high ceilings and beautiful tiles. Unfinished walls on the roof show that an additional level was planned but did not see completion.
"My wife and I wanted to keep the spirit of the house, leave it the same way it was but that was no easy task as the house needed a lot of work," explained Mogabgab. The couple cleaned up the façade, replaced the old windows and replanted the garden. It took some time, but the result was well worth the effort. The basement is a simple storage place, while the artists reside on the first floor. But it is on the roof, in the outdoors, where the workshop is located. There they let their imaginations go and paint, surrounded by an idyllic view of the village and the local old church. The blue metal staircase that was added to access the roof gives the house quite a distinctive cachet. "The house does not look as if it was renovated, it feels like it has always been this way and we just cleaned it up, and that's exactly what we had in mind," he stresses.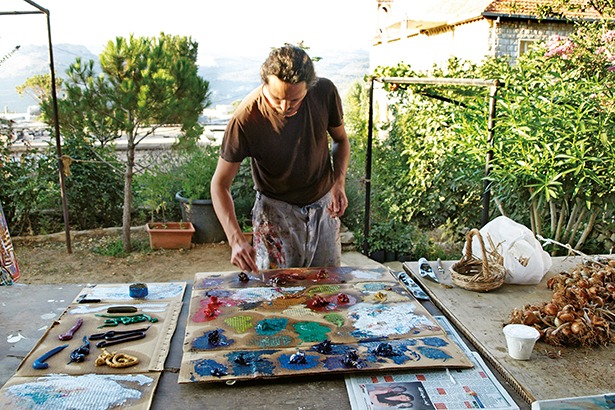 "Originally, it was an old house that needed a lot of work, but my wife and I were up to the challenge"
The relaxed atmosphere of the Residence Alia makes it an ideal home away from home for artists who come in quest of a muse. The artists paint as they please and when on a break, take a stroll in the garden, where if they are in a culinary mood, they can pick their own organic vegetables and fruit. This year, Mogabgab is hosting an English and an Italian painter.
"The other day I caught a trout from Nabeh el Safa for my daughter. I brought it back home for the painters to draw, just like in the nature morte tradition. It was a beautiful day and everybody joined in, even our cat, who stationed right under the fish, was thinking of ways to get his paws on it. The final paintings were quite astonishing. I am planning another session with a wild boar. Hopefully the village hunters will find one very soon," says Mogabgab.
The artists are inspired by everything in the village, from its fauna and flora to its charming views of the surroundings. "I have a special understanding with my guests," he says, clarifying, "Each and every painting created on premises has the Ain Zhalta signature on it to testify its provenance. It is also a way for me to promote my village and my country. I guess I could say I am contributing to tourism in my own way."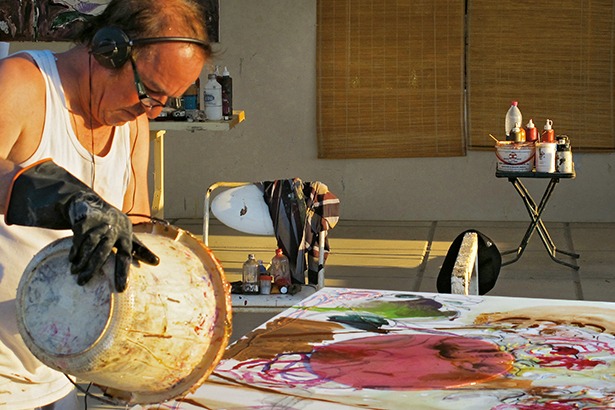 When Residence Alia is not hosting international talents, it serves as a guesthouse for family and friends. "Our country has many places that are still unknown by Lebanese, while others have become a tourist hub. For me, when I encourage people to come here, I am exposing them to hidden treasures that should not be hidden at all. We have a wonderful country and we should explore it all," concludes Mogabgab.
Visits available only upon reservation
Fadi Mogabgab +961 3 734 520
Article edited on January 4, 2023.
Loading