The mountainous cliffs around Tannourine sheltered early Christian monks from religious persecution and offered solitude to hermits for centuries. Now the orange escarpments are alive with cries of "Yalla!" Rock climbers have transformed the crags into a sports haven where climbing enthusiasts meet to test their courage on routes of all difficulties. Katy Anderson takes a closer look.
Four climbing sectors have been built to an international standard on the limestone walls around Tannourine El Tahta village, to the delight and curiosity of locals who can make out climbers' vertical progress from their balconies.
The pride that villagers feel for their surrounds is obvious from the revered statues of the Virgin Mary tucked into lofty alcoves and the nightly illumination of the hermit grotto. So what do locals make of climbers drilling bolts and scaling the walls with ropes?
"You're writing history! You're doing a great thing," says Faouad Harb, a village elder. "Our ancestors climbed these rocks and lived in them and you're doing the same," adds Harb.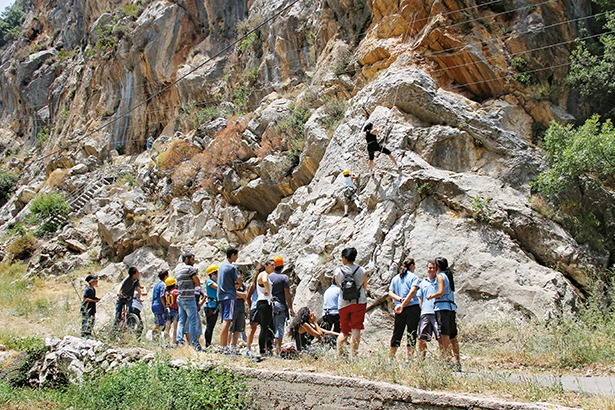 "Our ancestors climbed these rocks and lived in them and you're doing the same"
Pioneering climber Georges Massoud scaled Tannourine's cascade barefoot in the 1920's. Long before the days of adherent climbing shoes, he rubbed sand on his feet for better grip and used to climb with traps for quail in order to feed his family. He lived to be 107 and died only recently. The main climbing sector is named 'Massoud' in his honor, as well as one of the towering 30 meter routes, an apt epitaph for this Lebanese climbing legend.
Massoud's house is reputed to be one of the oldest in Lebanon and was featured on the cover of National Geographic Magazine. The traditional Lebanese home is nestled at the foot of the main rock climbing sector and Massoud's son greets climbers with an invitation to drink coffee before heading up the hill to wrestle with gravity.
Today's climbers are excited to try increasingly more challenging routes. "I just made it to the top and I want to try something more difficult," enthuses local climber George Chéhade.
The need for advanced level climbs built to an international standard is the call that Will Nazarian, cofounder of the international Rock Climbing Association for Development (R-A-D), responded to. As well as raising the bar for climbers escaping the busy indoor gyms of Beirut, it's hoped that the impeccable quality of rock will be a pull for climbing tourists from all over the world.
Tannourine is an hour and a half drive away from Beirut. Visitors come to escape the city heat and enjoy a leisurely lunch made with locally grown ingredients. The restaurants are built out on platforms over a river and the abundance of water from the snow-capped mountains upstream, combined with the leafy shade of the verdant valley, gives the place an otherworldly charm. The climbing developers hope increased tourism will benefit local business.
Bert Harb runs the Fourmil store in town and says she worried last year when tourist numbers declined. "I need tourists for my shop," she says. "Now I see many climbers, they come into my shop, they're buying soda, chips, chocolate, it's very good for my store".
Tannourine's mayor is very supportive of the venture. "I want Tannourine to be the national center for rock climbing," says Mounir Tarabay. He sees climbing as an invaluable ingredient in the local authority's long-term objective of becoming a privileged destination for ecological tourism. "This is the backbone of the development strategy we're implementing to invigorate economic activities aimed at keeping people in the village all year round," he said.

"The valley's a climbing paradise"
"The climbing is almost as good as the food. The valley's a climbing paradise," says Will Nazarian, from Oregon, USA, who put up the majority of the climbs. In a two-month bolting mission in Spring 2012, R-A-D together with Lebanese climbers Jad Khoury and George Emil established 18 bolted rock climbs.
Lebanese climbing champion Emil was inspired to name one of his climbs after a brand of water from the nearby spring: "Tannourine, the water the cedars drink".
A difficult climb, graded 6C+, the route seems made for climbing with hand and foot holds channeled into features by water erosion over millennia.
Climbing is a sport requiring physical strength and agility as well as experience using ropes, and knowledge of safety procedures. Easy climbs have been established for local youngsters who can try the sport under the supervision of monitors during open days. "It's harder than it looks!" gasped a local youngster, fresh from the fray.
There are other climbing sectors within a stone's throw of Tannourine. Around 45 climbs were established by the French military at Harissa Tannourine, at the turn of the millennium. There's also a short sector in Chatine near Tannourine El Fauqa. The area certainly has the terrain and the potential to become an international climbing destination and can certainly rival any site in the Middle East.
Katy Anderson is an international communications consultant and former BBC World Service broadcast journalist. Her passion for rock climbing combined with a love of travel brought her to Lebanon where she discovered a climbers' paradise. She narrates the history of rock climbing in Lebanon and follows in the footsteps of those legendary climbers. The recent construction of routes built to international standard may promote rural tourism development and has certainly fueled the ambition of local climbers.
Climbs in Tannourine
Tannourine, Olive Grove Sector
Khalas Habibe, 6c, extension 7a+, 48m,
   First Ascent (FA) George Emil – Hard severe
Yalla Balla, 6b, extension 7b, 42m, FA Will Nazarian
   Very severe
Tannourine, Cascade Sector
Ashtarut, 6b, FA Will Nazarian – Hard very difficult
Tannourine, Georges Massoud Sector
Sharmuta, 7b+, 25m, FA Will Nazarian – Hard very severe
Fatoush 7c+, 20m, FA Will Nazarian – Extremely severe
Call me when you're bleeding, 5c+, 25m,
   FA George Chéhade – Moderate
Georges Massoud, 6a, 30m, FA Katy Anderson – Difficult
Boobies in Batrone, 7a+, 28m, FA Will Nazarian – Mild
   very severe
Tannourine, the Water the Cedars Drink, 6c+, 30m,
   FA George Emil – Hard severe
Tannourine, The Ant Sector
Ant, 4-, 12m, FA Katy Anderson – Easy beginner
Bee, 4+, 12m, FA Katy Anderson – Easy beginner
The name, difficulty and length of each climb is indicated at the base.
For more information on resources of guiding companies: 
For maps of climbing areas: U ROCK Climbing – Lebanon's Premier & Best Community | Indoor & Outdoor Climbing % (urock-climbing.com)
To contribute to the bolting activity and donate to R-A-D's mission R-A-D
Municipality Tannourine: +961 6 500 020
Article edited on November 10, 2021
Loading