With countless solo exhibitions and international awards to her name, multidisciplinary Lebanese artist Lena Kelekian has carved out a successful career in the art world. Here, we learn more about her journey, her contribution to the country's artistic and cultural scene, and why the benches project on Beirut's famed corniche boulevard is her most cherished.
How did your journey in the art world begin?
It started in 1992 when I held my first solo exhibition at the inaugural event of the Salon de Artistes art gallery. Following the exhibition, my artwork was acquired by the Billy Graham Museum in Illinois; it is part of their permanent collection. Since then, I have held over 17 solo and been part of 320 collective exhibitions in 65 countries.
What has been your greatest career highlight?
My Olympian achievements have definitely marked my career. I won a gold medal at the 2008 Beijing Olympics for Fine Arts and won a Torino Winter Olympics Torch for Lebanon, which was only awarded to a small number of gold medalists. In fact, I was the only recipient of the torch in the Middle East.
In 2012, I was also awarded a gold medal at the London Olympics for Fine Arts and was honored by the International Olympic Committee for my artistic endeavors and achievements.
Furthermore, I won first prize in the Sassine tunnel murals embellishment competition in 1997. My environmental design was titled "Trees of Lebanon." More recently, following the devastating explosion of the port of Beirut on August 4, 2020, I decided to create a special icon, "The Virgin Theotokos, the Protector of Lebanon," which was auctioned to help rebuild the homes destroyed by the blast. Thousands of copies of the icon were distributed to citizens affected by the blast, and pocket-size prints of the same icon were placed inside the little chapel at Rafic Hariri International Airport for travelers to take with them.
Where can people view your work?
My city embellishment works can be viewed all over Beirut and Greater Beirut. I have more than 100 pieces of public art on display, including: the Ain Mreisse benches and the mega chess board; the Sassine and Salim Salam tunnel walls; the 500-meter Beirut river wall, featuring floral designs; the eight-meter-high monument in Karantina, displaying the "Power of Art," and the 65-meter backdrop wall; the 13-meter-long monument on the Damascus highway at the Aley roundabout; and the 60-meter-long Kempinski Summerland resort jetty artwork and 300-meter marina wall, which depicts a shoal of fish. Elsewhere, I worked on the Haigazian University stele and the Armenian Genocide "Forget-me-not" monument, which is displayed at the campus.
My murals can also be found in public gardens across Nabaa, Bourj Hammoud and Achrafieh. These projects are very special to me — transforming former wasteland into playgrounds for children.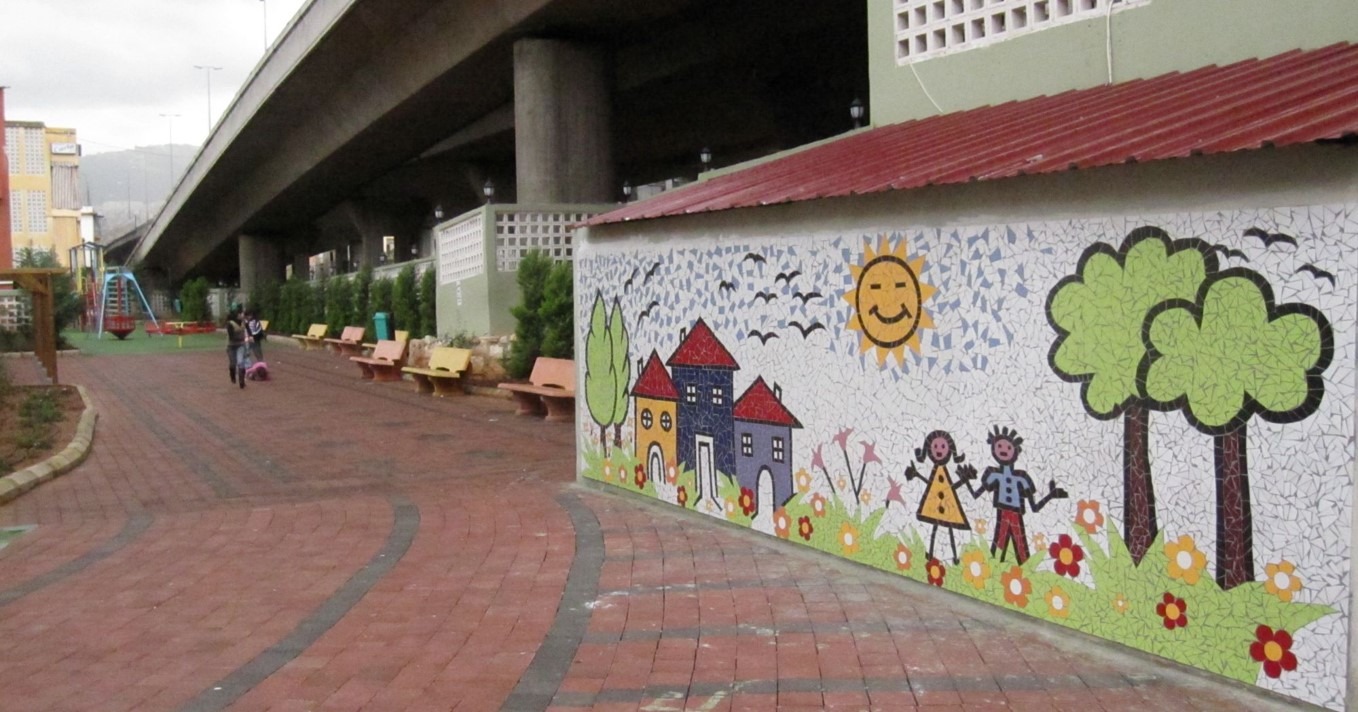 CMC Clemenceau Medical Center in Beirut, Dubai and Riyadh and other hospitals also showcase my work. It is hugely rewarding to help soothe the pain of patients and their families with colorful art.
Finally, my artworks can be found in over 23 museums, from Japan to Mexico.
Which of your Beirut projects was most rewarding and why?
The Ain Mreisse and Avenue de Paris Corniche benches project is the dearest to my heart because of the impact it has had on visitors, tourists and people who visit the promenade. Each bench has become a landmark, combining functionality with artistic design and cultural interaction.
In addition, the art therapy project titled "Beirut Heals through the Arts" was our direct intervention through our MEADOWS NGO, which I established in 2007. The members were trained as art therapists in Greece and Jordan, and their know-how was put to great use following the Beirut explosion, helping to heal the psychological wounds of hospital nurses, social workers and the youth.
Do you have any exciting projects to share with us?
In April, I curated the "Meadows Mask Art – Venice 2022" art installation with 100 international artists from 65 countries; it was part of the Venice Biennale. Similarly, I am curating the 19th Asian Biennale in October 2022, which will showcase the works of 500 artists from 100 countries.
My upcoming exhibitions will be in Mexico, Romania and China.
Where in Lebanon do you find peace?
In my art studio.
How do you enjoy spending your free time in Lebanon?
I love nature. My favorite area is Bois de Boulogne in Metn, where I spend time at my summer residence relaxing or creating art pieces and hosting dear friends. I also love clubbing and discovering new restaurants!
Loading