4
min. read
Located in the Bekaa Valley, Zahle is Lebanon's third largest city. Known for producing a large share of Lebanon's wine and arak, it is an idyllic mountain retreat just an hour from Beirut. It is also known as Lebanon's City of Gastronomy, given its role in the celebrating the country's rich flavors.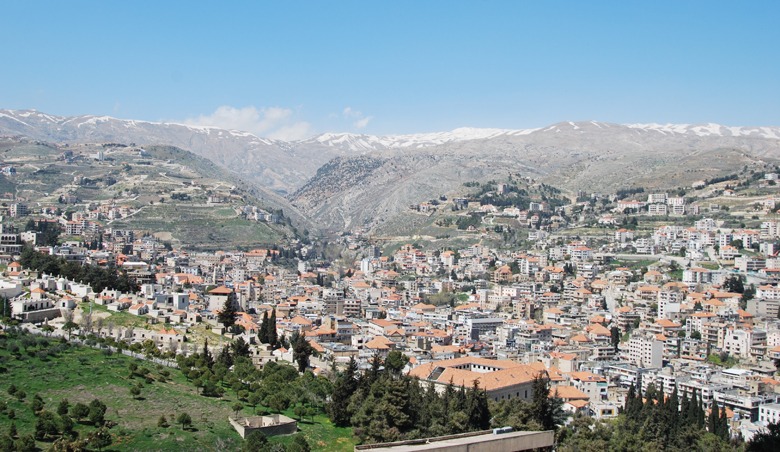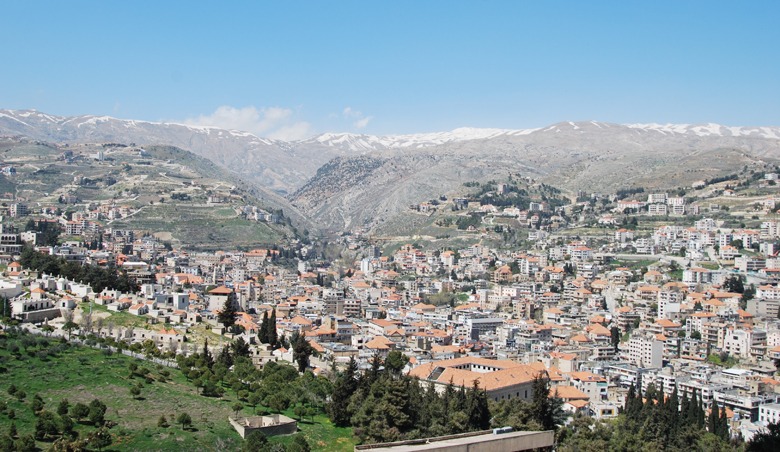 GETTING THERE
By car: Follow the Beirut-Damascus highway out of the capital through Hazmieh and above the mountains until you reach Zahle.
By bus: Buses and small vans depart from Jisr el Cola in Beirut to Zahle every half hour or so. The trip, which takes around an hour, includes a stop in Chtaura.
WHAT TO DO
Our Lady of Zahle
Watching over Zahle on a 54-meter high tower is the Our Lady of Zahle, a bronze statue of the Virgin Mary made by an Italian sculptor in 1958. Even if you aren't religious, a visit to the statue is well worth the panoramic views of the city and mountains from the top.
Monastery of Our Lady of Najat
This 18th century monastery is located in Zahle's old town, where buildings from the Ottoman era are plentiful. The monastery itself is a great example of this old architecture, complete with flower gardens and the largest bell in Lebanon. Take a few minutes to stroll around and appreciate this old structure and the area surrounding it.
Wineries and Arak
Thanks to its crisp, cool air and mountainous slopes, Zahle is home to some of Lebanon's best wineries. The area surrounding the city is home to over ten wineries that vary in size from large estates to several small family-run enterprises. Whether it is Chateau Ksara (08 801662, chateauksara.com), with its impressive two-kilometer-long cellars, Chateau Massaya (09 322778, massaya.com), which hosts Sunday brunches and yoga classes, Domaine Wardy (08 930141/ 08 930777, domainewardy.com), across the Bekaa Valley, Chateau Khoury (08 807143, chateaukhoury.com), with its exceptional view over the valley or Al Karram Arak (03 960998), boasting 100 years of family tradition, each represents the wealth of Zahle. You can enjoy a guided visit all year long where the representatives of each winery will take you through their vineyards and cellars.
The Berdaouni River
The Berdaouni River begins in the snowy mountains of the Bekaa Valley and travels through the heart of Zahle. Along the river on the eastern side of town are restaurants with beautiful terraces where you can enjoy a delicious meal on the water's edge.
WHERE TO EAT
Casino Arabi
Casino Arabi is one of the most popular restaurants. Specializing in mezze, the restaurant also serves alcohol and shisha. Arabi is a little pricier than some of the other options, but the food is phenomenal and the river-side deck is a beautiful place to enjoy a meal in nature.
Tanbakji
Much like Zahle's other restaurants, Tanbakji specializes in Lebanese cuisine; however its colorful, hipster-style decor makes for a more modest place to eat. Don't forget to take a picture with one of their over-sized coffee cups.
Boozah Khalaf and Abou Sleiman
Along the Berdaouni River is the famous Boozah Khalaf and Abou Sleiman. The two families joined forces to start producing ice cream three generations ago, when they mixed miskeh, sahlab and milk curd, otherwise known as ashta. Today, they still serve this authentic, hand-made ice cream in their shop.
WHERE TO STAY
Akl Hotel
Like many of the buildings in the old town, the Akl Hotel dates back more than a century. The small, family-owned establishment has 10 bedrooms of which six have private bathrooms, one dining room and two lounges.
Taanayel Ecolodge
Located at the heart of the Bekaa Valley in the small town of Taanayel near Zahle, Taanayel Ecolodge is made of several old-fashioned adobe houses where you can spend a night immersed in the traditions of old Bekaa. The ecolodge offers accommodation that mirrors the traditional way of sleeping – in one large room with mattresses on the floor. Travel back in time at this eco-friendly property and enjoy the locally-sourced and homemade food at their restaurant.
And if neither words nor pictures are enough to convince you to pay a visit to the "Bride of the Bekaa", then this video definitely will:
Mini Guide to Zahle
was last modified:
October 23rd, 2018
by
Loading
Published on: October 22, 2018