The view of Beirut when landing evokes a sense of nostalgia for most Lebanese. The moment lasts for mere minutes, but imagine what memories could be etched in your mind, if, instead of taking a plane, you took a glider.
Paragliding enthusiasts have been soaring through the skies for decades now, virtually unnoticed. Due to favorable wind conditions, particularly during this time of year, and the proximity of the mountain to the sea, Lebanon is an ideal location for this sport.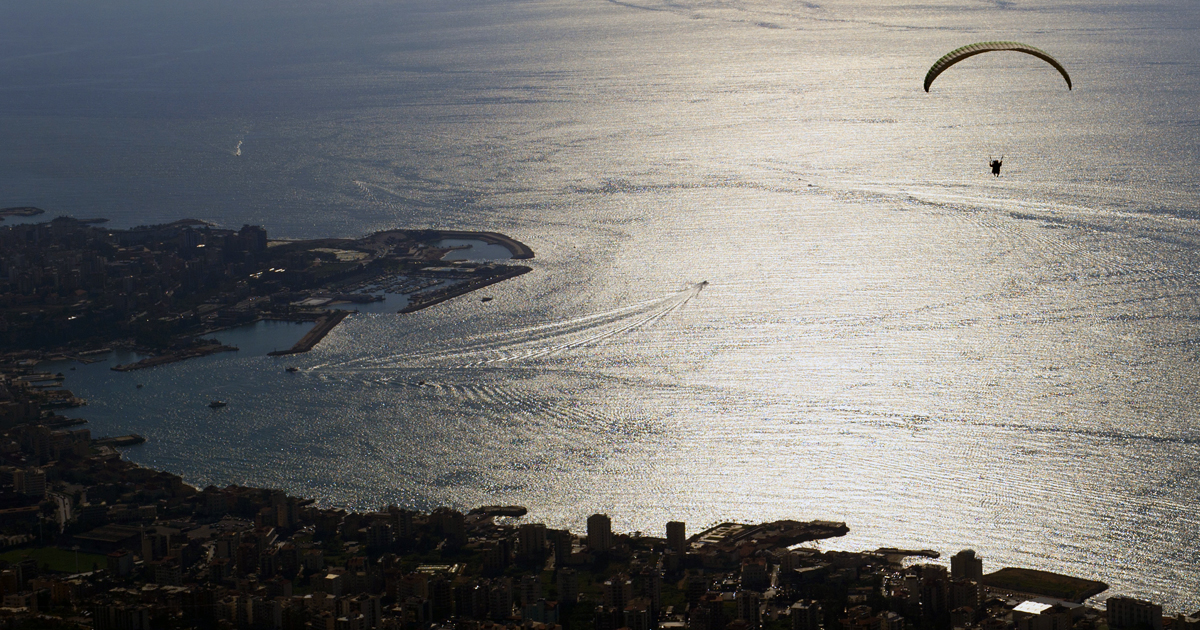 Paragliding is a sport in which a wide canopy, resembling a parachute, is attached to a person's body by a harness, in order to allow them to glide. Unlike a parachute, which descends vertically, the canopy has the ability to move forward, thus enabling the pilot to maneuver more, take thermals (columns of warm air rising up) and stay airborne.
Personal Experience
Paragliding expert, Alain Gabriel, recounts how his love affair with the sport began:
I was 17 when I first saw paragliders flying over the Cedars. I was amazed and excited about it and immediately started asking about where and how to learn. Now it is my full-time job and I enjoy it as much as I did when I started. The thrill remains the same. Each flight is different; especially when I take tandems. Every person is different and each ride is an exciting new adventure.
Paragliding tandems
Alain Gabriel started paragliding in Lebanon in 1993 and has been practicing and teaching the sport for over 20 years. He started his training in France, with Club Thermique, which is linked to the first paragliding school in the world, the Centre Ecole Régional de Parapente des Pyrénées, where he pursued professional courses and also became a certified instructor. His company, Exit to Nature, provides scheduled tandem flights with a pilot. While most flights are from 2 PM until sunset (Monday to Saturday) you can plan for a fun outing on Sundays or the next official holiday, during which they fly throughout the day.
GLIDING LOCALLY
Paragliding in Lebanon started in the early nineties. The paragliding experience is enriched by the diversity of the country's landscape, with mountain and seascape areas that may be enjoyed from a bird's view like Ghosta, Jounieh, the Cedars, the Shouf Cedars, Lessa, Meziara, Dedde, Annaya and Hammana. Flight time depends on the weather, the pilot's experience and the glider. It could last anywhere from 10 minutes to a couple of hours, even more. Flying safely is also very important. One should fly in good weather, understand the site conditions (wind gusts, obstacles, thermals), know his or her skill level and not take unnecessary risks. When in doubt, canceling the flight is always a wise decision.
COURSES
Paragliding can be experienced by either going on a tandem flight with an experienced instructor or by learning to fly solo at a paragliding school. When flying in tandem, the pilot talks the student through the operation of the glider. If the conditions are favorable, the pilot may even turn the controls over to a willing passenger, and let them experience what it's like to fly an non-powered craft. When in a tandem flight, the person in the front is in an ideal position to document the excursion with a still or video camera. If you choose to fly on your own, a set of procedures is put in place, with courses divided into three levels.
WHAT YOU NEED TO KNOW
 Briefing, gearing-up and flight time amount to approximately 1 hour.
 Reservation is required 48 hours prior to the requested date of the flight.
 Paragliding is subject to wind conditions so clients must be advised that sometimes a flight may be postponed at the last minute.
 Insurance is not included; clients must sign a liability waiver form releasing the company of any responsibility in case of an accident.
 Minors are requested to have at least one of their parents or a legal guardian present, who must sign the waiver on behalf of the child.
 Flight time is 10 to 20 minutes depending on weather conditions
 A DVD of the flight and a picture package are available for an additional cost.
Certified teaching academies:
Who to paraglide with:
Loading