Although these buildings and monuments serve as stark visual markers of a dark chapter in Lebanon's history, they also illustrate the resilience of our incredible country.
Beit Beirut
---
Standing defiantly on the crossroads of Independence Street and Damascus Road, Beit Beirut — formerly known as the Yellow House — was spared demolition thanks to the efforts of a group of heritage activists. The stunning Ottoman-inspired building has been tastefully renovated, and today, it is a beautiful museum and cultural space that pays tribute to the Lebanon's civil war.
El Murr Tower
---
A true testament to the aftermath of the war, El Murr Tower (Burj El Murr) was destined to become huge — literally and figuratively. Evidently, construction were halted by the onset of war. With demolition being too costly and renovations proving to be impossible, the tower is stuck forevermore in limbo. A recent project by Lebanese artist Jad El Khoury saw colorful curtains hung in each window to add brighten up the concrete giant.
Holiday Inn
---
The former Holiday Inn is one of Beirut's most iconic war landmarks. Having opened just two years before the conflict erupted, the once-glamorous 24-floor hotel played a significant role in the epic battle dubbed the "war of the hotels." Walking past, it is difficult to ignore the greenery poking out of its walls and balconies.
Souk El Gharb
---
Located in the Aley district, Souk el Ghareb acted as a demarcation between what were seemingly two different worlds. Though the separation is now obsolete, the inside walls are riddled with graffiti that was scribbled on by occupying militias.
Beirut National Museum
---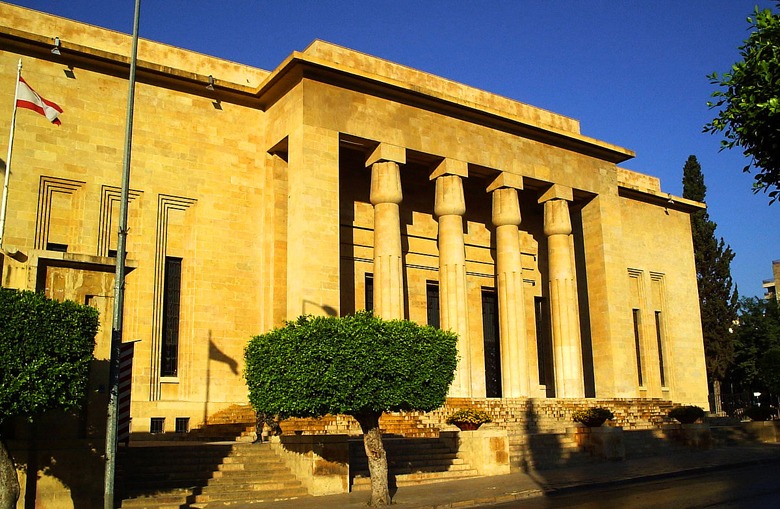 Housed inside the National Museum of Beirut are the mosaic walls of El Rahi El Saleh, which date back to the fifth century. During the civil war, armed militias broke a hole in the walls for snipers. Although the museum has since been renovated, the mosaics were deliberately left untouched.
The Egg
---
Once known as City Palace cinema, The Egg (El Bayda) is easy to spot in Beirut's Downtown. Built in the 1970s, the building — most notably its futuristic architecture — was way ahead of its time. Despite the building being severely damaged during the war, the bullet-ridden structure has stood the test of time. Exhibitions have been held inside The Egg over recent years, and there have also been talks of reconstruction.
The Grand Theater
---
The stunning Grand Theater staged the hit French musical No, No, Nanette on its opening night in 1929. With a capacity to accommodate 630 people, the theater was repurposed as a movie theater in the 60s. Heavy bombardment in the city center during the civil war caused damage to the theater and led to its abandonment. Remarkably, however, its magnificent domed ceiling is still partially intact.
Martyr's Square
---
The ultimate testament to Lebanon's turbulent past is the Martyrs' Square statue. Located in the heart of Downtown, the statue was erected to commemorate the hanging of six Lebanese nationalists by Ottoman occupiers in 1916 and features four figures cast in bronze. A woman holding a torch represents freedom, and she holds a fellow figure while two wounded men lie on the floor looking upwards — a message of hope and liberty. During the Lebanese Civil War, parts of the statue were destroyed, including the left arm of one of the figures. Interestingly, the artist tasked with restoring the statue intentionally left the scars of war in hopes that "its memory would prevent repetition."
Loading