If you're looking for a getaway close to home, take a look at these three gems around the country.
Southern gem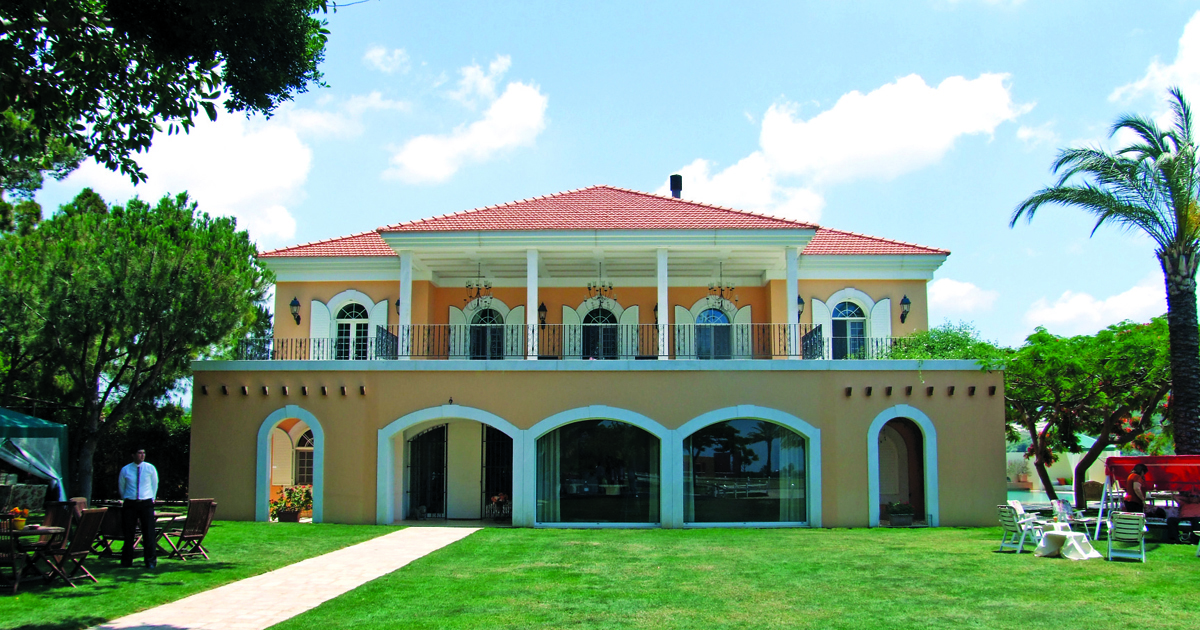 Al Yasmine Guesthouse is a project that started two summers ago in South Lebanon. For the past 40 years, it used to be a country house, where the owners would spend weekends and holidays with family and friends.
Originally, there were nine guestrooms reserved for them, but with time the owners started spending less and less time there and so decided to open it to the public. They started with the nine guestrooms and later, as demand grew, converted horse stables into additional guestrooms totaling 16 rooms.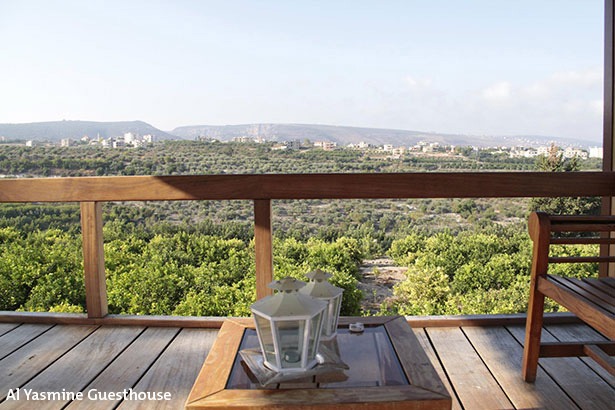 Al Yasmine offers a variety of activities for all the family including swimming, tennis, pony and horseback riding, trampoline and swings for the children, paddle boats in the pool, trekking in the surrounding orchards and deer, black swans, ducks, turkeys and others animals to marvel at.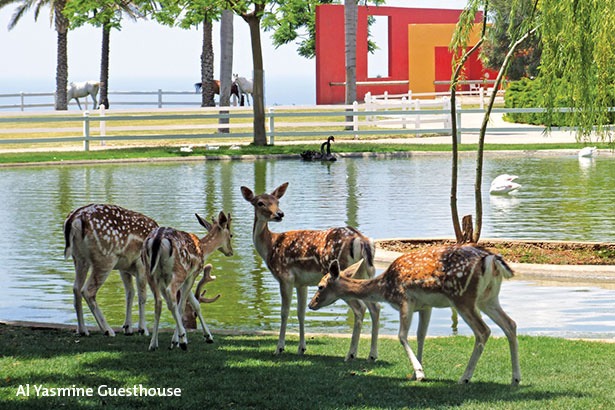 On the way to the guesthouse, in Saida, there is a soap factory that is more than a century old.
In downtown Tyre, there are famous ruins including the hippodrome. The old souk of Tyre is also well worth a visit for both its souvenirs and its architecture. Turquoise waters and a long stretch of white sandy beaches makes Tyre the ideal place to go swimming and if you go scuba diving in Tyre, you will be able to see some old ruins and columns in the shallow waters.
Ten minutes east of the guesthouse is the town of Qana and ten minutes south of the guesthouse is the virgin landscape of the Naqoura region.
Contact: +961 3 372 888
Website: Al-Yasmine Guesthouse (alyasmineguesthouse.com)
Batroun hospitality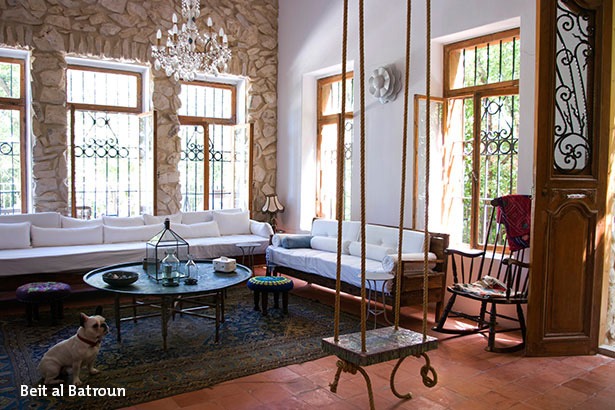 Nestled in a quiet valley overlooking the Mediterranean, you will find Beit al Batroun. This bed and breakfast is located in Thoum, just a three-minute drive from the coast up the mountain. It has three double guestrooms and breakfast is freshly prepared every morning. A forest surrounds the grounds, which has a small outdoor dipping pool. Beit al Batroun offers a relaxed atmosphere where one can escape the hustle and bustle of the city.
The house features traditional Lebanese architecture with its distinctive arches and the inclusion of a liwan, a traditional style living room, as a common space. Built with up-cycled materials recovered from all over the country, it is delightfully furnished with objects collected from Lebanon, Oman, Syria, India and elsewhere.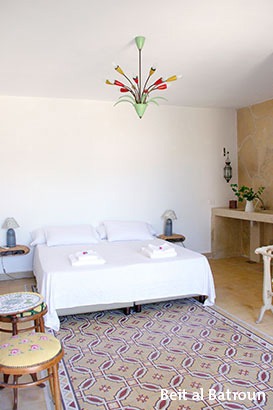 Many of decorative items in Beit al Batroun are handcrafted by Colette Kahil, the owner, who has been practicing mosaic and painting on porcelain for many years.
It is very close to the towns of Batroun and Jbeil, which offer a lot by way of tourism. The mountain of Thoum also has its charm. Be sure to visit the outdoor sculpture park of the Basbous family as well as two local wineries, Ixir and Coteaux de Botrys.
Outdoor enthusiasts will certainly enjoy cycling and hiking in the area and numerous water sports at beaches nearby such as Pierre & Friends, White Beach and Bonita Bay.
Contact: +961 3 270 049
Website: Beit al Batroun
Facebook page:  Beit al Batroun, B&B | Facebook
At home in Beiteddine
The concept of Bouyouti is a home away from home. Located in Maaser Beiteddine, ten minutes by car from the ancient city of Deir el Qamar and five minutes from the palace of Beiteddine, it is an authentic bed and breakfast run by its owners, who have opened the doors of their family home for travelers from all over the world.
Bouyouti is a cluster of upscale houses, combining the functionality of ample space with a warm and elegant atmosphere. Within this ambiance guests feel at ease.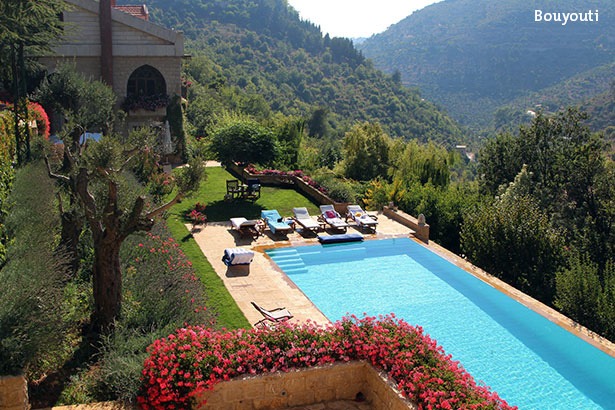 The Bazerji family, owners of Bouyouti, were born and raised in the are, tending to the needs of guests with firsthand information about the premises and its surroundings.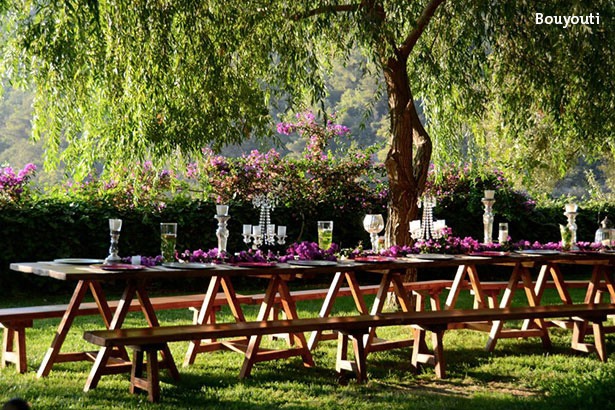 The houses have private bathrooms, kitchens, living rooms and private terraces. Six are one-bedroom houses and two have two bedrooms.
Contact: +961 3 310 200
Website: Bouyouti
Facebook page: Bouyouti
Article edited on November 1st, 2021
Loading