Nothing beats camping in the open air when it's sunny. It is the perfect time to leave the city behind and savor the beauty of nature. Getting away from it all will help you rejuvenate and recharge. Enjoy the simple pleasures of life far from the TV, radio, and the stress of social media. Whether on the beach or in the mountains, Lebanon Traveler compiled a list of the best camping sites in the country. 
Camping Amchit Les Colombes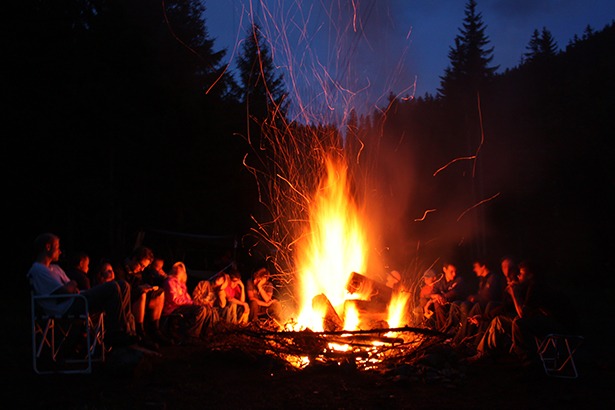 Situated in Amchit, about 38km north of Beirut, Camping Amchit Les Colombes (+961 9 622 401/402) accommodates tourists and locals 365 days a year and 24 hours a day, in a peaceful, natural, and wild environment. Occupying 27,000 sqm of land, it is set on a 40-meter cliff overlooking the Mediterranean Sea.
Apart from camping, various types of rooms and chalets that suit all tastes and budgets are offered. There is access to one private area sea where you can fish, play volleyball, snorkel, and even go biking. Take a walk to the sea, snorkel, and swim. Later, perfect your talent as a chef by firing up the barbecue or cooking your own fish using an old family recipe.
Those of who wish to camp should bring their own tents. Common bathrooms, showers, and kitchens are available on site.
You can see around the area old churches, wax museum, the nature reserve of Bentael, and the village of Haqil (known for its fossils).
Sharewood Camp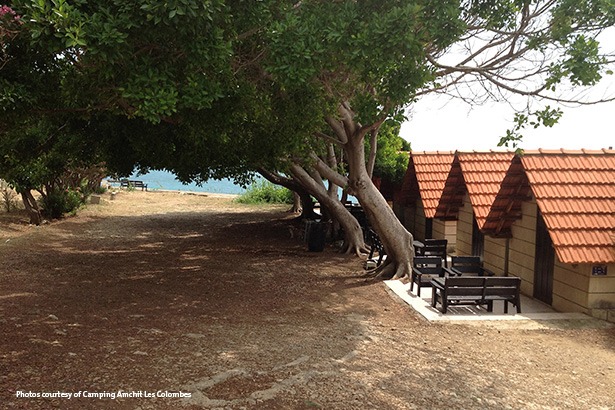 Located in the mountains above the capital, Sharewood Camp ( +961 3 294 298) features an outstanding choice of indoor and outdoor leisure facilities and accommodations in fully equipped tents. Whether you are a group of adults or a family, 20 large tents (3m x 4m x 2.75m) zipped from all sides will ensure the best security. Also prefabricated houses for the W.C and showers.
Moreover, an outdoor kindergarten is available with dedicated instructors for kids to enjoy. Activities include abseiling, rappelling, rock climbing, tyrolean traverse, zip-line, archery, hiking, volleyball, giant chess, rifle shooting, darts, backgammon, four-in-a-line, lawn ball, donkey rides, ping pong, giant sandbox, balance beam, tug-of-war, table football, trampoline, and badminton.
At night, you can let your inner singer out during karaoke around the campfire. If you don't feel like cooking, you can always eat at the restaurant, which serves traditional Lebanese food and snacks.
Bzebdine Hidden Valley Resort
Located in the Metn Mountains, a region known for its beautiful weather and pine tree forest, the Bzedbine Hidden Valley Resort (+961 5 360 863) is a great location for nature lovers to take in the outdoors. You can stay in a tent or in a wooden cabin. Electricity and hot water are available.
Aside from the usual nature activities, you can engage in horseback riding sessions in the forest, self-guiding hiking trails, biking, caving, and rappelling. The open-air restaurant serves homemade food and fires up the barbecue every Sunday for lunch. There are activities like horse riding, camping, ATVs, paintball, and many more.
Other phone numbers: (+961 3 339 370) / (+961 3 466 662).
Nature Land Camping & Adventure
Spread over 10,000 sqm of luscious green wilderness, Nature Land Camping and Adventure (+961 71 016 232) offers a wide variety of social, cultural, and environmental outdoor activities including hiking, caving, rappelling, tree climbing, flying fox, and archery. It is a forest resort providing accommodation in stone traditional caves, bungalows, and an outdoor pool.
Unique half-day programs will take kids on a tour of a farm, where they will participate in milking a cow and collecting eggs. Survival half-day will teach them to use a compass and read a map. Martial art day is an occasion to perfect your fighting and self-defense technique. The evenings are reserved for astronomy lessons, or for the more energetic, night hikes and caving.
You can stay in a tent that can fit different-sized groups equipped with mattresses and all lighting necessities. Furthermore, a cooking facility is also available.
Other phone numbers: (+961 1 902 538) / (+961 3 784 246).
La Reserve, Afqa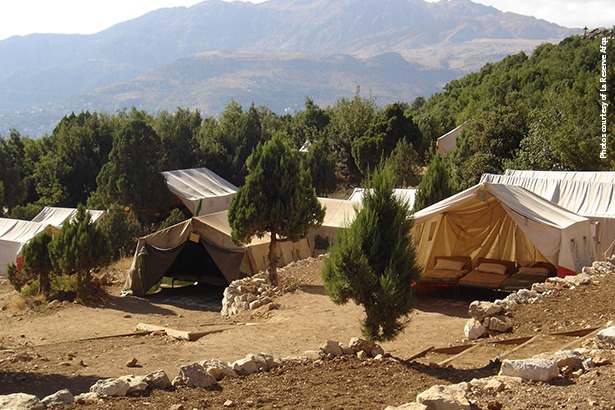 Situated high in Lebanon's mountains, Afqa camping (+961 70 210 444) welcomes you from May till October for a night in the wilderness. Every tent is equipped with (four) beds, mattresses, pillows, lighting, and one electrical outlet for your mobile telephone because being out of reach might trigger separation anxiety issues.
WC's and showers are individual prefab units, and hot water is available. Campsite activities range from archery, hiking, and orienteering to caving and rope courses. Other sports like volleyball, basketball, and badminton are also available.
If you prefer not to carry food with you, a restaurant is available to satisfy your hunger.
Bkassine Forest
In the mountains near the town of Jezzine lies Bkassine Forest, an ideal location for ecotourism. In addition to it being the largest stone pine woodland in Lebanon, the forest is a delight to any nature lover as it hides waterfalls, hydraulic mills, and a river.
After setting up your tent, you can hike anywhere in the forest and enjoy its panoramic views of Mount Niha or the backbone of Mount Lebanon. The trail includes many traditional features such as kilns, olive presses, old bridges, and water sources along the river, that flow at the edge of the forest at an altitude of 500 m.
During Fall, the forest offers a unique canvas of colorful foliage. It also offers a great escape for people to enjoy the fresh air and take a break from their daily routine.
Where to get your camping equipment from:
    Feytroun Main Road.
   Downtown Allenby street, Louis Vuitton Building Suite 2029 Level 2&3.
   ABC Mall Ashrafiyeh : +961 1 202 555
   Kaslik : +961 9 223 555
   Feytroun : +961 9 951 555
   Or Whatsapp: +961 70 340 555
   Zalka Highway : +961 1 88 88 55
Article published on Jul 22, 2021.
Article edited on October 3, 2021.
Loading