Award-winning social enterprise, 2B Design brings life back to Lebanon's dying heritage.
Down a Jeitawi side street in Beirut, a traditional Lebanese home houses a small atelier. Past an old iron gate, a garden is filled with the peeling wooden shutters, decorative iron tables and old balconies of Lebanese heritage buildings, giving a hint to what lies within.
The atelier belongs to 2B Design, an award-winning Lebanese social enterprise with a mission to "restore the unseen beauty of the broken."
Based in Beirut for years, French native, Benedicte de Vanssay de Blavous Moubarak, saw Lebanon's old heritage houses being destroyed around her; the decorative iron pieces that once stood grandly, or the former railings of mountain villages melted down and sent to scrap yards.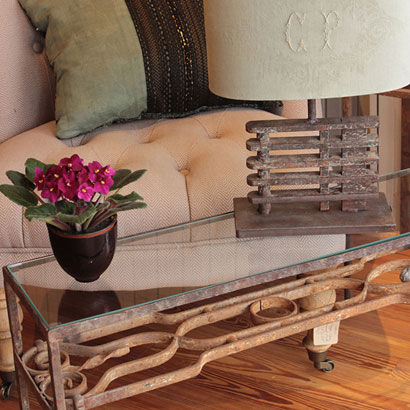 In 2004, she decided to do something about it and set up the furniture and home decoration social enterprise, 2B Design.
The enterprise works to save architectural salvage from destroyed 18th, 19th and early 20th century houses, and revive them into contemporary home design creations.
Combining Moubarak's long career working on social-angled projects, 2B Design places social-responsibility at its core. They have a long-standing collaboration with the Lebanese social organization, Arc En Ciel, whose team of skilled disabled craftsmen works on rejuvenating the pieces. The enterprise also works with women from marginalized backgrounds, training them to hone their artisan skills to make an income to support their families.
They have also built strong collaborations with social-leaning enterprises from a New England-based homeless charity, Pine Street Inn and Habitat for Humanity, an NGO which helps with home refurbishment for its employees, to Tahaddi who fight against poverty, including the Dom (gypsy) community of the Hay el Gharbi slums of West Beirut, and Dream InDeed, an organization that strengthens local social entrepreneur projects.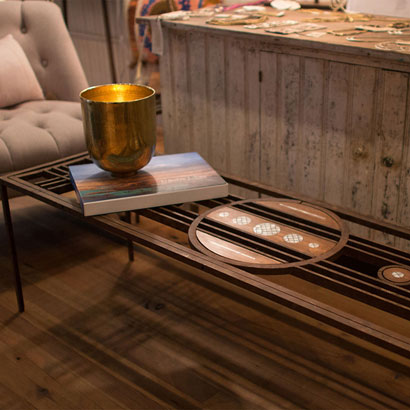 2B Design's flagship brand named "Beyt", a nod to the symbolic meaning of home in both Arabic and Hebrew, highlights the enterprise's focus on promoting the inclusion of people from diverse religious, ethnic and cultural backgrounds, a kind of small-scale protest against what is often a divided sectarian region.
"We show that diversity can be an element of beauty, unity and strength and is an important factor in building lasting peace," says 2B Design's mission statement. "We also work on building bridges and promoting understanding at a grass roots level between Arabs and Americans."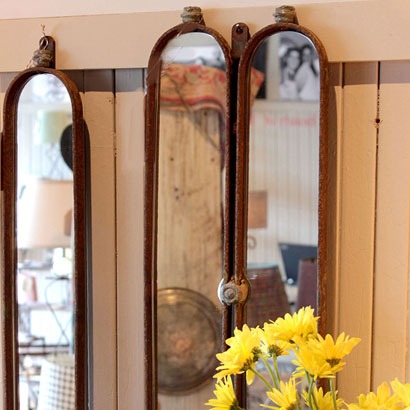 "The philosophy of 2B Design is to give worth to the past and keep it alive"
"Benedicte wanted to combine both sides – salvage all these architectural items and at the same time try to do something different and actually employ people that are in need and marginalized in society," says Katia Boueri a recent addition to the 2B Design team. The atelier itself is filled with decorative iron lamp bases with a modern touch, juniper wood candle holders re-salvaged from aristocratic mansions and delicate iron tables. "We source them from all over the country, from the north and south, Basta and scrap yards," Boueri says. "Most of the pieces are in a very bad state. Some of them still have bullet holes in them. We try to keep them as they are, to leave the character and scars."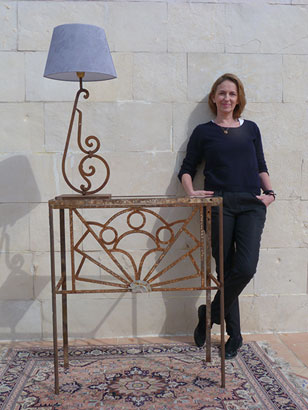 Once the 2B Design team has salvaged the raw material, Moubarak, now based in the States where the organization has recently opened a store in Cambridge, Massachusetts, works on the designs from photographs. The drawings are then sent to the team of blacksmiths at Arc En Ciel, where the salvaged wood of old doors on window shutters might be added to the pieces. Once the basic design has been completed, they're returned to the atelier, where every morning Nada and Rania work on the finishing – scrubbing down the iron and removing the years of paint layers, and doing patina work, in natural pigments. Below the atelier is a dark basement filled with finished stock which is shipped to the US once every few months to the enterprise's largest customer-base. The final products can be found in several outlets, from US-based furniture design fairs to furniture stores across Europe.
While Beirut's heritage buildings are quickly disappearing from the urban landscape, the philosophy of 2B Design is to give worth to the past and keep it alive. Within a modern-day throwaway culture, the value 2B Design places on the discarded pieces of the past and recycle-philosophy stands out. "Through our pieces you can actually see what the houses used to be like. They're destroying Beirut, but we're trying to keep the past alive through new designs. This is the way to not forget," Boueri says.
In January, 2B Design became the first Lebanese company to receive B Corp certification from B Corporations. Net, joining 900 other social and environmentally minded international businesses. And, after receiving a USD15,000 grant from USAID earlier in 2014 to buy raw materials, 2B Design hopes to further expand and be able to employ more people from marginalized communities and extend their reach.
2B Design's presence in the US is spreading the narratives of Lebanon and the region, helping to break down stigmatizations of the Middle East and build a deeper emotional connection between the two countries.
2B Design Atelier
Tel: +961 1 572 217
Website: www.2bdesign.biz
Facebook page: [beyt] by 2b design | Facebook
Shereh el KazenB
Jeitawi, Beirut
Article edited on October 28, 2021
Loading