Short on time yet don't want to miss out on the upper Metn's beauty? If you have access to a vehicle then do a circular road trip and drive through realms of pine forests through villages and by the side of a river.
Take the Damascus Rd to Mattar Bhamdoun el-Mhatta then follow the road through Hammana to Bzebdine. At the Hidden Valley take a left down a narrow lane and follow the road down the valley to Salima and follow signs to Baabdat. The route takes you into a forest valley with unexplored hamlets before rising to Baabdat in North Metn and back down on the new Baabdat Highway to North Beirut suburbs. En route there is ample opportunity to stop at scenic spots, as well as munching on a manouche from a local bakery.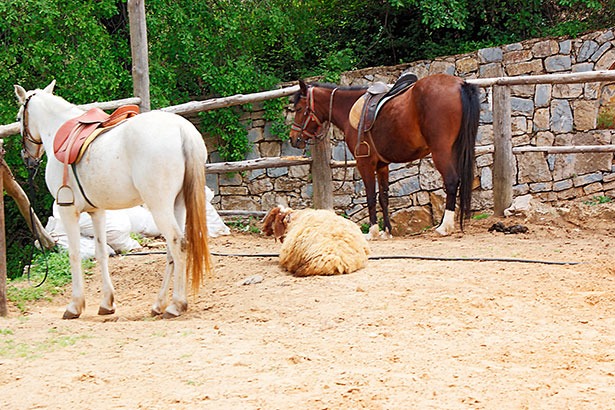 Meet Jolly jumper
Think she looks like an ordinary common sheep? Well, think again. Jolly jumper believes she's a horse. Residing at Bzebdine Hidden Valley Ranch, Jolly jumper spent the entire three years of life sleeping, feeding and interacting with horses. She even jumps over the fences. Like any pseudo-horse, Jolly jumper enjoys a good patting and lots of affection.
If you are in the area, be sure to say hello as she is always awaiting visitors.
Tony Germany
Owner of Bzebdine Hidden Valley Ranch
The drive to Bzebdine is spectacular as it passes through lush forests and handsome Lebanese villages. At the end of the village is the Hidden Valley Resort run by Tony Germany. The all-year-round resort has plenty to offer for families and accommodation is available for small and large groups who wish to stay and explore the area around Bzebdine. Activities on the ranch are horse riding, rappelling and a plethora of other activities. There is a Sunday buffet every week and booking is recommended. Group caving, hiking and special events allow you to discover Bzebdine's countryside. Though the Ranch appears pretty much isolated, it is in fact at the outskirt of Bzebdine and makes for a pleasant walk into the village's downtown.
Bzebdine hidden valley – Restaurant in بزبدين (business.site)
Article edited on November 15, 2021
Loading