4
min. read
Founder of NEOS Tourism Consultancy and author of "Eco Lebanon: Nature and Rural Tourism" Nour Farra-Haddad gives her tips on campsites around Lebanon that are perfect for an inexpensive and fun getaway.
TAFLA, SMAR JBEIL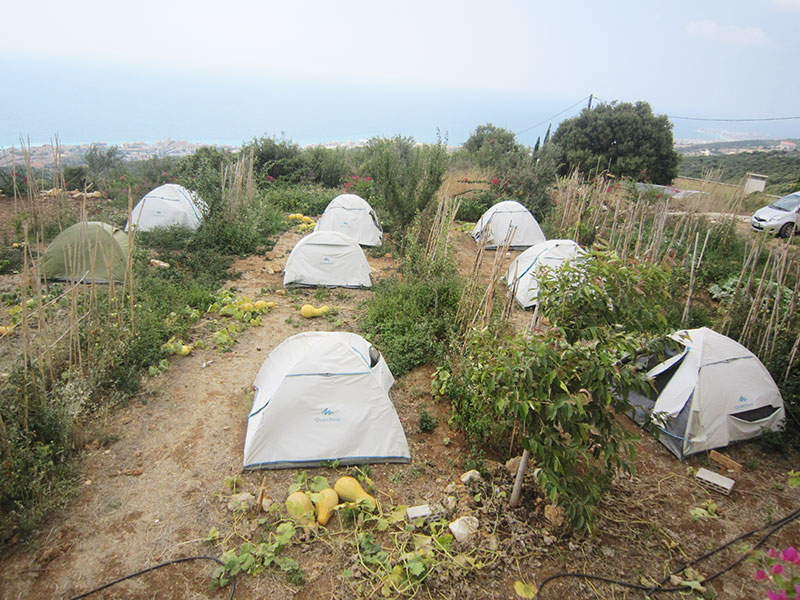 Tafla (71 749448) is located in the town of Smar Jbeil, which is well known for its fortress and a dozen or so churches. Smar Jbeil is recognized as one of the oldest Lebanese villages, where one can find remnants dating back to the Canaanites and Phoenicians such as catacombs, sarcophagi, mills and wells. The village is built on a rocky cliff overlooking the Mediterranean Sea and the coast of Byblos and Batroun.
Visitors to Tafla can either take their own tent or rent one locally. For something more comfortable, rooms are available in the campsite's charming villa.
Where to eat
While food is available at Tafla, you may wish to head to the main square of Smar Jbeil for a sandwich or a manouche. There's also a good selection of typical seafood restaurants on the coast, including White Beach (06 742505), Club House – Lebanese Yacht Club (03 608219) or Le Cap (09 623397).
What to do
The rural area of Batroun is very interesting. On the way up to Smar Jbeil, pass by Rachana and visit the open-air museum of sculptures. You will probably spot an artist from the Basbous family at work.
In Smar Jbeil, take time to explore the religious sites: the church of Our Lady, St. Nohra and St. Takla. The crusader fortress is also worth visiting. Continue towards the east where you will find the monastery of St. Joseph in Jrabta (the sanctuary of St. Rafqa) and the monastery of the saints Cyprian and Justine (the sanctuary of St. Hardini and Blessed Estephan Nehme) in Kfifane.
CEDARS GROUND CAMPSITE, SHOUF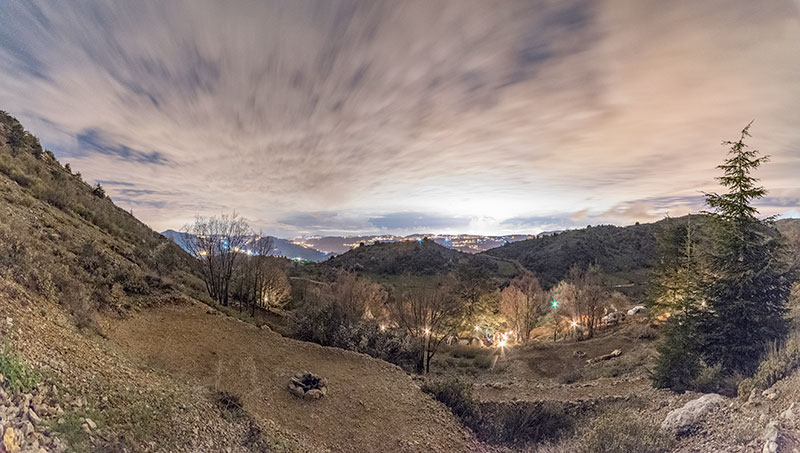 Photo: Jihad Asmar
Ain Zhalta is a picturesque village in the Shouf district. In Bmahray-Ain Zhalta, one of the entrances of the Shouf Biosphere Reserve, one can find the Cedars Ground Campsite (03 938187), open almost all year long to nature lovers. Visitors to the campsite can enjoy many daytime and nighttime activities such as fruit picking, stargazing and moonlight hikes.
Where to eat
Enjoy a meal by the campfire or an authentic Lebanese mezze at one the famous local restaurants in Nabee El Safa such as Yammine (05 230033) or Challalat Nabeh El Safa (05 230030).
What to do
Enjoy a spectacular hike in the Shouf Biosphere Reserve, where you will find some of the oldest cedar trees in Lebanon. Visit the pretty village of Ain Zhalta and continue on to Wardiyeh, a few kilometers away, to see incredible sculptures at the Assaf Museum and atelier (03 737528/71 211915, atelierassaf.org). End your journey in Batloun to discover the unique remains of the village demolished by an earthquake in 1956.
HILLHOUT VILLAGE, METN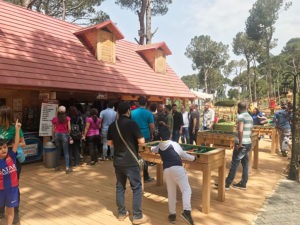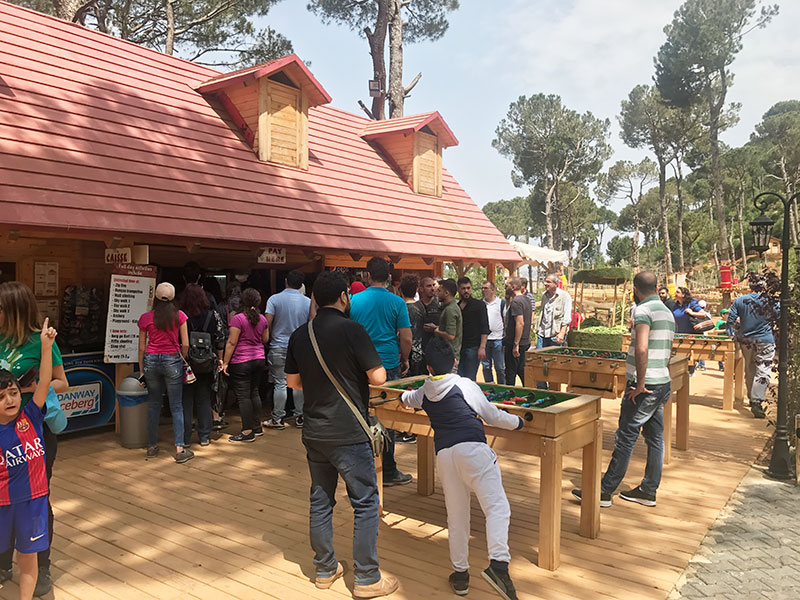 Khenchara is a village in the Metn district, located between the towns of Bteghrine and Shoueir. Known for its traditional red-roofed houses and skilled stonemasons, it is home to Hillhout Village (70 757711), a charming 25,000-square meter retreat in the heart of the forest. It is popular with families and groups due to its magical location, offering guests a place to camp, a picnic area and an array of ecotourism activities.
Where to eat
Prepare some tasty treats or buy ready-made sandwiches and take advantage of the picnic area at Hillhout Village. Alternatively, enjoy cheese and wine at the winery of the St. John Monastery (03 203098/70 165277/04 270577, cavestjean.com). Other restaurants in the area serve typical Lebanese cuisine, while O Bois (70 345752) has an extensive international menu.
What to do
On the way to Khenchara, stop in Bikfaya to visit the churches of St. Elijah (Mar Elias), St. Michael (Mar Mikhael) and Our Lady of Deliverance. Khenchara is home to the Melkite Catholic Monastery of Mar Youhanna, which lies on a rocky hill and looks like a fortress built over a cliff. Do not miss visiting the monastery museum displaying traditional printing material and one of the oldest printing machines in the Middle East.
After Khenchara, continue towards Baskinta at the foot of Mount Sannine, the native village of Mikhail Naimeh (1889-1988), one of Lebanon's greatest writers and thinkers. The Lebanon Mountain Trail Association (lebanontrail.org) developed the Baskinta Literary Trail to celebrate the work of several acclaimed poets and novelists from the region, including Mikhail Naimy, Amin Maalouf, Abdallah Ghanem, Suleiman Kettaneh, Rachid Ayoub, and Georges Ghanem.
The beautiful village is also known for its wealth of religious sites, notably the churches of St. Elijah (Mar Elias) and St. Michael (Mar Mikhael).
CAMPING IN FAQRA, KFARDEBIAN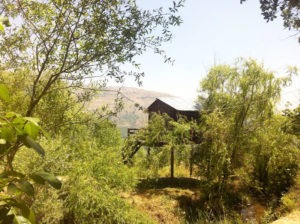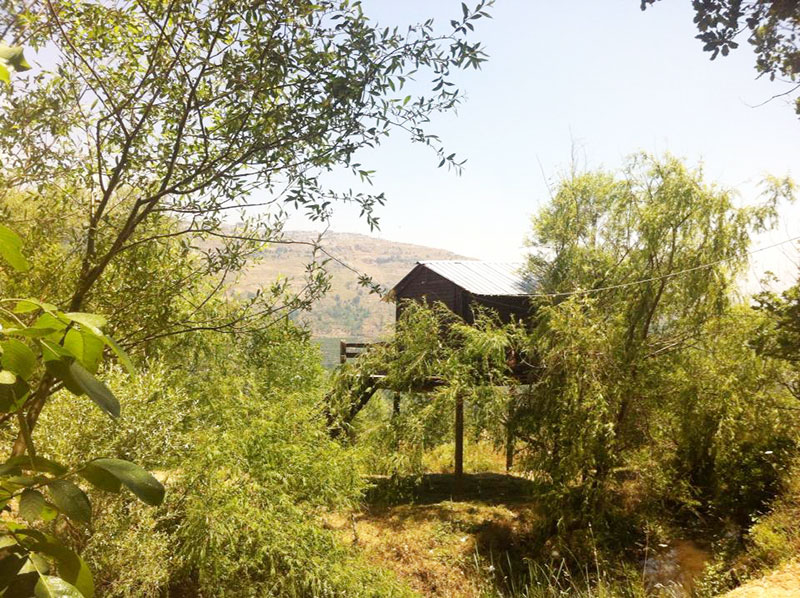 Abou Maroun
Situated in Mount Lebanon, at an elevation of 1,550m, Faqra is celebrated for its remarkable karstique rocks and Roman monuments: temples, columns, altars and tombs cut from rock. One temple rises spectacularly, nestled in thick rock. In Fakra, a bridge called Jisr al-Hajar (Stone Bridge) features a magnificent arch measuring 38m in height.
El Nawawis campsite (03 256709), close to the famous Roman temples, occupies a massive 20,000-square meters. It boasts a camping area, a picnic area and a number of bungalows. Another picnic and camping area, Abou Maroun (09 300218), is also available in Faqra.
Where to eat
Grab some essentials and have a picnic at El Nawawis. If you prefer eating at a restaurant, head to Anater (09 300818), Qalaat Fawaz (03 928061) or Chez Chaker (09 341800) where you will be served a Lebanese feast. Alternatively, head to Chez Michel (09 300614) for a Lebanese fine-dining experience guaranteed to satisfy every taste bud.
What to do
Once you have seen the natural bridge and the Roman ruins of Fakra, you can continue to Chabrouh to have a nice walk near the dam and visit the monastery of the resurrection. From there, take the road toward the largest statue of St. Charbel in Lebanon, perched on the mountain top.
5 Campsites You'll Love
was last modified:
August 28th, 2018
by
Loading
Published on: July 22, 2018