The morning staple of the Middle East, foul is a firm favorite among the Lebanese. We take a look at this simple yet tasty dish served by Beirut's street vendors and 24-hour restaurants.
Believe it or not, foul has been enjoyed in the Middle East for thousands of years. While it is thought to have originated in Egypt — with the mashed beans being mentioned as far back as Ramses II — the dish soon spread to the Levant, becoming the staple it is today.
The Don of Foul
Mahmoud Safer stands outside his foul restaurant Al Walid (+961 1 735800, Zarif) clad in black, arms folded against his bulging chest. To his right are a line of motorbikes each accompanied by a young man wearing an Al Walid uniform ready to make a delivery. Safer gives off the air of a Don, and he is — at least in the Beiruti neighbourhood Zarif where his small restaurant is located. Among those who consume foul on a regular basis, the ancient breakfast dish causes a division. While the recipe is in principal the same, the foul connoisseur believes their local restaurant does it 'just so.' Safer agrees there are a number of ways to make foul: "Each restaurant has their own way," he says, seemingly philosophical for a second, then adds with a grin, "but mine is best."
Safer first began working in his father's foul restaurant at the age of eight. Almost twenty years later, Safer and his two brothers opened their own restaurants. He was only 19 when he took charge of his restaurant in Zarif. At all three restaurants, the same foul recipe is used — the one from all those years ago. For them, the length of soaking time is key; the foul must be left in water for a total of eight hours before it is simmered for a further two hours to remove any excess water. Safer shares his secret; he adds the ingredients – garlic, lemon, salt and oil – directly in the bowl the customers will eat from. Other foul restaurant owners mix the ingredients in a larger bowl, then transfer it to another for serving. He believes that his method keeps the dish fresh and tasty.
Hipster Foul
Abu Hassan (+961 1 266888, Bourj Hammoud) set up his foul restaurant almost 50 years ago. Over in the Armenian neighborhood of Bourj Hammoud, he is almost certainly the foul king. Although he passed away many years back, his photo can be seen above the entrance of his restaurant, where his daughter Saana sits at the cash register. His sons also work in the family trade. During the day a mix of regulars, mainly old men and families, frequent Abu Hassan's, but at night it comes into its own. Unusually, for a foul joint, he stays open 24 hours, so by 3am you can find an intriguing mix of customers, from groups of men arriving after a late-night shift to hipsters who just stumbled out of a bar in nearby Mar Mikhael. In these early hours, Abu Hassan's foul brings everyone together in their search for a tasty fix to an empty stomach.
Foul al Fresco
Pushing her cart along the Corniche, with pots of beans balanced on top, you can find Ilham Ali Kannan on most days, wandering up and down the seafront. She has been wheeling her cart of foul around for the past six years with her husband often joining. They serve the foul whole rather than mashed, on a tray garnished with lemon, salt, and cumin. People strolling along the Corniche eat it with a toothpick for a quick foul on the go.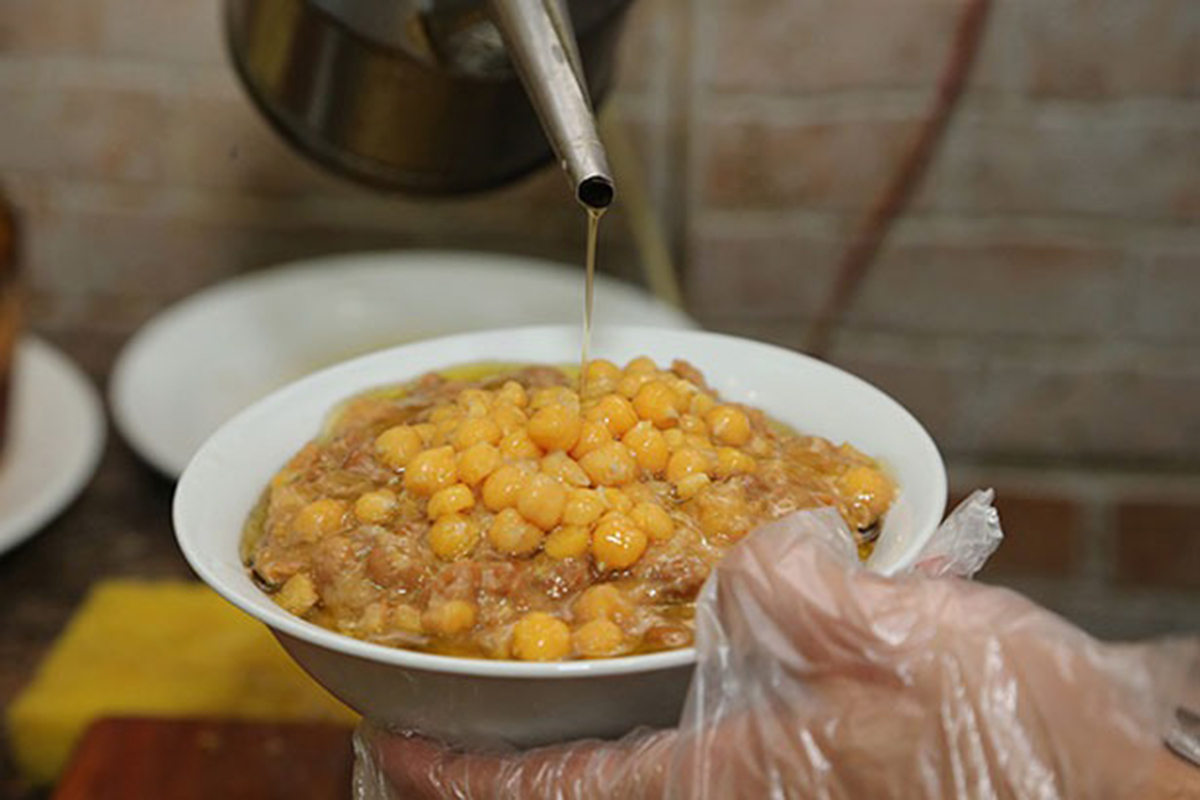 OTHER PLACES IN BEIRUT TO GET YOUR FOUL FIX
~ Foul in the garden at Falamanki, Sodeco, +961 1 323456
~ Humble perfection at Le Professeur, Mar Elias Street, +961 1 703666
~ Foul with a view at Foul Time, Raouche, +961 1 801307
~ Foul with a history at El Soussé, Mar Elias, +961 1 312145
FOUL RECIPE ~ Tips from Beirut's local masters
---
Ingredients
• 500g of dry fava or madammes beans or two cans (serves 4-6 people)
• 3 cloves of garlic, chopped
• 2 tablespoons of lemon juice, or to taste
• 3 tablespoons of oil
• 1 pinch of salt
• 1/2 teaspoon of cumin
• 1/2 teaspoon of hot chilli pepper
• 250g of dry chickpeas or 1/2 can
Preparation
1. You can use beans from a can but ideally use dried ones and soak 24 hours in advance.
2. Drain the water.
3. Cook the beans and chickpeas in two separate pans covered by water on a high heat, until soft.
4. Reduce the heat and let the beans simmer for 30 minutes up to an hour. They should be almost disintegrated and the water almost completely evaporated (you can drain any excess water if necessary as they should not be watery).
5. Place the beans into a bowl and mix in the oil, garlic, lemon juice, cumin, salt and hot pepper, mash gently with a fork, and serve.
6. Add the chickpeas on top of the foul dish for variety.