Whether commemorating a festive, historical or religious event, holidays in Lebanon often have a dessert associated with them. Zeinab Jeambey from the Food Heritage Foundation explores the tradition of kaak.
Of the most famous desserts is maamoul: small butter cookies often stuffed with dates, walnuts or pistachios. Yet the most mini-milk cakes known as kaak bi halib. These cakes, which do not perish quickly, were often taken on pilgrimages and used as caloric, substance food during wars.
Recipes for these simple cakes include the main ingredients of flour, semolina, butter, milk, oil, a leavening agent and flavoring, which can include anise seeds and mahlab (the seed within the stone of a special cherry called prunus mahaleb).
Nonetheless, flavoring can vary from village to village and household to household. Some use dried lavender, while others choose dried marjoram, nutmeg, turmeric or nigella seeds. Most cakes are usually formed in special wooden molds with different designs.
Through the preparation method is similar for all, these cakes are named according to the event they are commemorating.
Kaak El Eid ~ The Holiday Cookie
This is the generic name for homemade milk cakes that are produced in villages all over Lebanon, with preparations differing from one village to the other. It is a common treat during the Easter, Fitr and Adha holidays. Mahlab is often a main ingredient and some households make the cake softer than others. It is best accompanied with coffee, tea or lemonade.
Kaak Mbassbass ~ Mbassbass Cookie
Also known as kaak mra'add, this cake is mainly found in North Lebanon and has a distinct crumbly texture, making it more like a biscuit. In fact, as per the locals, the name mbassbass means crumbly in the mouth. Although the kaak was initially the holiday cookie of Akkar, it is now made throughout the year.
Kaak El Abbass ~ The Aabbass Cookie
This cake is prepared during Ashoura – a Muslim day of remembrance to commemorate the death of Imam Hussein, the grandson of the prophet Mohammad. The cake take its name from El Aabbass, the half-brother of Imam Hussein, who was known for helping the poor and vulnerable. The cake is often given away to people attending Ashoura gatherings.
Kaak El Khamis ~ The Thursday Cookie
This milk cake is made on Maundy Thursday, the Thursday preceding Good Friday. The tradition continues to this day in Aarsal – a predominantly Muslim village – reminding us of the conviviality among neighboring communities of faiths.
This year, try making these easy Thursday cookies, courtesy of the Food Heritage Foundation.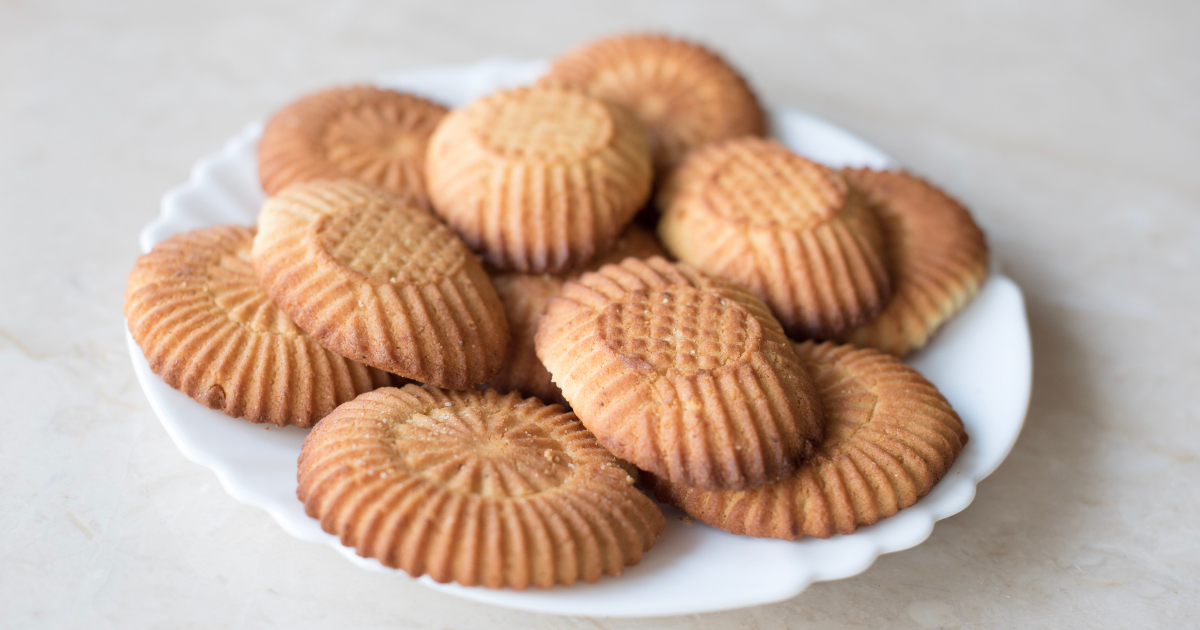 Ingredients
4 cups flour

1 cup powdered milk

2 eggs

1 ½ cup sugar

200g butter

1 cup vegetable oil

1 tsp vanilla

1 tsp baking powder

1 tsp anise, powdered

1 tsp mahlab

1 tsp yeast

½ cup water
Instructions
In a large bowl, mix eggs, sugar, milk, butter, baking powder, vegetable oil, vanilla, mahlab and yeast.
Add water gradually and mix with both hands.
When the mixture is homogeneous, add flour.
When the dough becomes smooth and elastic, cover and set aside for 30 minutes.
Preheat oven to 180⁰C.
Divide dough into several pieces. To make traditional cookies, use the special molds to make imprints. If you don't have molds, you can make different shapes like circles or braids. When using molds, brush with vegetable oil and press lightly to prevent the dough from sticking.
Grease baking tray with vegetable oil and place cookies.
Bake for 15 minutes.
You can also try your hand at their other kaak recipes from around the country.
Loading