During the winter months, more and more joggers can be seen taking advantage of cooler temperatures and lower humidity. Our ace action reporter put on her running shoes to discover where the best routes are.
Unpredictable traffic, frequently obstructed pavements, poor air quality: It is a truth universally acknowledged that Lebanon is far from ideal for joggers. Nonetheless, this country is currently experiencing a "running revolution", as this low-cost sport proves increasingly popular among locals and visitors alike.
"Running has picked up dramatically for the past 10 years in Lebanon," says Roger Bejani, founder of the Inter-Lebanon running club. Bejani credits the Beirut Marathon Association and a variety of running clubs that actively promote this "accessible to all" sport with popularizing running as an activity.
Indeed, 10 years after its inaugural marathon more than 36,000 people signed up to run in events organized by the Marathon Association for its 2013 edition on November 10. "Running is becoming more and more popular regardless of the season, although one can notice a significant increase in the number of runners on the Corniche around the time of the marathon preparations," points out Marathon Association spokesperson, Elissar Mezher, referring to the city's most well-known coastal running route.
Mezher is clear however that running is not a seasonal sport. "Running is very popular as a means of keeping fit in all months and weather conditions," she stresses. But while there are runners aplenty in Lebanon all year round, there is simultaneously widespread agreement that conditions for jogging are far from ideal.
"Abysmal," is the word Anthony Ussher, an active member of the Beirut Hash House Harriers Running Club and organizer of the Batroun Triathlon, chooses to describe Lebanon's roads and traffic as they relate to joggers.
"It is somehow true that Lebanon lacks the proper infrastructure for running and other outdoor sports like biking," concedes Mezher, referring to the absence of designated running lanes, the lack of street lighting after dark and drivers' casual disregard for traffic lights. Ussher advises that in order to stay safe in the city, runners must be constantly aware and wear bright, highly visible clothing.
Bejani particularly highlights the challenge runners face in finding suitable places to train. With just a handful of comfortable running routes, Bejani says that "compared to other cities, especially European or American, running in Beirut is tough and may be boring." But, for visitors to the city with their trainers in their suitcase, it definitely won't be boring to go down to the Corniche and join Beirut's fittest as they pound the pavement from Ain al- Mreisseh to the iconic Pigeon Rocks.
The Corniche is busy, and not Bejani's favorite route, but it does offer a run with a view of Lebanese society: Weave between families, cyclists and dog walkers, while to your right daredevils leap from cliffs above the blue Mediterranean.
For residents, for whom the Corniche's curiosities are a frustration, Mezher reassures that action is being taken to expand the number of designated running areas in the city.
"There are some great initiatives to provide such places for runners like the new Beirut water front track by Solidere," she says, noting also that "there are awareness campaigns being carried out by the Beirut Marathon Association and active local NGOs are advocating for running and cycling lanes and opening of public parks."
In the meantime, runners keen to mix it up might find variety in varying their running companions as much as in diversifying their routes. Lebanon boasts several active running clubs, many of them, including Bejani's and Ussher's, all too keen to welcome newcomers including tourists or short-term residents of the city.
Bejani says that visitors regularly join the ManiaX, the road-runners' group of which he is a part, while Ussher of the Hash House Harriers likewise says visitors are welcome to join the group's excursions outside the city.
With the latter however be warned: Their tagline is "the drinking club with a running problem." Although serious athletes do participate in both their city and mountain outings, the focus is as much on socializing over some beers as it is on getting in a good workout.
GYMS
Traffic and track issues not withstanding, in sunny Lebanon getting in an outdoor jog is not often impaired by bad weather, but on the odd occasion when it is, it really is. Rain in Lebanon comes in torrential downpours, flooding streets in minutes and chasing the sane indoors.
For runners, Bejani says, rain need not be a problem – provided the deluge commences when you're already pounding the pavement. "Rain is not a problem if it starts when you're running; it may even be stimulating. It is a problem though when you wake up at 5 a.m. and it is raining cats and dogs. You need to be a freak runner (and there are some) to venture outside," he jokes.
The alternative is to take to the thread mill. If you're not lucky enough to be bunking
at one of the city's 5-star hotels with a luxury gym on hand, don't worry, most gyms in town offer day rates.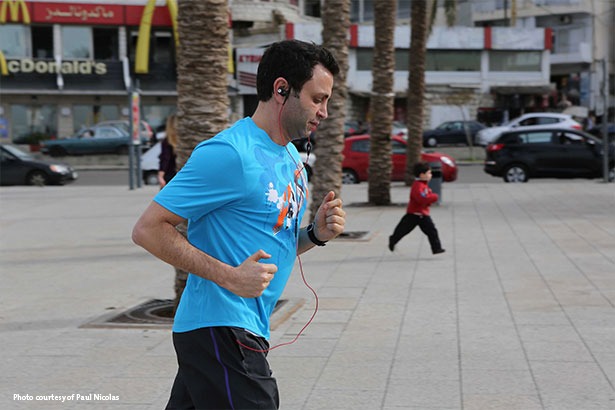 ROUTES
Tried and tested
The Corniche from Ain al-Mreisseh to the sandy shoreline at Ramlet al-Baida is a favorite. The Beirut Marathon Association
describes the route as a "challenging 10 km run."
For those keen for an even more rigorous run, the association suggests extending this route back along the coast to the Beirut Port and back to Ain al-Mreisseh.
Short and sweet
For a much shorter, but also much calmer jog, go for a 2 km run along the Beirut Waterfront. Here the honking of horns recedes as the lap of the sea provides the soundtrack to your run.
Lapping it up
If you happen to have a permit or the ability to gain a permit (for foreigners this usually just involves producing your passport at the gate) for Horsh Beirut, running laps beneath the trees in Beirut's largest public park is a pleasant change of pace from coastal routes.
Down in Dbayeh
Just north of Beirut at the Dbayeh marina, Ussher says the air is fresher and a reasonably quiet, mostly traffic-free 5 km loop can be accomplished. As at the Corniche and Waterfront, this route offers a pleasant seaside stretch.
Beating the Beirut bounds
For joggers seeking a really challenging route, three-time Beirut marathon finisher Tom Mather suggests a loop that takes you right along the edge of the city limits. You begin on the Corniche running along it until you reach Ouzai, then turn east along Corniche al-Mazraa following the road until you reach the Beirut River where you head north to Forum de Beirut before turning back west to join up with the point you set out from on the Corniche.
Mather readily acknowledges that this route can be chaotic, particularly with traffic along Corniche al-Mazraa. But, he says, "there's something nice about big, long loops and completing exactly what was planned."
RUNNING CLUBS
Beirut Tarboush Hash House Harriers
Check their Facebook page.
Beirut Marathon Association
Check their website: beirutmarathon.org
Inter-Lebanon Road Running and Athletics Club
Check their Facebook page.
Check their Facebook page.
GYMS
WHAT TO WEAR
Joggers wear attire typical of the sport throughout most of the world – running shoes, shorts and sleeveless tops are all perfectly permissible. Lily Bejjani, who took up running in 2012 and has since placed in her category in almost every major race in the country, hits her running route wearing "shorts, a no-sleeve top, socks and shoes, an iPod and a GPS watch." She carries almost nothing – "no water, no food" – just tucking some cash into her running shoes in case she needs to stop for water or circumstances arise that make it necessary to take a taxi home.
For runners, particularly of the longer distance ilk, arriving in Lebanon without the appropriate gear, Bejjani says a recently opened running store in the Galaxy Mall is owned by long distance runner Ali Kacemi and is top notch. Given many drivers disregard for joggers, it is also worth reiterated Anthony.
Article published on February 3, 2021.
Article edited on October 5, 2021.
Loading