When it comes to Lebanese cuisine, we all know how versatile local ingredients can be. Zeinab Jeambey, from the Food Heritage Foundation, explores the specific ingredients that give some of our most notable dishes a distinctly sour taste.
Sour food, in the sense of being tangy, seems to be a favored taste in Lebanon. Compared to other Mediterranean cuisines Lebanese cuisine stands out for its sourness. A zesty taste in several of our renowned dishes is desired no matter the season, be it a meal, a snack or nibbles to accompany drinks. Where does the taste for sour food come from? Research tells us that medieval food history and trade has played a major part in this love for sour food and has thus affected our contemporary way of cooking.
Persian influence plays a great role through the use of pomegranate concentrate and yogurt based dishes, while the early trade between the Arabs and East Asia and the Far East, namely India and China, is thought to have brought citrus trees to our shores. This resulted in Lebanon developing citrus fruit agriculture, which is now unfortunately dwindling. Nonetheless, this distinction from other Mediterranean cuisines is worth noting since it is one of the main elements that add to the richness and diversity of our cuisine.
Below are some of the ingredients and techniques that contribute to the zesty tartness of our cuisine.
BITTER ORANGES
Of the many citrus fruits cultivated in Lebanon, bitter oranges have a peculiar use in savory dishes. In the winter season, when bitter oranges are abundant, the juice is squeezed out delicately to avoid bringing out the bitterness of the orange peel and is conserved for use in seasoning salads and bean dishes, namely foul moudammas.
SOUR NIBBLES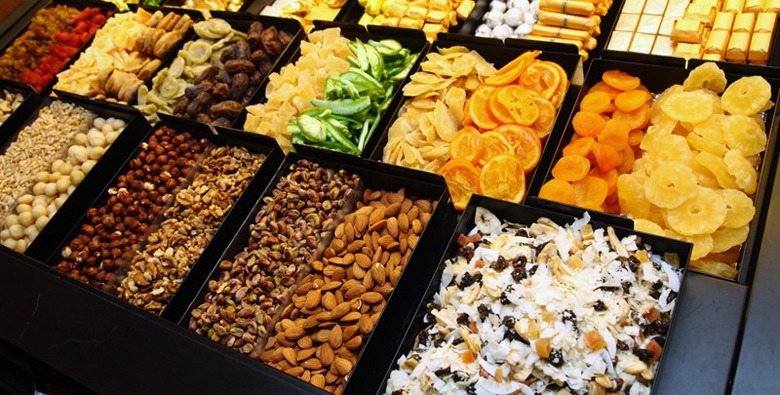 Spring brings one of our most unique nibbles, unripened fruits – plums, almonds and apricots – eaten as snacks with salt and often accompanying a cold drink. These are also often pickled and conserved for consumption with meat dishes or vegetarian dishes in oil.
UNRIPENED GRAPES
Grapes are popular all over the Mediterranean. They are consumed in a number of ways: fresh, juiced, dried or fermented (into vinegar or wine). However, sour grape juice, also known as verjuice, is prepared in early summer and used in the Middle East and North Africa to substitute lemon juice, vinegar and sour pomegranate concentrate.
MULBERRIES
In summer, mulberries are eaten fresh, and are juiced and boiled to make our famous rural mulberry syrup. Yet what is not commonly known is that unripened mulberries are also used in Lebanese cuisine. Unripened fresh mulberries are included in the vegetarian stuffing of fatayer or turnovers to give them a sour taste. When dried, they are ground and conserved to season dishes, much like sumac.
SUMAC
Sumac, extracted from the fruit of the Sumac tree, is one of the oldest spices present in our country. It is often added to the seasoning of fattoush and to spice up meat fillings. Sumac has a peculiar tanginess to it and is a main ingredient of the zaatar mix.
SOUR POMEGRANATE
Pomegranate is a well-known fruit of the Mediterranean region, yet the sour pomegranate variety is never used in Europe. During fall in Lebanon, sour pomegranate is widely sought after to produce sour pomegranate concentrate (also known as pomegranate molasses), which is added to the dressing of our signature fattoush and tabbouleh salads. Sour pomegranate seeds are also used to decorate mezze and, along with onions and nuts, make a vegetarian stuffing for many kebbeh dishes.
Loading