7
min. read
Tripoli, Lebanon's second largest city, provides visitors with a great contrast to the cosmopolitan feel of Beirut. Like many of Lebanon's coastal cities, it has a long history of conquest, rebuilding, and resilience. However, it is Tripoli's adherence to a more traditional and slower pace of life that makes this northern city unique.
Tripoli has avoided the commercialization and construction that has defined much of modern Beirut. Its residents know each other by name, and they are far more likely to purchase their morning coffee from the local street vendors than a Starbucks. With its welcoming population, plentiful food vendors, and winding marketplaces, Tripoli has held onto the charm of old Lebanon beautifully.
Despite its size, Tripoli is easy to navigate in a day or two if you know where you are going and what to see. The city has gained a reputation for danger after a turbulent past, but like much of Lebanon, it is perfectly safe to visit, especially around the most popular tourist destinations.
GETTING THERE
By car: Tripoli is a big city so a car comes in handy for a day or weekend trip. To get there by car, take the coastal highway northbound from Beirut past Jounieh and Byblos, and follow the signs to Tripoli.
By public transportation:  Buses leave from the Charles Helou Station in Beirut every 15 minutes. The buses are comfortable coaches, and some have Wi-Fi. The trip will set you back 5,000 LBP and takes around an hour and a half to two hours, depending on traffic.
WHAT TO SEE
Old Souks
Your first stop in Tripoli should be the old Souks, located near the Al Tall clock tower and bus station. Ask for the Mansouri Mosque, or the Great Mosque, a large mosque at the entrance of the old souk, where you can peek in to see a stunning example of 13th-century Mamluk structure that is still being used today.
Then, head into the souk, a hectic maze of jewelry shops, kaake vendors, and juice stands. Scattered throughout its tight alleyways are various Mamluk, Crusader and Ottoman relics, like the Khan al-Saboun, a beautiful courtyard where soap is still made by hand, or Hammam el-Jadid, an out-of-use hammam with stunning mosaics and a glass dome ceiling. The souk is scattered with old madrassas, hammams and mosques, so don't hesitate to spend an afternoon getting lost in its twists and turns.
Citadel of Raymond de Saint-Gilles
Tripoli's Citadel may be one of Lebanon's most underrated historical relics. It was built by Raymond VI of Saint Gilles, a knight of the very First Crusade, who set out to conquer Tripoli, one of the most important cities along the coast, and erected the castle in his own name around 1100.
Entrance costs 5,000 LBP and is well worth the money. Visitors can roam through the sprawling grounds of this Crusader Castle and admire its Frankish and Ottoman foundations. However, it is the sheer size of the Tripoli castle that makes it truly awe-inspiring. Every stone staircase leads to a new deck and each doorway opens up into a grand hall from Lebanon's past. Climbing through the labyrinth to the very top of the castle, visitors will find an unmatched panorama of Tripoli from above.
Entrance Fee: 5,000 LBP
Hours: 10 am – 6 pm daily
El Mina and Corniche
Roaming around the laid-back seaside neighborhood of El Mina is a highlight of a trip to Tripoli. El Mina juts out into the sea and is defined by its relaxed and quaint neighborhood atmosphere. Buildings are old and beautiful, and there is a tenable small town feeling, complete with colorful houses, local churches, and charming back-alleys. Roam through the residential streets, walk along the corniche at sundown, or sample some local favorites—some of the best street food in Tripoli is located in El Mina.
Rashid Karami International Fair
Designed by renowned Brazilian architect Oscar Niemeyer, the International Fair comprises 15 modernist concrete structures, which were intended to create a tourist hub. The complex was partially completed in 1974 but left unfinished due to Lebanon's Civil War. The Getty Foundation recently announced that the site was being given a 225,000 USD grant as part of their "Keeping It Modern" initiative to spend on a two-year conservation and management plan. UNESCO has also placed the fair on their Indicative Heritage List, which is a step towards being considered for full World Heritage List status.
The Lion Tower and Train station
Just down the Corniche from the Mina neighborhood is the Lion Tower, or Burj al Sabaa, and old train station. The Lion Tower was built by the Mamluks in the 14th century for military use, and was constructed using old Roman columns that were lain horizontally to fortify the tower. It is well worth the climb to the top to get a sweeping view of the Tripoli port. After a tour of the Lion Tower, walk around the old train station right beside the Tower. The famous Orient Express once ran from Homs in Syria to the station in Mar Mikhael. Today, visitors can walk around the unused and rusting train cars.
Palm and Rabbit Island
The Palm Island Reserve consists of three islands and covers a rough area of 5km2 of land and sea. Declared a protected site by UNESCO in 1992, the island is populated with endangered species of rabbits, monk seals and turtles. The largest island, Nakheel, features around 2,500 palm trees with paths laid out for visitors. After your stroll, you can take a swim or enjoy a picnic. The islands are open to the public from July to September.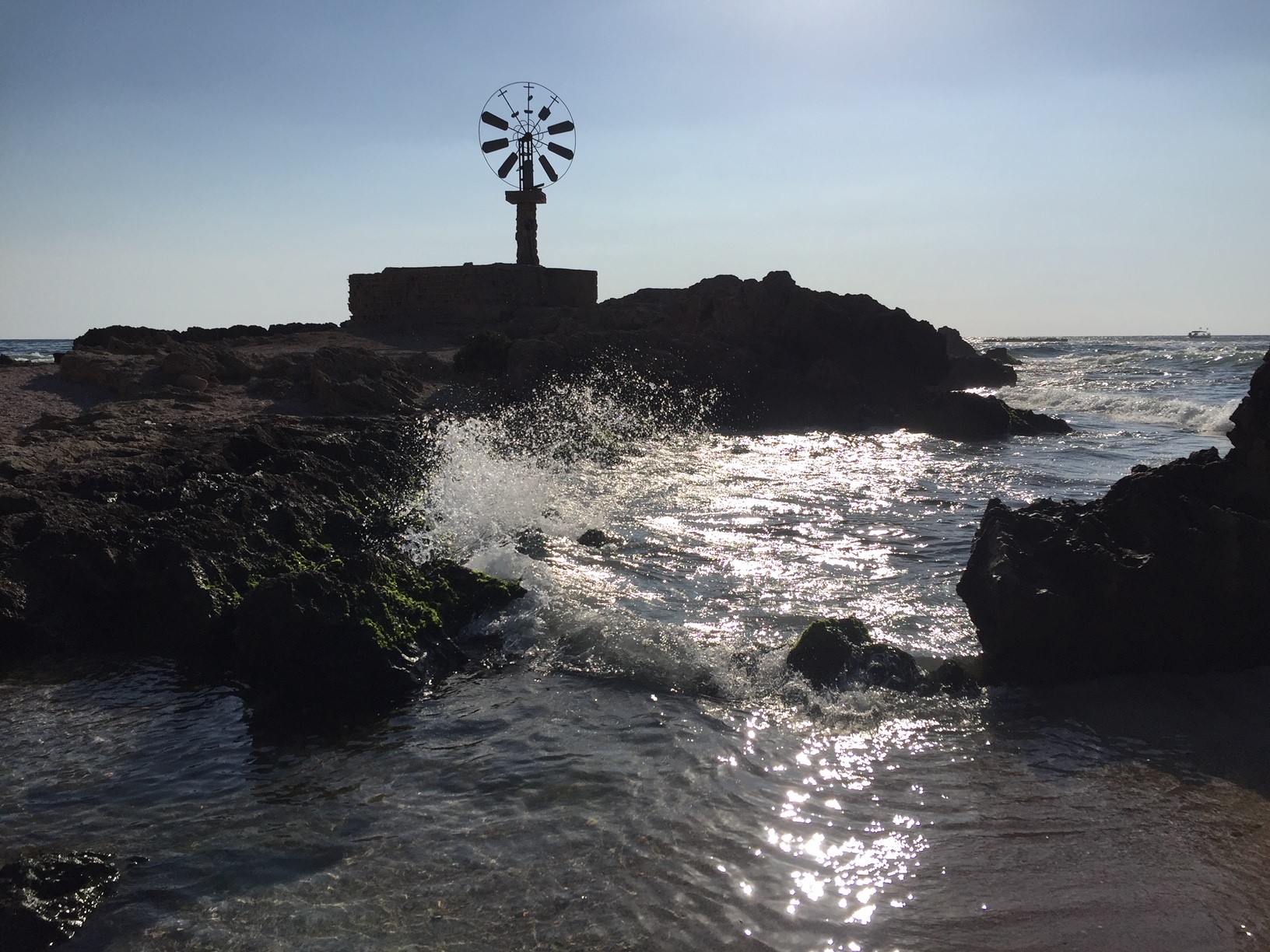 WHERE TO EAT
Al Sayad's Fish Sandwiches
Walking into Al Sayad's in El Mina, you might not expect to find some of the freshest and tastiest fish sandwiches in Tripoli. Don't let their décor (or lackthereof) fool you. Sayad's fish sandwiches, made to order with a choice of fried fish, spicy fish, shrimp, octopus and calamari, are downright delicious. Wrapped in Arabic bread and topped with garlic, tomatoes and a squeeze of lemon, these sandwiches are easily some of the best in Lebanon and will have you dreaming of Tripoli long after you've left.
Akra
Akra is known for serving the traditional Tripoli fare of foul and hummus for breakfast. Akra is located near the Al Tall clock tower in the city's downtown, and is perfect for morning bite or a quick meal. The restaurant is clean and comfortable, and the service is great.
Orchid Ice Cream
If you want ice cream made the old-fashioned way, head to Orchid for a cone filled with fresh ice cream and smothered in pistachios. Established in 1919, Orchid is well known for producing its ice cream by hand and using local ingredients, like strawberries, rose water, pistachio, and lemon, to make a refreshing sorbet or creamy treat.
Hallab 1881
You haven't fully experienced Tripoli until you've tried the delicious Lebanese sweets at Abdul Rahman Hallab & Sons, a family-run business established in 1881. Kasr El Helou, the firm's flagship store, is considered one of the city's most renowned landmarks, so make sure you stop for some of their famous bakhlava, maamoul and knefe.
Warche 13
Warche 13 is a trendy café with an active artistic community that gathers there for their fresh sandwiches and regular events. Situated in El Mina, Warche 13 is a great spot if you're looking for organic yogurt or a grilled veggie sandwich. Be sure to catch their regular events which range from open mic poetry nights to live music.
Danoun
For mouth-watering foul and hummus, head to Danoun in the Al Tall neighborhood. Danoun's may not look like much from the outside, but it is clean and its food is consistently top-notch. Bringing out the flavors of Tripoli classics, Danoun's is almost always packed.
WHERE TO STAY
Via Mina Hotel
The charming boutique Via Mina Hotel is the perfect place to rest after a busy day in Tripoli. Its colorful walls, outdoor pool, and tasteful décor create an idyllic oasis in this hectic city. Located conveniently in the Mina quarter, the Via Mina Hotel has the service of a small hotel and the amenities of a 5 star-hotel. Each room is equipped with air-conditioning, complimentary beverages and snacks, and all-organic toiletries. The staff are quick to meet your every need and ensure your stay in Tripoli is perfect, down to the very last detail. A decadent and locally sourced breakfast is included with the room, which you won't want to miss.
Beit El Nessim
Beit El Nessim is another great option in the El Mina neighborhood. They have a beautiful rooftop terrace from which to admire the surrounding area and the space is thoughtfully decorated. The owner is a yoga instructor and will arrange lessons for an added fee. A tasty breakfast is also included with your stay.
Mini Guide to Tripoli
was last modified:
November 8th, 2019
by
Loading
Published on: November 6, 2019