Lebanese food brand Al Wadi Al Akhdar is showing us the beauty of Lebanon and its green mountains. After visiting Jisr El Aarous, Ammiq, Kawkaba, Chahtoul, Hammana, Jaj, Bentael and Nahr El Joz, we're heading to Baskinta.
Located 43 kilometers northeast of Beirut at an altitude of 1,250 to 1,800 meters, Baskinta is a serene village admired for its authenticity and traditions.
It's easy to feel peaceful here. Baskinta's moderate climate, breathtaking scenery and old-world charm have made it a popular destination for those seeking rest and relaxation. Pretty stone buildings and ancient ruins can be found in lush greenery. The area is abundant in oak trees and orchards.
Furthermore, Baskinta was the birthplace of Mikhail Naimy, the legendary Lebanese poet, novelist and philosopher. Award-winning novelist and journalist Amin Maalouf is also a native of the village.
One of the best ways to explore Baskinta is by hiking the Literary Trail, which is 24 kilometers long and highlights 22 literary landmarks. Alternatively, it is possible to hike along the river (Bekaatit el Nahr), a refreshing spot for nature lovers.
In addition, Baskinta has become a well-known spot for mountain biking, with off-road trails and an active cycling community.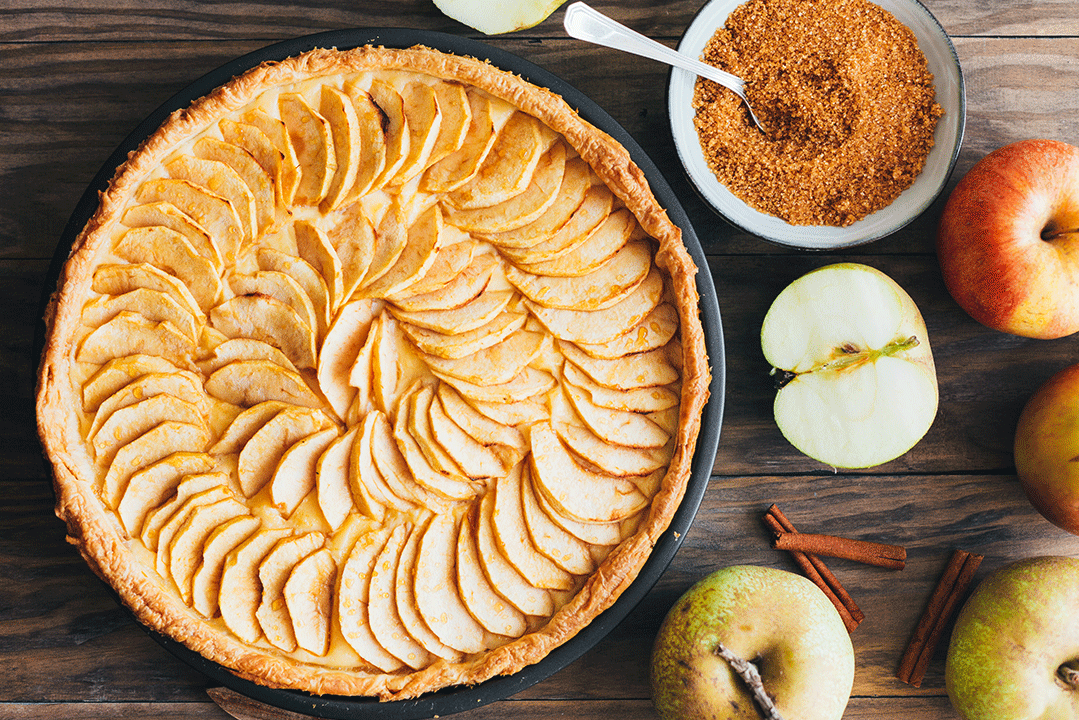 Traditional Apple & Cinnamon Pie
Baskinta is a significant producer of fruits and is revered for its slightly sour apples. It may then come as no surprise that we simply love making apple pie using apples from the village and pastry from Al Wadi Al Akhdar.
Ingredients 
6 cups of thinly sliced apples
¾ cup white sugar
1 tablespoon butter
1 teaspoon ground cinnamon
1 pack of Al Wadi Al Akhdar Shortcrust Pastry
Preparation
1. Place the Al Wadi Al Akhdar Shortcrust Pastry in a tart mold.
2. Wipe, quarter, core, peel and slice the apples to (six cups).
3. Combine the sugar and cinnamon. The amount of sugar used depends on how tart your apples are.
4. Arrange the apples in a single layer on top of the pastry.
5. Sprinkle sugar and cinnamon on top and scatter a few small pieces of butter.
6. Feel free to cover the top with an additional layer of pastry.
7. Place the tray on lowest rack in a preheated oven (230 degrees).
8. Bake for 10 minutes, then reduce the oven temperature to 175 degrees.
9. Bake for an additional 30 to 35 minutes.
10. Serve warm or cold.
Stay tuned for the next green destination with alwadi.com.
Loading