With its long coastline and connection to the sea, Lebanon carries a rich history when it comes to fishing. From the hidden coves of Dalieh to the coast of Batroun, fishing hobbyists and enthusiasts will find no shortage of spots to cast their rods.
Faint echoes of what sounds like an Oum Kalthoum song seem to emanate from a cluster of rocks along the shoreline of Ramlet al-Baida. The source is a cellphone near the rocks' edge, where fishing hobbyist Najib Ashour casts his line into the sea; his sons, nephews, and friends are by his side, some with their own lines cast, others fish with cage nets.
"I've been fishing for about 30 years," Ashour reveals. "I fish all over, from Maameltein to Raouche… it really depends on the day. I prefer coming here though because it's closer to home, which makes things more convenient. I try to come every weekend to get away from all the noise of the city, and just play some Oum Kalthoum, or Abdel Wahab."
Over the years he has noticed a shift in Beirut's waters. "The environment has changed over the years. There's a lot more pollution which has affected the health and quality of the fish." This hasn't stopped him from frequenting his favorite fishing setting, though. "I like this spot because there isn't a lot of construction, which usually causes the fish to migrate."
Colette Kahil is an avid fishing hobbyist and owner of Beit al Batroun, a quaint bed and breakfast near the town of Thoum. "We used to go fishing when we were kids. We would go with our parents to a beach almost every day of the summer, so we had to find something to pass our time at the end of the day. And it stayed with me for years from then," she says. Kahil was once a regular at Raouche's Sporting Club, but since moving to Batroun she now spends her time fishing along the northern coastline, picking any spot between Byblos and Batroun.
Kahil is not so fussy when it comes to how she chooses to fish. " I'm never on a boat, I find any spot on a rock and I can sit there for one to two hours." The process is just as important to her as the actual catch. "The sea is very clean here in Batroun, but we used to catch more. Sometimes I go and spend a couple of hours and don't catch any fish. I find that I smoke less because I don't feel like taking a break when I'm fishing. I can spend two hours without thinking of anything. It's all about the pleasure of catching a fish… It's very therapeutic for me."
Fishing maintains its long tradition in Lebanon – a relaxing pastime that's an escape from the grind for many and offers a connection to the sea. There are plenty of spots to enjoy fishing in the country – dotted along its vibrant coastline or in its numerous rivers and lakes and all that's needed is a rod or net… and of course patience.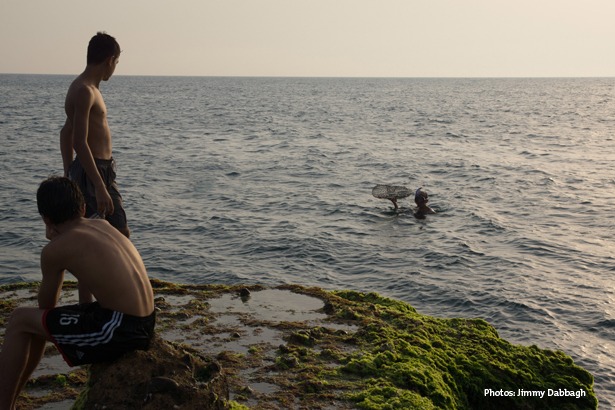 Words and photos by Jimmy Dabbagh
Get the kit
French brand Decathlon have a large range of fishing equipment at reasonable prices.
+961 4 526 101, Dbayeh
This family-run business has become a staple for serious fishermen in the area. Opening 40 years ago they sell everything you could ever want related to fishing, from rods and ropes to the perfect foldable chair to settle in for the day.
+961 1 362 752 / 3 / 4
Graham Street, Ain El Mreisseh 
This sport shop's Zalka branch has a selection of fishing equipment including rods and ropes.
Offering everything available for fishing enthusiasts, from casting to jigging and trolling, Samir Sport is an essential stop for the full fishing kit.
+961 9 850 474 / +961 9 852 333 , Tabarja branch;
+961 4 405 406, Dbayeh Branch
Article edited on October 25, 2021
Loading